Over the past two months the stock market has seen an explosive rally of roughly +40% from trough to peak. The rally was ignited by technical buying off an extremely oversold condition, however the move grew legs on the back of government policy announcements such as a ramp-up in quantitative easing, positive comments from the banking sector, and a deceleration in the deterioration of many macroeconomic data points.
This "improvement" in macroeconomic data was championed by stock market bulls as an early sign of an economic bottom because after all, an object in motion typically decelerates before it can actually reverse. Of the four influences listed above, the macroeconomic data points offered the only tangible fundamental underpinning for the rally (technical buying, printing money, and P.R. spin campaigns from the banks do not result in sustained economic growth).
The market took these data points in euphoric stride and bid up prices across the board, the buying fueled more buying as many stocks broke above their respective moving averages. Investors emboldened by the prospect of an economic recovery flocked to assets that would provide the most bang for their buck, in other words assets that would perform the best should the economy strengthen, leading them into riskier assets more levered to the economy. While perfectly rational behavior assuming the economy is actually on the road to recovery, it led to a wide divergence in the performance of riskier assets relative to their lower-risk counterparts. The below charts show this divergence.
S&P China Index (NYSEARCA:GXC) vs. S&P 500 (NYSEARCA:SPY)
click to enlarge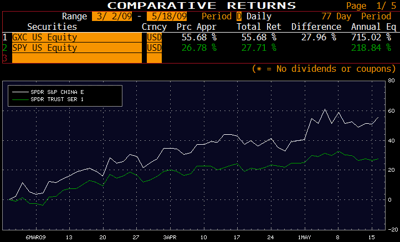 Consumer Discretionary (NYSEARCA:XLY) vs. Consumer Staples (NYSEARCA:XLP)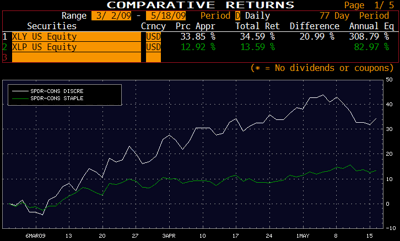 High Yield Bonds (NYSEARCA:JNK) vs. Long Term Treasuries (NYSEARCA:TLO)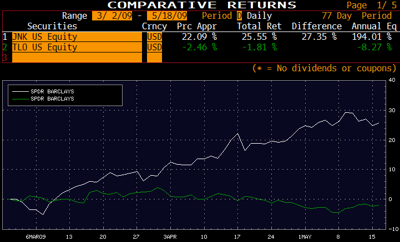 Party like its 1933?
While the rally was robust and helped repair some battered IRAs and 401ks, the same macroeconomic data touted by the bulls is now suggesting the economic "improvement" (I use "improvement" because nothing actually improved per se, it just became less worse on percentage change basis, us neurotics on Wall Street are myopically concerned with year-over-year changes) was nothing more than a head-fake, meaning the bounce seen in March is being followed with further deterioration. Stock market bulls were betting on a "V" shaped recovery, in other words, a very brief time spent at trough levels followed by an upward trajectory in the economy. However, recent economic data points are suggesting the recovery is more likely to be "W" shaped, meaning the rebound off of the lows will be followed by another leg down. The "W" shaped recovery is especially dangerous to investors because it lulls them into a false sense of optimism (+40% rally) only to be followed by another leg down, which it appears we are now on the precipice of. Should this prove true I think it is reasonable to expect most, if not all, of the gains from the recent rally to be wiped out.
Let's take a look at several indicators of macroeconomic activity. The common theme here is the increased likelihood of a "W" shaped recovery as opposed to the "V" shaped recovery that the recent rally seemed to be implying.
American Trucking Association Tonnage Index:
The ATA is the largest national trade association for the trucking industry, they calculate the tonnage index based on surveys from its membership and has been doing so since the 1970s. According to the ATA, trucking serves as a barometer of the U.S. economy, representing nearly 69 percent of tonnage carried by all modes of domestic freight transportation, including manufactured and retail goods.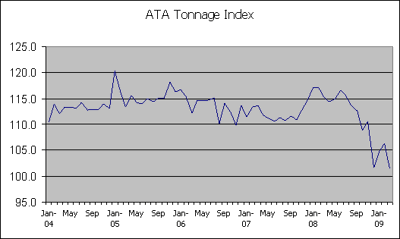 Employment:
Below shows the year over year change in the US Employment rate as well as the year over year change in the Monster.com Employment Index.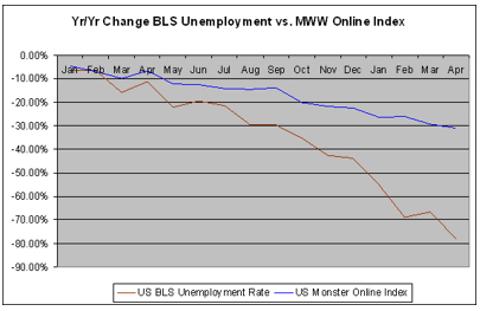 It is also interesting to note that as bad as the employment picture seems to be right now, we are still not even at the average unemployment level seen at the bottom of a recession.
Hotel Rate and Occupancy Survey:
In the hotel industry RevPAR, or revenue per available room, is the commonly used metric for industry performance. Hotel demand is a decent proxy for both business spending and consumer discretionary spending.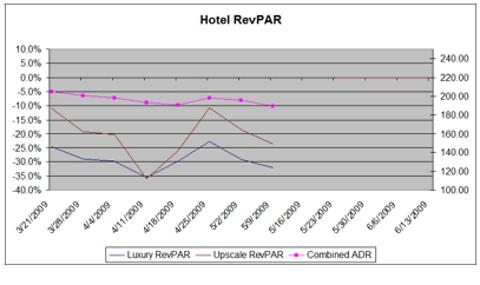 Port of Long Beach Import Cargo Shipments:
Long Beach is the second busiest port in the US and 15th busiest in the world.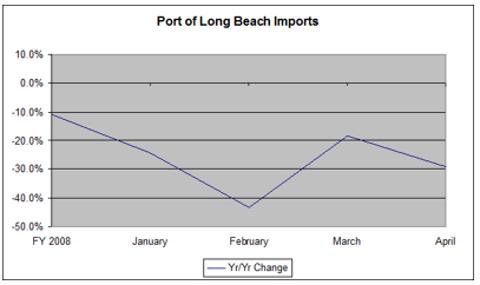 How to invest?
These macro economic data points combined with the market's recent price action suggest it is time to hunker down and get defensive again. Smart money should be selling, either outright if you have been long or possibly even look to go short, the high-risk and highly economically sensitive stuff that has run up hugely during this head-fake.
A few names to consider: ACF, DDR, MGM, BARE, GMCR. All of these have had huge price moves that do not appear to be rooted in fundamental business improvement.
On the long side, investors should look to take a more defensive stance, which includes lowering net exposure and raising cash positions. Several defensive stocks that should outperform the market include:
Corrections Corp (NYSE:CXW): Private prison operator, favorable industry growth, pricing, and supply limitations. Demand inversely correlated to the economy (less prosperity= more crime).
Service Corp (NYSE:SCI): Funeral home and cemetery operator, consistent demand independent of economic activity. Potential for operational improvement.
Chiquita Brands (NYSE:CQB): Fruit and vegetable producer, staple products, favorable pricing environment.
Iamgold (NYSE:IAG): Gold mining company, attractive valuation, highly levered to an increase in gold prices.
Disclosure: Long CXW, SCI, CQB, IAG