Much of the hopes for a fast global economic recovery rest on China's shoulders. The country is certainly doing its part, with its low interest rates and stimulus package that trumps ours in size (relative to GDP). It's a similar story in the alternative energy arena, where China's centralized efforts are likely to have a faster and more direct impact than here in the West.

China's alternative energy efforts are killing two birds with one stone. China's poor air quality has become notorious in recent years. Alternative energy is much cleaner than coal, which still provides about 80 percent of the country's electricity. The move toward alternative energy will create a greener tomorrow for this world's biggest emitter of carbon dioxide. And, of course, much like with the U.S., alternative energy projects are a part of the new stimulus package.

It should come as no surprise that solar stocks jumped in March when China first announced its solar subsidies plan. This week, in another positive development for the alternative energy industry, it was reported that the country is drafting a stimulus package to more than double by 2020 the output of alternative energy over targets set in 2007.

Two years ago China targeted 1.8 million kilowatts of solar power capacity, 300 million kilowatts of hydropower, 30 million kilowatts of wind power and 30 million kilowatts of biomass power by 2020 and a goal for renewable energy to account for 15 percent of China's total use. Powered (pun intended) by the new subsidies, solar capacity in China can increase to 10 million kilowatts by 2020.

Spain and Germany, early movers and long-time leaders in solar power, are Europe's largest in terms of the size of their solar markets. The U.S. is also fast becoming one of the top players in the world. But China is becoming the power to be reckoned with as it could pass Europe, Japan and the U.S. to become the world's biggest renewable energy consumer by 2010, according to WorldWatch Institute.

In the U.S., The Renewable Energy Act, as a part of the American Recovery and Reinvestment Act (ARRA) stimulus package contains a suit of financial incentives intended for renewable energy and energy efficiency. The stimulus also provides loan guarantees to help solar energy grow by making more credit available, introducing a grant program for commercial and utility-scale solar installations, and a manufacturing investment tax credit. The federal solar investment tax credit, which has helped stimulate the U.S. market growth for the last three years, has been granted an eight-year extension.

Among U.S. states, California has instituted a mandate to produce 20 percent of total power from renewable sources by 2010 and then 33 percent by 2020. With the leadership role California has taken in the alternative energy arena, including its spending on solar power systems and cash rebates on renewable energy-generating installations, most of the U.S. solar power has been built and installed in that state.

That doesn't mean, however, that other states aren't participating in solar power development: this a growth area, even in a slow economy. In 2008, amidst the worst credit crisis, the U.S. solar market increased by more than 16 percent.

click to enlarge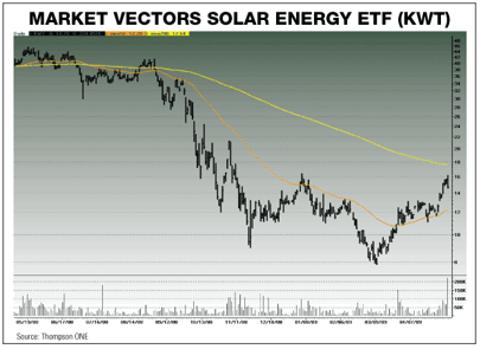 Click to enlarge
Click to enlarge
To benefit from the strong drive toward renewables in general and solar in particular, we suggest buying an ETF. The Market Vectors Solar Energy ETF (NYSEARCA:KWT) offers a diversified portfolio of solar stocks whose performance is set to track the price and yield of the Ardour Solar Energy Index. The Index provides exposure to publicly traded companies from around the world that derive at least 66 percent of their revenues from solar power and related products and services. On a weighted basis, the companies in the Index derive in excess of 90 percent of their revenues from the solar industry.

Altogether, the diversification of this ETF allows you to be exposed to the largest pure-play solar companies in the world, including those from the U.S. (32 percent), Germany (31.5 percent) and China (26 percent of total assets). The fund's top 10 holdings represent nearly 64 percent of total assets, and include Solarworld AG (OTCPK:SRWRF), First Solar (NASDAQ:FSLR), SunPower (SPWRA), MEMC Electronic Materials (WFR), Suntech Power Holdings (NYSE:STP), Yingli Green Energy (NYSE:YGE) to name a few better-known names.

Even after the strong run of the past month, the shares in the Solar Energy ETF trade at a moderate average P/E of 16.9, suggesting that more upside is possible, especially considering that solar industry is one of a few true growth industries and growth rates for many of these stocks can easily exceed 20 percent a year for the next several years. We are adding KWT to our Portfolio.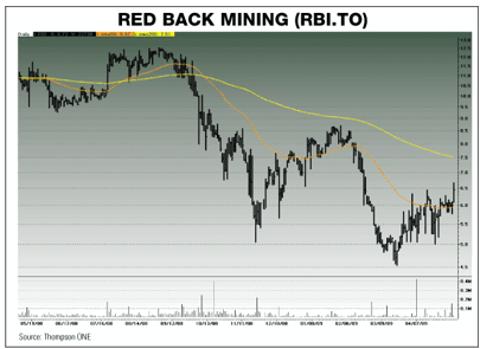 Click to enlarge