Titan Machinery (NASDAQ:TITN) was until recently having a pretty good start to the year in terms of its stock performance. That all changed two weeks ago when the company reported earnings that missed estimates by a whopping 19 cents per share. Despite this earnings miss, I think Titan has significant potential in the medium and longer term, and indeed the stock may get a short term boost later this earnings season as some of its competitors and suppliers report earnings.
Let's start by looking at the company's profile. Titan is roughly a 500 million dollar market cap firm that operates a small chain of construction and farm equipment stores selling machinery and tools. The firm has about 106 locations and 2,800 employees in North Dakota, South Dakota, Iowa, Minnesota, Montana, Nebraska, Wyoming, Wisconsin, Colorado, Arizona, and New Mexico. The company also has a very small Eastern European segment with 14 locations in Romania, Bulgaria, Serbia, and Ukraine. The company distributes Case New Holland machinery.
Titan is essentially highly levered to the economy in the Midwest; when the Midwest and farmers there are doing well, the company should do well also. Given the strong crop prices in recent years and the rapid expansion of oil fracking and associated construction activity, Titan's profits have expanded quickly since the recession.
Recent Performance
Up until about a month ago, Titan was having a pretty good year (see graph below). Its stock price had increased from around $25 in January to about $30 in late March. Then the stock started drifting lower in advance of earnings, and when Titan released its earnings on April 10th, missing by $0.19, the stock plummeted from $26 to roughly $22. The question for investors now is whether this stock price collapse is a bargain on a solid long term growth play, or if this quarter was a harbinger of things to come.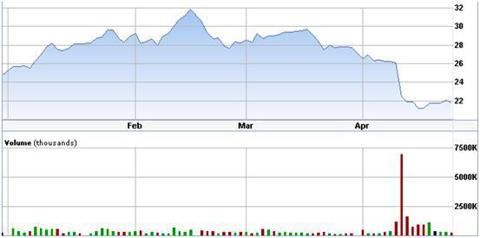 I fall into the former camp. I think Titan's miss is a short term problem driven by unusual circumstances and that the general boom in the Midwest economy and the improved farming climate will lead to robust sales gains going forward. I base this on the specifics of Titan's earnings miss.
The company missed earnings estimates due mainly to weaker results in its construction segment. This weakness in construction results makes sense in light of the weakness seen by construction equipment manufacturing companies like Caterpillar (NYSE:CAT) and Joy Global (NYSE:JOY). In particular, Titan cited lower sales of high margin equipment and increased inventory holding costs as issues that impacted profitability for the quarter.
The company also issued mixed guidance for the upcoming year with EPS of $2.00-2.30 vs. $2.59 Capital IQ Consensus Estimate, and revenues of $2.35-2.55 billion vs. $2.27 billion Capital IQ Consensus Estimate. I think the firm is being conservative here.
The US Drought and its Effect on Titan
One issue that the firm did not talk about on its earnings call, but which undoubtedly has been playing a role in its sales is the ongoing drought in the Midwest. Drought conditions across much of the Midwest developed last year and became extremely severe by the end of the summer. This drought continued through the fall and into the winter which probably led to less equipment purchases by farmers who were putting more of their money into drought resistant seeds, and irrigation equipment. This fits with the earnings results by Lindsay (NYSE:LNN) and the drought patterns shown in the figure below which details drought conditions as of the end of October of this year.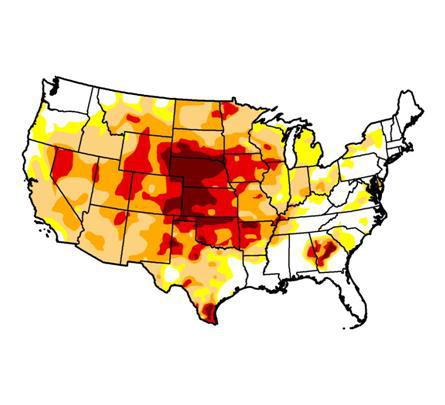 Here darker reds indicate a more severe drought. As the figure shows Nebraska, South Dakota, Iowa, and Kansas were all particularly hard hit by the drought. The result of this was a dramatically slower economy in the Midwest at the end of the year. This was especially true given the cold snap across the entire country, at the start of the year which probably delayed significant amounts of construction (and construction supply purchases) across the country.
However, there is reason to be optimistic that the drought in the Midwest may be ending and that this year will see record breaking farming income. This would be a huge boon for Titan which earns most of its revenue from the farming segment rather than the construction segment (construction segment net income of $1mm vs. agriculture net income of +$32.8mm).
The figures below show how increased moisture over the last two months has gradually begun to improve drought conditions across the Midwest. (Note that these figures also do not take into account the considerable rain and snowfall blanketing much of the Midwest since last week.) With consistent above average levels of moisture every week almost since the start of the year, crops should do well this year which would lead to increased equipment purchases for Titan.
Again here, darker colors indicate more severe drought.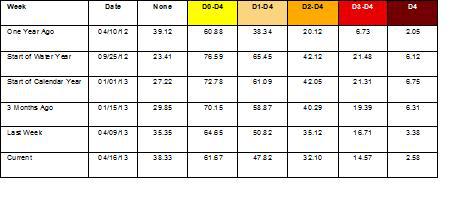 The table and the figure above demonstrate that the drought conditions have been consistently improving which should help Titan. The table shows the percentage of land in the lower 48 states that fall within each drought category. Focusing on the Midwest brings the magnitude of improvement even more into focus.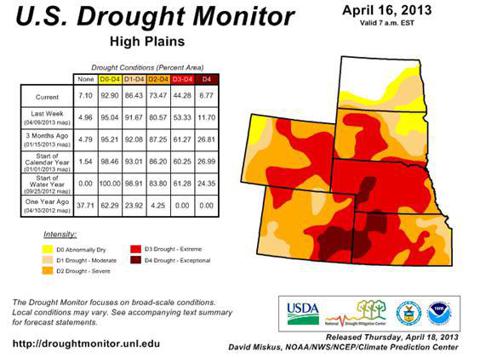 Now normally, weather patterns aren't that important for most stocks, but given Titan's industry and their sales footprint, I think these developments matter a lot for the firm.
Titan's Financials
Next, let's look take a more conventional look at the company by examining Titan's financials. Titan's earnings have grown rapidly in the last few years, as has its revenue. Since 2008 the firm's revenue has quintupled, while its profits have tripled.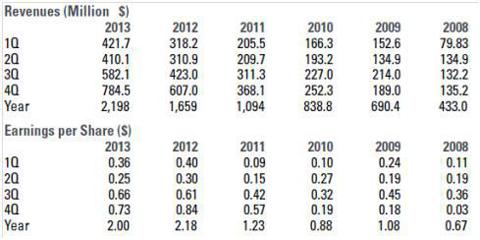 Clearly, the firm is growing rapidly and deserves a PE that reflects this. A common metric for evaluating a growing firm like Titan is the PE to growth ratio. Here the lower the ratio the better where a ratio above 2 indicates the company is likely overvalued, while a 1-2 ratio is fair, and a ratio below 1 could indicate the firm is undervalued.
What is Titan's ratio?
The firm has a 12 month trailing PE ratio of 10.9, with a three year annualized profit growth rate of 44.18%. This gives Titan a PEG of 0.246 making the firm a screaming good value provided you believe that the firm will continue to grow at this rate. Indeed, with a PE of 10.9 even if you simply believe the firm's profits will stay consistent at this level, Titan is a very reasonable value. Analysts seem to agree with 6 of them currently rating the stock a strong buy, one of them rating the firm a buy, and two rating it a hold.
What's more, the company has consistently grown its tangible book value in recent years ($16.87 per share as of January 31st), and its cash flow last year was $3.14 per share. For all intents and purposes, despite Titan's track record over the last few years, it is trading like a firm with limited prospects for the future. This seems unjustified given that the firm still has a small geographic footprint with plenty of room to expand.
The company has current assets of $1.2 billion against current liabilities of $800 mm, but both sides of this are skewed by the firm's inventory position. However, with $124 mm in cash on the books and only $182 mm of long term debt, Titan is very unlikely to face a cash crunch anytime soon.
Combining the firm's very strong financials with its stock price, and the apparent improvement in the macro/weather environment for the company, Titan looks like it's in good shape for the future. Overall, it looks like the company has room to keep growing its earnings and valuation over the medium and long term, and in the short term, if other agricultural plays like Deere (NYSE:DE) sound more upbeat this should benefit Titan's stock. Further, any rebound in oil prices would likely help Titan marginally as well since the improvement in prices would help power the shale oil fields across the Midwest and increase demand for construction equipment in the area. However, there are still some risk factors for the company.
Risks
First, if the weather patterns reverse and the Midwest returns to a severe drought this year, this could pressure Titan's agricultural business. Further, a severe decline in oil prices, or new EPA regulations could crimp oil and gas fracking across the Midwest and hurt the local economies and Titan by extension. Of course a new recession and the associated fall in crop prices would have a similar effect. Finally, while Eastern Europe has been doing much better than Western Europe, if the EU crisis continues it could ultimately hurt Titan's small European operations which represent about 15% of the firm's sales.
For more on the drought and its effect on other agricultural stocks, see my blog here and my past article on Deere here.
Disclosure: I am long TITN, CAT, JOY. I wrote this article myself, and it expresses my own opinions. I am not receiving compensation for it (other than from Seeking Alpha). I have no business relationship with any company whose stock is mentioned in this article.