Amazon (NASDAQ:AMZN) is a paradox in the stock market right now. In the last year, revenue growth has substantially decelerated and operating margins have declined. That dynamic typically spells disaster for a stock, especially those owned by "momentum investors." Yet the shares of Amazon have traded up from $182 at the start of 2012 to $254 in a volatile but strong fashion (higher highs, lower lows). Amazon is a mightily successful company investors may ask "successful for who?"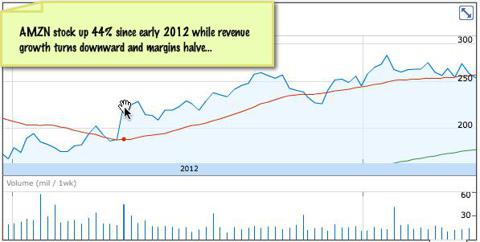 There is always a steady march of "Here is why Amazon is going to collapse" articles and notes on retail sites like Seeking Alpha but so far none have offered much insight beyond "look how expensive the stock is?!" Perhaps on the principle that even a "broken clock is right twice a day" some authors crank out an article every other day or so.
This is just noise if and until there is something fundamental to derail the long-term investment case for the stock and cause holders to abandon the shares. As some other notable high-flying stocks like Apple (NASDAQ:AAPL) have changed course in the last few months, it has made more institutions ask us about Amazon.
Before we get to the valuation question at hand, it's worth noting a few reasons some think of Amazon as a "one decision stock" or at least have done so in the past. [I have no position long or short in AMZN.]
High Level Bull Case
The market opportunity for Amazon is virtually unlimited. It's basically "stuff people buy" which is measured in the trillions. Not many companies can use the word trillion with any credibility.
Amazon is an important player in digital goods (books and video) which helps them preserve or gain share as the market becomes more digital. In terms of books, they are the innovator/leader in the category.
Cloud computing has been and will be a major trend for years or decades and again Amazon has been the innovator/leader in the space. There is competition now from Google (NASDAQ:GOOG), Microsoft (NASDAQ:MSFT), Rackspace (NYSE:RAX) and hundreds of hosting companies but Amazon continues to have the most serious offering.
Competition has yet to really materialize. There are many niche competitors but we have yet to see anyone really threaten the Amazon business. For a brief period, a small company called GSI Commerce was planning to enable every online retailer to replicate the Amazon Prime experience, at least in terms of shipping, but they were acquired by eBay before this strategy could play out.
Bezos is an asset. Investors trust him like a geek version of Warren Buffett. He can talk about the very long term and get the benefit of the doubt. His leadership to ensure Amazon technology would be best-of-breed by far has been a singular triumph.
High Level Bear Case
Competition hasn't given up. More importantly, Google is experimenting with a same day delivery service, large retailers like Wal-Mart (NYSE:WMT) and Target (NYSE:TGT) are trying to improve their delivery service. eBay (NASDAQ:EBAY) is doing the same and trying to also use lower seller fees to attract business. Considering Amazon margins (next point) this unrelenting competition may force Amazon to keep getting leaner.
Margins have collapsed. Operating margins have deteriorated from 4.4% to 1.4% in the past two years.
Collecting sales tax will put Amazon more on par with local retail establishments which changes the comparison equation for consumers. This is certain to be the case with some purchase use cases (high priced, light weight items that are in stock close to home.) So far we haven't seen any quantification over how much revenue this might be. Since sales tax will be neutralized, it will come down to price, selection and free delivery which are typical Amazon strengths.
A slower economy will have a direct impact on Amazon, and their high fixed-cost business model will mean more suffering for the company and shareholders than they may be prepared to live with.
Who is right?
We had to stick to "high level" arguments because getting into specifics around areas like Amazon Prime Video, changing third-party seller economics and the additional revenue streams like advertising is interesting but tends to cloud the big picture.
Amazon management gives the "the street" little to go on. For example, most every question on their recent quarterly earnings call was answered with something along the lines of "we don't disclose or talk about that" or "we're very pleased with the great results we are getting in that area." There are few if any direct answers, let alone metrics and hard numbers. A further deceleration of growth for the 2013 fiscal year (to 22% YoY) is already factored into consensus estimates.
Based on the operating margins of Wal-Mart, Target and Dell (NASDAQ:DELL), our base case IV outlined below is probably the most "right" model for the moment. The foundation of the case is an eventual return to a 4% operating margin which is the steady-state for these large retail-oriented players.
In terms of understanding where improved margins might come from we can look at what is already known about Amazon's expansion trajectory and see what the established players generate:
Streaming Video: This an exciting but so far not very economically attractive story. Netflix is the leader in the space with gross margins of only 27% and a barely profitable operating margin of 0.6%. Existing Amazon Prime customers get many of these videos for free. There is no data as to the propensity of these customers to purchase other videos nor any figures for this benefit driving growth in Prime memberships. It seems safe to say that video isn't going to be the ticket to higher margins at Amazon anytime soon.
Hosting: Amazon is powering much of the commercial cloud applications being developed and deployed. Their pricing has tended to be fairly aggressive, so they may be keeping margins there lower than they have to. Pure hosting company Rackspace generates relatively attractive operating margins of 8%. Continued growth of Amazon services should be mildly to slightly additive to operating margins.
Third-Party Selling: This is the commercial side of the eBay business. Rather than one-off items, these are small business that can use Amazon to handle their listings, delivery and customer service. Unfortunately, eBay is really two different businesses, online selling and PayPal. Margins at eBay are juicy at 70% gross and 18.7% operating. Amazon has a payments service but thus far it has very limited traction and there isn't anything suggesting a major push is coming. So far it is another "me too" offering alongside a dominant PayPal. Amazon has ramped up third-party products which add to margins. Third-party selling and related services like payments are one of the most compelling opportunities for Amazon to expand operating margins above 4%.
Advertising: This is a small but intriguing opportunity for Amazon mainly because the incremental margin is very high. Provided they can do it without an adverse effect on customer experience, this is additive but probably not in huge amounts. A relatively small amount of organic advertising revenue of $2B will add 1 point to operating margins over time.
M&A Implications
If there is one area that cries out loudly and strongly as worthy of acquisitions it's in the third-party selling segment. For example, consider the latest hot "instant online store" company Tictail. They are fine for what they are but with strong hooks into Amazon services like fulfillment would make the technology far more important and potentially drive accelerating growth in sellers for Amazon. There are plenty of things Amazon could do in this segment and they offer opportunities to expand margins while adding to growth.
Most of Amazon's acquisitions have been related to the core business (Kiva Systems, GoodReads) and line expansions (Zappos). There are certainly be more of these but they probably won't have a major impact on long-term operating margins.
Based on how Netflix is doing heavy investments or acquisitions in this space might be bad for the stock as it's yet to be seen what level of operating margins are achievable in this business.
Valuation
And now for our raison d'être for this note, which is to look more closely at valuation for Amazon if investors decided to focus on it. It's not a simple answer because there are different classes of investors besides "momentum" and "value." In the middle are a heterogeneous group of "growth at the right price" or GARP practitioners.
We'll use our standard intrinsic value (IV) model as the starting point. Our base case model generates a share price of $182 for 2013 and $212 for 2014. The first figure is about 30% lower than the current stock price of $254. Given the long-term nature of the Amazon story and the fact that it will soon be mid-year 2013, I'd use the $205 as a more reliable "fundamental value" for the shares.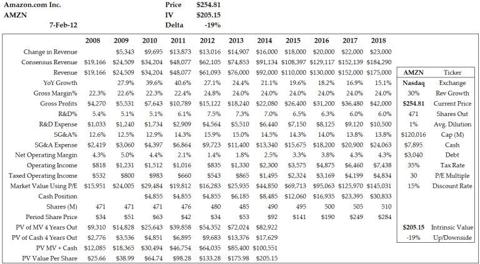 Amazon is a somewhat complex beast though it makes sense to go a few more steps beyond a straight ahead IV model. Amazon makes large investments and reported earnings are certainly not the only measure that investors care about. Cash flow matters, even though for a non-dividend paying stock like Amazon, it's a little abstract.
For example, Amazon made capital expenditures of just over $4B in the TTM period which works out to $8.80 per share. Before considering what portion of these investments were discretionary, it's worth pointing out that if they had not made those investments, the shares would be trading at 27x operating cash flow. Not cheap but not outrageous.
We've included two additional IV cases as an appendix showing a "bear case" in which margins simply don't recover through 2018. This would put the shares between $80 and $100 depending on the multiple investors ascribed to it.
The other additional IV case incorporates more than a replication of what other large retailers have achieved and affords an additional 2% of operating margin from expanded success in third-party selling, hosting and some advertising. Without increasing the multiple, this would suggest an IV of $280-300 in 2014.
Stock Conclusion
Considering where Amazon stock is right now and the IV suggested in base, optimistic and pessimistic cases, the shares are not very attractive.
Using very round numbers of $300 for the upper bound, $100 on the lower and $200 as what we would call fair value, the stock would begin to be interesting at $200 and well-justified on an IV basis at or around $150.
Like all investors, we will need to watch what moves Amazon makes to get a better handle on how long-term operating margins will develop. If they make some of the right moves, we might be able to put a higher probability on the $300 case. Right now, we have to stock with $205.
Appendix
We've included both a more pessimistic and more optimistic IV case that were prepared to support our analysis and conclusion.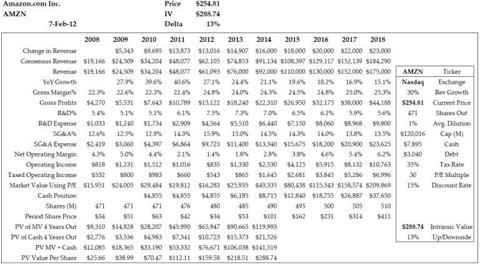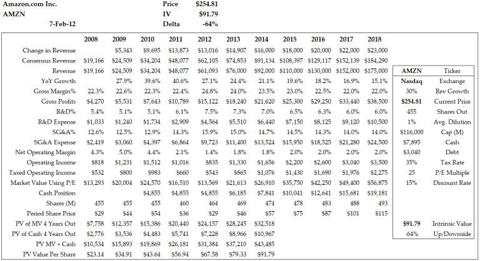 Disclosure: I have no positions in any stocks mentioned, and no plans to initiate any positions within the next 72 hours. I wrote this article myself, and it expresses my own opinions. I am not receiving compensation for it (other than from Seeking Alpha). I have no business relationship with any company whose stock is mentioned in this article.