Some recent developments are favoring Corning (NYSE:GLW), a global, technology-based corporation that we know mainly for the glass it makes for our smartphones.
A green signal from the Board of Directors to expand Corning's diesel plant in Erwin has set the ground for the company to emerge as a major player in the upcoming heavy duty emission control projects. New heavy duty regulations will come into effect in major economies like China and Europe within the next three to four years, which will double the demand for Corning's product. The stock gained about 27% from its 6-months low of $10.8 to $13.85. The company's dividend is growing at an average annual growth rate of 40% over the last 4 years with current yield of 2.8%.
Corning announced its results and dividends for the first quarter of 2013. Q1 profit was up 4% to $494 million from $474 million a year ago. However revenue declined to $1.8 billion, $0.15 billion below street expectation. Dividend increased by 11% to $0.10 per share from its previous quarter dividend of $0.09 per share. The Board of the company has authorized a $2 billion share repurchase program that expires on December 31, 2014.
Heavy duty regulation-
Heavy duty emissions are standard for new heavy-duty truck and bus engines to control the total emission level of polluting gas like ammonia and nitrogen dioxide. Europe has recently launched its new guidelines for Euro-IV standard which will be implemented by 2014. China's emission standards are based on European standards and are transiting from China III to China IV and China-V by next two to three years.
Corning's takeaway- With every new set of guidelines, heavy-duty truck and bus engines have to be modified accordingly. This creates demand for new ones and the replacement of the older ones. Corning, with its dedicated environmental technological segment and expanding capacity of its diesel plant in Erwin, can supply to the demands that might originate from China and Europe.
Operational Analysis-
Here is a brief description, sourced from Reuters, of the company's operation and their percentage contribution-
Segment

Description

Clients

Competitors

Share of total revenue (%)

Display Technologies Segment

Manufactures glass substrates for active matrix LCDs that are used primarily in notebook computers, flat panel desktop monitors and LCD television

Mobile manufacturers-

Apple,
Samsung

Asahi Glass
Nippon Electric Glass
Avan Strate

36

Tele-Communication Segment

Produces optical fiber and cable and hardware and equipment products for the world-wide Tele-communications industry.

Corning Cable System LLC
Beijing CCS Optical Fiber Cable Co.
Chengdu CCS

3M Company,
TE Connectivity
OFS
CommScope

27

Environmental Technologies Segment

Manufactures ceramic substrates and filter products for emission control in mobile and stationary applications

Manufacturers of emission control systems who then sell it to automotive and diesel vehicle or engine manufacturers

NGK
Denso
Ibiden

12

Specialty Materials Segment

Manufactures products that provide more than 150 material formulations for glass ceramics and fluoride crystals to meet demand for unique customer needs

Commercial and industrial markets that include display optics, semiconductor optics, aerospace and defense

Schott,
Asahi Glass,
Carl Zeiss,
Nikon,
Nippon Electric Glass,
Transitions Optical

17
Data Source- Website; Table- StockRiters
Bottom-line of this presentation is to show that the product-line of Corning is stretched along diversified industries and segments. The company's client base is varied enough to maintain a consistency in its consolidated top-line growth.
Growth in Smart Phone market -
Customer base of the smart phone is increasing rapidly, with growth rate being higher in emerging economies than the developed ones. According to a Gartner estimate, total sales of smart phones was approximately 700 million in 2012, 44% up from a year ago. They expect the total number to go up to 1.7 billion by 2017, showing an approximate CAGR of 20%.
Source- website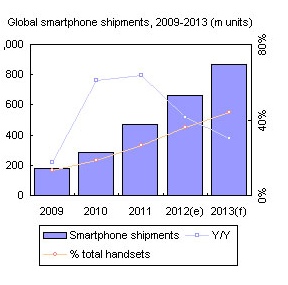 "Digitimes Research projects that global smartphone shipments will rise from 655 million in 2012 to 865 million in 2013, with a year-on-year growth rate lower than those in 2010 and 2011. But the proportion of overall handset shipments accounted for by smartphones will rise to 43.9%".
Corning has major share of its revenue coming from its smartphone clients. The growth factors in the smartphone market are significantly going to impact the company's top-line. With such a phenomenal forecast, Corning's investors can expect the company's earnings to grow in tandem.
Conclusion-
With recent developments and future outlook favoring Corning, I believe the company is all set to grow in the mid-term. A stock that is performing well, along with healthy divided-distribution, makes for a promising buy to investors.
Disclosure: I have no positions in any stocks mentioned, and no plans to initiate any positions within the next 72 hours.
Business relationship disclosure: StockRiters is a team of analysts. This article was written by Vaibhab Srivastava - B.Tech, Information Technology, MBA in Finance, IIFT, one of our analysts, and edited by Shas, StockRiters' Editor-in-Chief. We did not receive compensation for this article (other than from Seeking Alpha), and we have no business relationship with any company whose stock is mentioned in this article.