Last week, Standard & Poor's revised its outlook on Alcoa's (NYSE:AA) credit rating from stable to negative. However, Alcoa's stock price continued to bounce back from $8 per share and is trading where it was before announcing Q1 earnings. The revised outlook is not a surprise considering the weakness in aluminum prices and the fact that Moody's made a similar move in December. The last few weeks have been challenging for the metals and mining sector as gold (NYSEARCA:GLD) led to broad declines. However, aluminum is still holding above key levels from the last few years. It is too early to tell if aluminum can rebound and provide support for Alcoa's stock, but it is worth watching. It seems that Alcoa is set for a big move and the price of aluminum will likely determine the direction.
Previous Articles About Alcoa
I wrote about Alcoa twice recently:
My basic thesis is that Alcoa is a well run company with an attractive downstream business that produces components for several growing end-markets, especially automobile and aviation. However, its upstream business has been pressured from very weak aluminum prices. Alcoa has a lot of debt and is marginally cash flow positive, so the price of aluminum is the key driver of Alcoa's overall profitability and the stock price. Aluminum prices are trading where they found support a few times in recent years. The next big move in Alcoa's stock will likely be determined by aluminum prices bouncing off this level or falling to new lows.
Revision Credit Outlook
On April 26, Standard & Poor's (S&P) revised Alcoa's outlook from stable to negative and reaffirmed its BBB- corporate credit rating. The move from S&P follows a similar move from Moody's in December (here). S&P explained its decision:
We expect the company to continue to post lower-than- anticipated credit measures because of continuing weak aluminum prices... The company's credit measures will remain weak at least through 2013, reflecting current weak prices, sluggish European demand, and slower-than- expected growth in China thus far this year. (Source: Bloomberg)
According to S&P, Alcoa is expected to generate $2.4 - $2.8 billion of EBITDA, which would result in Debt / EBITDA of 5.5x - 6x and FFO / Total Debt below 20%. S&P based its rating on the anticipation that Debt / EBITDA would be 3.5x - 4x and FFO to total debt would be more than 20%. Alcoa is currently missing these targets by a wide margin.
S&P did say that it expects that aluminum prices will improve, but the timing is uncertain, hence the negative outlook.
For comparison's sake, in 2012 Alcoa generated $2.02 billion of adjusted EBITDA and it generated $3.3 billion of adjusted EBITDA in 2011 (see here).
On the Q1 2013 earnings call, Alcoa was asked about maintaining its investment grade rating:
Harry Mateer - Barclays

So I'm just going to follow up with one question on the credit rating if I can, Bill. Given that you've been executing against the backdrop of your free cash flow targets and your operating performance, is there anything left to do here to try and save that rating? You know, is issuing equity something that's on the table to save that? And then related to that, can you just walk us through potential debt reduction levers in the next six months? I guess specifically, you do have a maturity coming up in July. How do you plan to take care of that? Are you going to refinance it? Or pay it down with cash?

William Oplinger - Executive Vice President and Chief Financial Officer

The plan is to pay it down with cash. So just to be clear on that, Harry. Before we're even considering issuing equity, we have a series of options, a series of levers, that we will be pulling at various stages. And it's continued capital reduction, better productivity, better working capital, and if need be, asset sales. So those are all the things that we have in our arsenal to ensure that we stay where we need to be from a cash flow perspective. So we are committed to ensuring that we keep that investment grade rating.
If the price of aluminum does not bounce back, Alcoa could face a downgrade. It seems that S&P is willing to give Alcoa some time and will wait to see if aluminum prices bounce back or if Alcoa takes other actions to reduce debt. It will be interesting to see if Alcoa takes proactive action by raising cash through asset sales to reduce debt.
Price Action
Alcoa's stock price is basically where it was before announcing Q1 earnings. After earnings there was little movement in the stock price, but Alcoa fell together with the broader mining sector around April 15 when gold experienced its big drop. Since then, Alcoa's stock price bounced back.
Alcoa has bounced off the $8 level a few times in recent years, but each bounce has been less convincing. It will take more time to see if the most recent bounce off of the $8 level can be sustained.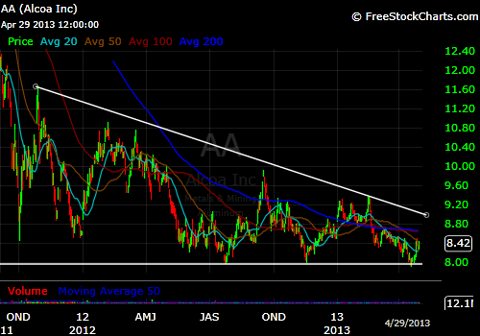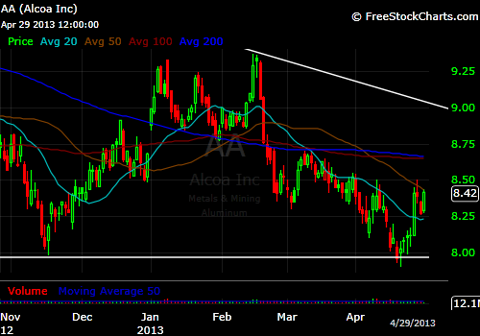 (Source: FreeStockCharts.com)
Mining Industry
The overall mining sector has been weak all year and dropped further together with the price of gold mid-April. Below is a comparison of Alcoa's share price and the price of the SPDR S&P Metals and Mining ETF (NYSEARCA:XME).
Alcoa is the fourth largest component in the XME and represents 3.7% of the XME's value. Although Alcoa's share price has been weak, it is holding up better than the rest of the metals and mining sector, as measured by the XME.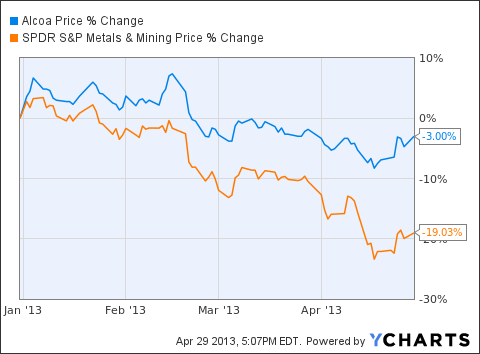 AA data by YCharts
LME Aluminum Prices
The London Metal Exchange (LME) aluminum price is generally used as the benchmark, though Alcoa can receive a higher price for its aluminum depending on regional pricing.
The LME aluminum price gives a sense of the general trend. As of April 26, the LME aluminum price was $1922 per metric ton (3 month buyer), which was actually slightly above the price at the time of Q1 earnings.
The following charts show the LME aluminum price over the long term and more recently. The price has traded down to this level a few times since the 2008/2009 financial crisis. So far, LME aluminum is holding previous support. Encouragingly, LME aluminum has bounced back from the sell-off in metals mid-April following the big drop in gold.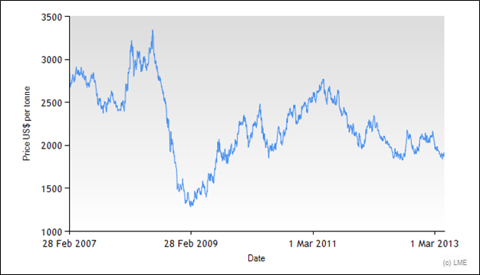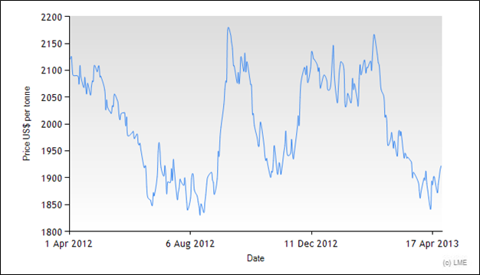 (Source: LME.com, aluminum prices for 3 month buyer)
Aluminum Supply & Demand
Alcoa's management said that the supply/demand for aluminum are basically in balance on the last earnings call.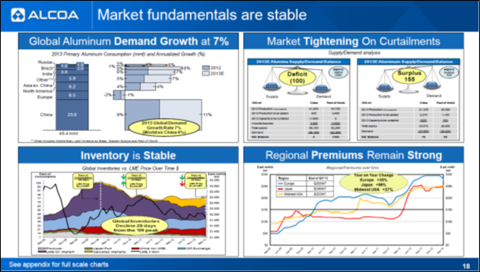 (Source: Alcoa's Q1 earnings presentation)
However, the supply/demand dynamic has not provided support for the price of aluminum over the last few months and it is unclear that it would provide support here. Please see my previous articles that discuss Alcoa's outlook for aluminum prices in more detail.
Copper
The fall in aluminum has been part of the broader weakness in the metals markets. In fact, Alcoa's management blamed the weakness in aluminum pricing on a rotation of investor capital out of commodities and into equities (see last earnings call).
It is interesting to compare the price action of aluminum and copper (NYSEARCA:JJC) because there are similarities in the way the two metals traded over the last few years.
Copper also recently approached multi-year support, but continued to trade lower.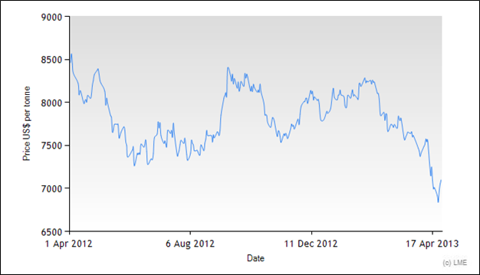 (Source: LME.com, copper prices for 3 month buyer)
It is far too early to declare a turnaround in the price of aluminum, but it is worth noting the divergence in the way aluminum has been trading compared to copper. This divergence may not last and aluminum could trade down further like copper, but it is holding up for now.
Financials
Alcoa's "overarching" financial goal for 2013 is to achieve positive free cash flow. On the last earnings call, Alcoa's management said:
We're committed to being free cash flow positive regardless of the metal price. That means we'll be deploying against more aggressive operational targets to offset the current lower metal prices.
Since that time, aluminum prices have been flat, so this outlook probably is still in effect.
Analyst Actions
Equity analysts are continuing to bring down their estimates for Alcoa's earnings. The drop in aluminum prices is probably the main driver for these revisions.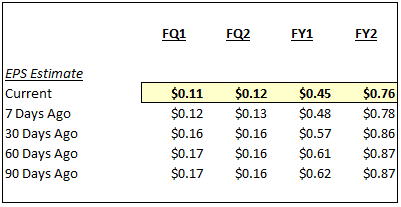 (Source: Yahoo Finance)
The average target price for analysts is $9.50 and the range is $6.00 - $12.00 (source: Yahoo Finance).
Conclusions
Alcoa's stock price probably already priced-in the revised outlook from S&P. The real driver of Alcoa's stock going forward will be the price of aluminum. Aluminum has been weak, but has held up better than some other metals and is trading above key levels from the last few years. If aluminum can rebound, Alcoa's stock price will likely follow on a short-term basis.
Over the long term, Alcoa still faces a high debt level and marginal profitability. It will need much higher aluminum prices. S&P expects the price of aluminum to rise ~5% in 2014 and ~15-20% over the long term. It is too early to tell if this will materialize and Alcoa will continue to face severe risks until aluminum settles at a higher level.
However, Alcoa is a well-run company with a very attractive downstream business that has exposure to the automobile and aviation end markets. Alcoa is a leveraged play on a global economic rebound and will likely continue to face high volatility in its share price. Along the way there will be periods of opportunity and I continue to watch the stock and look to invest. I have no position now, but may establish a position if there is more strength in aluminum prices.
Disclosure: I have no positions in any stocks mentioned, but may initiate a long position in AA over the next 72 hours. I wrote this article myself, and it expresses my own opinions. I am not receiving compensation for it (other than from Seeking Alpha). I have no business relationship with any company whose stock is mentioned in this article.
Additional disclosure: I may trade any of the securities mentioned in this article at any time, including in the next 72 hours.
Disclaimer: The opinions expressed above should not be construed as investment advice. This article is not tailored to specific investment objectives. Reliance on this information for the purpose of buying the securities to which this information relates may expose a person to significant risk. The information contained in this article is not intended to make any offer, inducement, invitation or commitment to purchase, subscribe to, provide or sell any securities, service or product or to provide any recommendations on which one should rely for financial, securities, investment or other advice or to take any decision. Readers are encouraged to seek individual advice from their personal, financial, legal and other advisers before making any investment or financial decisions or purchasing any financial, securities or investment related service or product.
Information provided, whether charts or any other statements regarding market, real estate or other financial information, is obtained from sources which we and our suppliers believe reliable, but we do not warrant or guarantee the timeliness or accuracy of this information. Nothing in this article should be interpreted to state or imply that past results are an indication of future performance.
THERE ARE NO WARRANTIES EXPRESSED OR IMPLIED AS TO ACCURACY, TIMELINESS, COMPLETENESS, OR RESULTS OBTAINED FROM ANY INFORMATION IN THIS ARTICLE OR ANY LINKED WEBSITE.