INTRODUCTION
The challenge for a new dividend growth investor sometimes is being able to pick good dividend growth stocks. With so many in the stock universe, where does one begin? I had written an article several months back where I compared the stocks that were held in the dividend portfolios published on Seeking Alpha. My analysis identified several common stocks that are well known and others that were not (see the article here). David Van Knapp recently republished a list of 39 stocks that self-proclaimed dividend growth investors' commonly held in their portfolio (see his article here). I found that our two articles shared many of the same stocks. David's article inspired me though to look at those 39 stocks to determine which are actually increasing the percentage (or proportion) of annual dividends not just increasing the annual amount of dividends being paid out.
Dividend growth investors are always looking for the companies they own to increase their dividends on an annual basis. However, what I have seen thus far is that many contributors here on Seeking Alpha focus on the 1 year, 5 year, 10 year dividend growth, the CAGR, or show graphs using the actual cash dividends paid out when conducting their analysis. These are important metrics to consider, however I find they can be deceiving and so is the graph that shows actual dividends paid out. The reason I say this is because those cash dividends could be proportionally declining. Although the dollar value has increased and we all cheer for that, there is a different trend emerging with the proportional dividend change. The other thing to consider is that some companies are sporadic in how their dividends increase. What I mean by this is that one year the dividend could increase 10%, another year by 5%, and after that it increases by 22%. What this article will do is analyze the proportional dividend change of each of those 39 companies to see which are generally decreasing, sporadic or generally increasing.
METHODOLOGY
With permission from David Van Knapp, I am using his list of 39 common dividend stocks for the basis of this article. I then researched the proportional increase in annual dividends for each company using David Fish's Dividend CCC Spreadsheets (you can download his spreadsheets here). There were four companies in particular that had an interrupted dividend increase for one reason or another. When this occurs, David Fish removes the information for the stock from his spreadsheet. I used gurufocus.com to obtain the 10 year dividend history to replace the information that was removed. Table 1 presents the annual proportional dividend change from 2003-2012. Values in red indicate a proportional decrease from the previous year. Values in green indicate a proportional increase from the previous year. Values in yellow indicate that there was no change in the proportion from the previous year. Dashes mean that I could not obtain the information for that year.
I should note here that when I speak of increases, I am referring to the proportional dividend increase of a given year being higher than the previous year. The distinction is important because most of the companies increased their cash dividends by a certain percentage, but that percentage was either higher or lower than the previous year's increase. When I speak of decreases, I am referring to the proportional dividend decrease of a given year being lower than the previous year.
Table 1: Annual Proportional Dividend Change from 2003-2012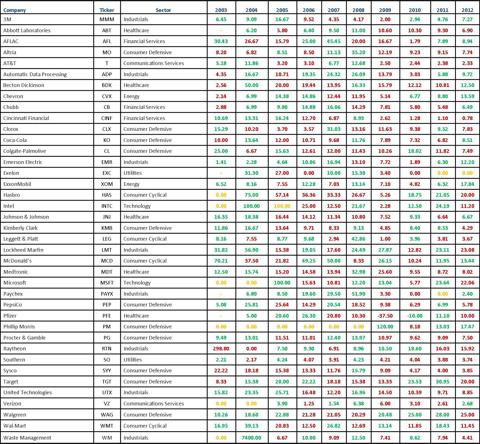 ANALYSIS
The first important thing to specify is that Exelon (NYSE:EXC), and Pfizer (NYSE:PFE) cut their dividend during the last few years while Paychex (NASDAQ:PAYX) did not increase its dividend for several years. Abbott Laboratories was split into (NYSE:ABT) and AbbVie (NYSE:ABBV), so in essence it is not the same company anymore.
An interesting statistic from Table 1 is that 25 out of the 39 companies (64.1%) did not increase their dividend in 2012 above the previous years. In other words, the dividend increase in 2012 was proportionally lower than in 2011. It is also interesting that only a handful of companies have increased their dividends for the last 2 consecutive years (Aflac (NYSE:AFL), Automatic Data Processing (NASDAQ:ADP), Emerson Electric (NYSE:EMR), ExxonMobil (NYSE:XOM), McDonald's (NYSE:MCD), and Philip Morris (NYSE:PM)) while only 2 companies have increased their dividends for the last 3 consecutive years (3M (NYSE:MMM), Chevron (NYSE:CVX)). Table 2 gives a more legible perspective on the number of years of increases and decreases in proportional dividend change. I should further note that since 2008, which was the year of the financial crisis, many of the companies (n =26, 66.67%) on the list of 39 companies have a decreasing proportional dividend trend.
Table 2: Number of Proportional Annual Dividend Increases and Decreases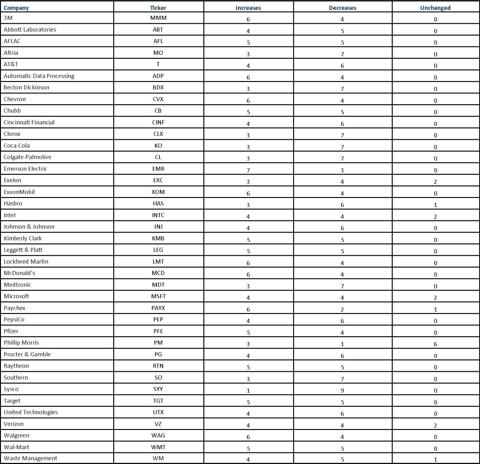 I won't have the space to show a graph for each of the 39 companies, so I will have to limit it to highlighting several particular companies. The following example shows the premise of this article clearly. The graph on the left shows the steady increase in cash dividends for Johnson & Johnson (NYSE:JNJ). This kind of graph is often seen in SA articles and in some respects is exactly what we want to see: a consistent and steady growth in cash dividends year over year. Now compare that with the graph on the right which shows the proportional changes in the dividend for JNJ. The blue arrow shows the 10 year trend and the black arrow shows the 5 year trend. If this was the cash dividend graph, no one would be investing in this stock!

What does this graph show us? It shows us that over the last 10 and 5 years, the size (percentage or proportion) of the dividend has generally been decreasing. We often speak about how past performance is a proxy indicator of what we may expect the company to do in the future. In this particular case, we can say that JNJ does increase its dividend but is doing it in much smaller increments than before. This could lead to a disturbing future trend if the dividend continues to increase minutely. At the current valuation, JNJ fails to meet the Chowder rule. Some may accept the 6.67% increase in 2012 and see no problems. Others may suggest that the company may be attempting to find a proportional niche, however, it may be a cause of concern and something to monitor as time goes on. I do hold shares of JNJ at the moment and don't plan on selling them unless the proportional change in the dividend becomes meaningless. What I mean by meaningless can be shown by the following example, Cincinnati Financial (NASDAQ:CINF). I do not believe that JNJ would raise its dividend by a mere 0.78% like CINF did in 201, however, this is what I mean by a meaningless proportional dividend change.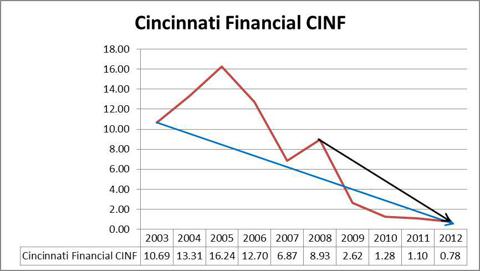 Now I am going to show some additional graphs from companies that are spoken of frequently and are generally considered to be core positions in dividend growth portfolios. These companies are AT&T (NYSE:T), Coca-Cola (NYSE:KO), Colgate-Palmolive (NYSE:CL) and Kimberly Clark (NYSE:KMB). From the graphs of these companies, we can see that they have a trend of proportional dividend decreases.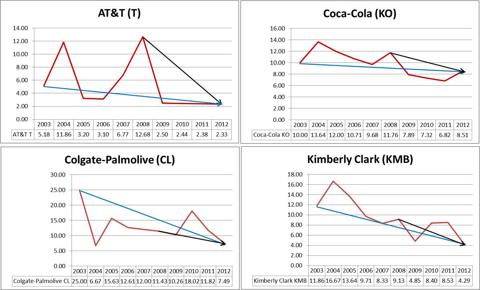 There are some companies that have mixed trends. These are the sporadic companies whose dividend increases and decreases unevenly. I have included Emerson Electric in this group although I have the very strong feeling that if the financial crisis had not occurred, EMR would have probably been one of those companies that would have had a continuous proportional increase. Here we can see Becton Dickson (NYSE:BDX), ADP and EMR with a 10 year proportional dividend increase trend, but a 5 year proportional dividend decrease trend, and exactly the opposite for MCD.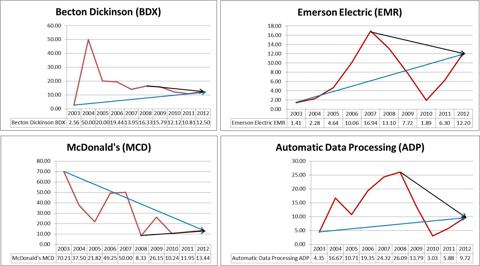 You may now be wondering if there are any on this list that actually have fairly consistent proportional dividend increases. The answer is yes. The proportional dividend increases did not increase above the previous year's increase each time, however the 10 and 5 year trend are both positive. So here they all are since there isn't that many: MMM, CVX, XOM, Microsoft (NASDAQ:MSFT), PM, Target (NYSE:TGT), and Walgreen's (WAG).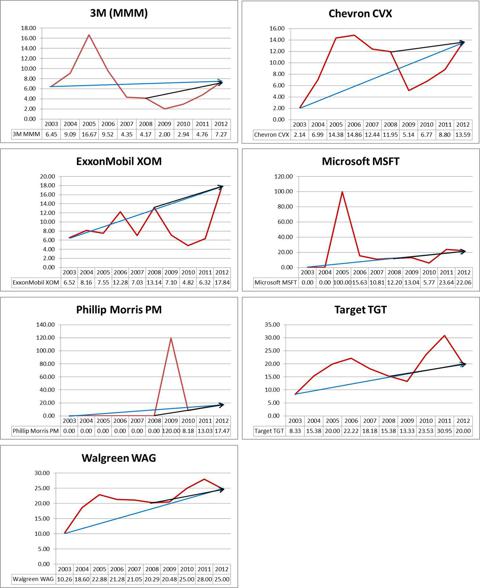 From these 7 companies, WAG impresses me the most. It has increased the dividend proportionally very consistently in the 20-30% range for the previous 8 years. Just based on this graph, I would be adding it to my dividend portfolio (if proportional dividend increases were all that I was considering in evaluating a stock).
Finally, here is how I feel each of the companies fit in terms of their proportional dividend trends. What are the qualifications for each list? Those on the decreasing list have a 10 and 5 year proportional dividend that has generally been decreasing. Also, any company whose proportional dividend has been decreasing for 4 of the last 5 years.
Decreasing List: AFL, ABT, T, Altria (NYSE:MO), Chubb (NYSE:CB), CINF, EXC, KO, Clorox (NYSE:CLX), CL, JNJ, KMB, Leggett & Platt (NYSE:LEG), Medtronic (NYSE:MDT), PAYX, PepsiCo (NYSE:PEP), Procter & Gamble (NYSE:PG), Southern Company (NYSE:SO), Sysco (NYSE:SYY), United Technologies (NYSE:UTX), Verizon (NYSE:VZ), and Waste Management (NYSE:WM).
Those on the sporadic list are companies that generally have either increasing 10 or 5 year proportional dividend. This means that one was increasing while the other was decreasing. Also being considered is whether over the last 5 years the company has had at least 2-3 years of proportional dividend increases.
Sporadic List: ADP, BDX, EMR, Intel (NASDAQ:INTC), Hasbro (NASDAQ:HAS), Lockheed Martin (NYSE:LMT), MCD, PFE, Raytheon (NYSE:RTN), and Wal-Mart (NYSE:WMT).
Those on the increasing list are companies whose proportional dividend has generally been increasing over the last 10 and 5 years.
Increasing List: MMM, CVX, XOM, MSFT, PM, TGT, WAG
CONCLUSION
Although I could not present a graph for each company and find them more enlightening, Table 1 and 2 does provide you with at least an idea of the general trend. It is a little disappointing and disheartening to see so many of these dividend paying companies in a decreasing proportional trend, particularly some of the popular companies such as T, KO, CLX, CL, JNJ, KMB, PG and VZ. There are obviously many more dividend paying companies that can be considered which may have a more positive trend.
I realize that these 39 companies are stocks held by various people here on Seeking Alpha in their dividend portfolios and that they had done some type of research to validate these companies belonging in their portfolio. Many of these companies are just so popular that it is hard to imagine a dividend portfolio without them. However, if I was only considering the proportional dividend change, I would have to say that CVX, XOM, MSFT, PM, TGT, and WAG are the best choices for a dividend growth portfolio and that new dividend growth investors should start their research with these companies.
I feel that considering the proportional dividend change is important. Since our portfolio would not be well diversified if only those seven companies on the increasing list were in our portfolio, we would then have to take into consideration the size of the proportional change in dividends each year to evaluate what other companies we would include. Is the proportional dividend change in the double digits range like 10%-20% (e.g. MCD, WMT) or more 3%-8% (e.g. SO, T, KO)? If we need to take on a stock with sporadic or decreasing dividends, I would suggest that those with a higher range of increases are more attractive.
Lastly, if we look at proportional dividend change this way, the lower the proportional increase, the less money we receive. So when it comes to our bottom line, bigger is better in this case.
Disclosure: I am long JNJ, MCD, PG. I wrote this article myself, and it expresses my own opinions. I am not receiving compensation for it (other than from Seeking Alpha). I have no business relationship with any company whose stock is mentioned in this article.