My first article on ConocoPhillips' (NYSE:COP) discussed its current operations worldwide with the focus on its best natural gas and LNG plays.
In this last article on the company, I will discuss some of its exploration activities, a few of the major natural gas projects under way, the financial highlights as well as its future outlook. However, I will begin by presenting a process developed by ConocoPhillips, which is being used as a reference with more than 40 years in implementation of liquefaction terminals.
The ConocoPhillips Optimized Cascade Liquefaction Process
This process is designed around a "two-train-in-one" reliability concept. Even when a compressor is off line, the plant continues operating at a reduced rate. This feature results in high plant availability to maximize LNG production.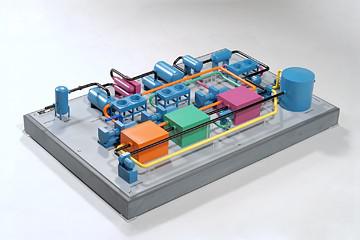 Source: DAC Assistance Corporation
Natural gas is first treated to remove contaminants including CO2, water and mercury before entering the liquefaction section of the plant. The treated gas is then chilled to approximately -260 degrees Fahrenheit in successively colder heat exchangers that use propane, ethylene and methane as refrigerants. The product leaving the methane exchangers is LNG ready for storage.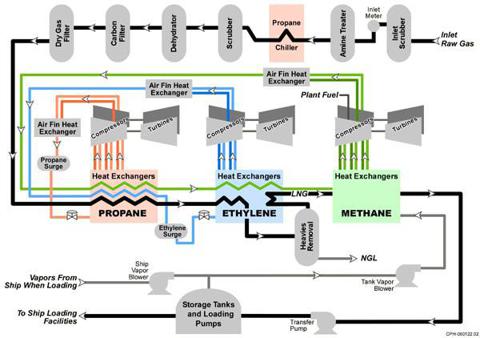 Source: ConocoPhillips
The LNG product is then pumped into insulated storage tanks before being loaded on special ships to be transported to LNG import terminals around the world. Gases which continually boil out of the LNG as it warms slightly in the storage tank are captured and returned to the process to be re-liquefied. At the receiving terminals, the LNG is transferred to storage tanks, re-gasified and shipped via pipeline to domestic users. This technology has been applied in 10 LNG trains around the world, with 10 more under construction.
Major Projects Under Development & Exploration
ConocoPhillips has several projects under way, as well as some exploration activities. In offshore Western Australia, the company has commenced a second phase of drilling in its three Browse Basin exploration permits, which is expected to run through 2013. The Browse Basin is a promising area for wide deposits of natural gas.
COP, in its key business assessment was one of the major participants in the Chukchi Sea federal OCS (outer continental shelf) lease sale held in 2008. The company was awarded 98 OCS tracts or 0.56 million acres, with total lease costs of $506 million. Plans are progressing for drilling an exploration well on the Chukchi Sea leases in 2014 or later. In 2010, the company conveyed a 25% working interest in 50 of these leases. In 2011, COP conveyed an additional 10% of its working interest in the same Chukchi Sea leases.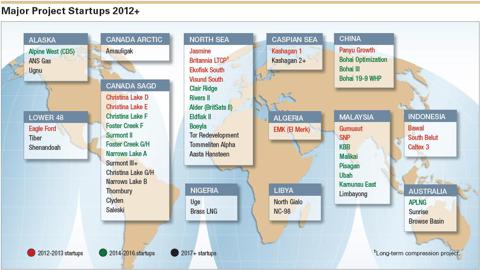 Source: ConocoPhillips
Point Thomson, Alaska
ConocoPhillips has participated in two appraisal wells in the Point Thomson Unit, with development options currently being evaluated. In March 2012, Alaska's governor announced that the state had forged a settlement of the disputes relating to plans for development of the Point Thomson Unit. The settlement agreement provides for both the near-term development plan for the Point Thomson Field and potential subsequent development alternatives.
The Point Thomson natural gas resource is significant to a potential major North Slope gas project development. ConocoPhillips owns approximately 5% working interest in the Point Thomson Unit. An initial production system is anticipating to be online by 2016, from which it should send 400Boe/d of net condensate through the TAPS (Trans-Alaska Pipeline System).
Australia Pacific LNG

Source: ConocoPhillips Australia
Australia Pacific LNG is a joint-venture project between ConocoPhillips at 37.5%, Origin Energy (OTCPK:OGFGF) with 37.5% and Sinopec (NYSE:SHI) with 25%. The project is developing Australia's largest position of coal seam gas resources, with a life expectancy of up to 30 years.
This CSG (coal seam gas) to LNG project benefits from Origin's 15 years and ConocoPhillips' 25 years of CSG production experience. The project involves the development of Australia Pacific LNG's coal seam gas resources in the Surat and Bowen basins in central southwest Queensland, a 323 miles transmission pipeline and a multi-train LNG facility on Curtis Island near Gladstone, Queensland. ConocoPhillips is responsible for the construction and operation of the Curtis Island facility in Gladstone.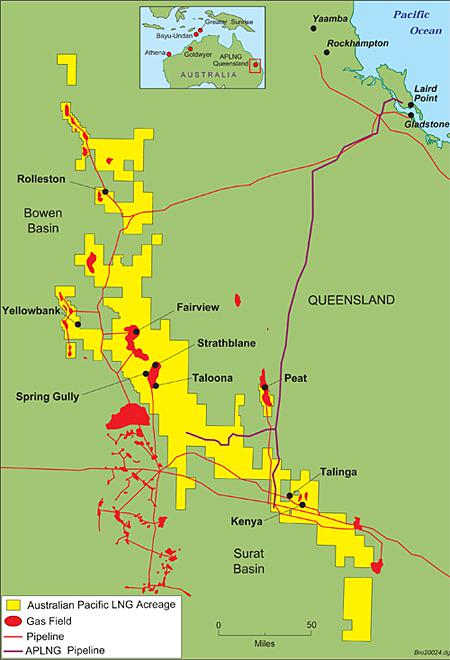 Source: ConocoPhillips Australia
During 2011, Sinopec signed an agreement regarding 4.3Mtpa of LNG for the first train. In November 2011, APLNG has made a binding agreement with Kansai Electric (OTC:KAEPF) for the purchase of about 1.0Mtpa of LNG for 20 years starting in 2016. In July 2012, Australia Pacific LNG approved the development of a second 4.5Mtpa train.
This added production was supported by Sinopec's decision to increase its purchase commitment last January from APLNG with an initial 4.3Mtpa to a total of 7.6Mtpa, representing the largest supply agreement of LNG in Australian history. The estimated gross capital cost of the two-train project is $20 billion. LNG exports are scheduled to start in late 2015. Following start up of the second train, the project has an expected life span of at least 30 years.
Greater Sunrise Project, Australia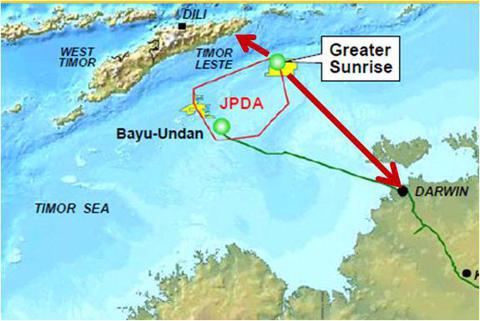 Source: Edmund Rice Network
The Sunrise and Troubadour gas and condensate fields, collectively known as the Greater Sunrise fields, are located about 93 miles south east of Timor-Leste and 280 miles northwest of Darwin in the Northern Territory. 20.1% of the Greater Sunrise fields are situated in the Joint Development Petroleum Area in the Timor Sea while 79.9% are in Australian Waters.

Source: ConocoPhillips Australia
The Greater Sunrise joint-venture partners are Woodside with a 33.4% interest and operator of the project, ConocoPhillips with 30%, Shell (NYSE:RDS.A) with 26.6% and Osaka Gas (OTC:OSGSF) with 10%. The partners unanimously selected Floating LNG in April 2010 as the preferred development concept for Sunrise. Discussions between the joint-venture partners and the Government of Timor-Leste regarding the details and timetable for this potential development are ongoing.
2012 Financial Highlights And Q1 2013 Release
For 2012, total production totaled 1,578Mboe/d while the company replaced 156% of its production with new reserves on an organic basis. COP reported production of 1,596Mboe/d for Q1 2013 compared to 1,581Mboe/d. Notably, key 2012 milestones included more than doubling its U.S. shale liquids volumes from Eagle Ford and Bakken and increasing its Canadian oil sands volumes by 39%. Eagle Ford, Bakken and Permian combined production for Q1 2013, are up 42% over Q1 2012.
Key Financials At A Glance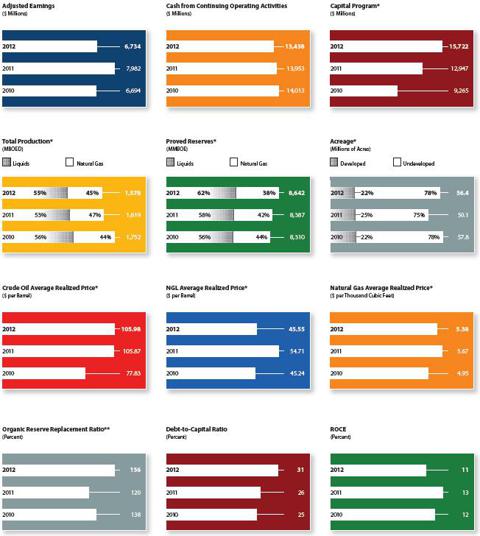 Source: ConocoPhillips 2012 Annual Report
The company's total realized price fell to $68.57 per Boe compared to $70.78 per Boe in Q1 2012. Realized crude oil prices decreased to $105.97 per barrel, compared with $111.88 per barrel for Q1 2012. Realized natural gas liquids prices decreased by 22% to $42.95 per barrel compared to $55.03 per barrel for Q1 2012. Realized natural gas prices increased to $5.84Mcf compared with $5.61Mcf for Q1 2012.
At the end of 2012, COP had cash from continuing operating activities of $13.5 billion, a 4% decrease from 2011. ConocoPhillips generated $3.6 billion in cash from operations for Q1 2013. The company reported $2.35 billion in cash and cash equivalents, slightly above from $2.34 in 2011. As of March 31st, according to its Q1 2013 release, COP had $5.4 billion of cash and cash equivalents and unchanged total debt of $21.7 billion compared to $22.6 billion the year before. Its debt-to-capital ratio of 31% compared to 26% in 2011 is at the higher end of the range for larger E&Ps but still manageable.
COP reported Q1 2013 earnings of $2.1 billion or $1.73 per share, compared with Q1 2012 earnings of $2.9 billion or $2.27 per share, a drop of 23.8% according to its Q1 2013 earnings release. However, Q1 2012 reported earnings included $0.7 billion from downstream operations prior to the separation of Phillips 66 on April 30, 2012.
Excluding special items, Q1 2013 adjusted earnings were at $1.8 billion or $1.42 per share compared with Q1 2012 adjusted earnings of $1.8 billion or $1.38 per share, an increase of 2.9%. Special items for the current quarter primarily related to asset sales and discontinued operations.
Other significant Q1 2013 release highlights are:
Major projects on schedule for fourth-quarter startup.
First sale of oil from deepwater Gumusut Field.
Coronado and Shenandoah discoveries in Gulf of Mexico.
Continued building deepwater Gulf of Mexico exploration portfolio.
Entered Colombia to explore La Luna Shale.
Completed sale of Cedar Creek Anticline properties for $1 billion.
Its TTM P/E ratio is at 8.54% which is good considering its large portfolio of projects under development. Comparing this ratio to its peers, COP represents a relatively good choice. Chevron has a P/E ratio of 8.75, ExxonMobil (NYSE:XOM) has 9.08, Total (NYSE:TOT) 7.85 and Apache (NYSE:APA), 14.07.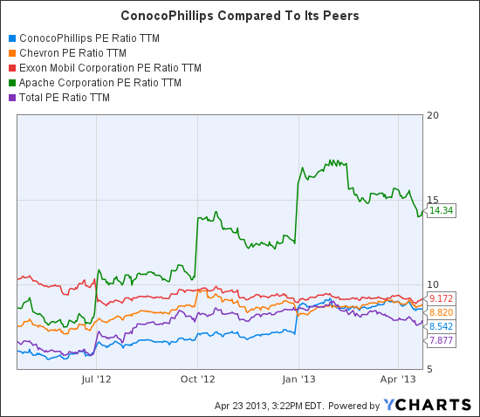 Future Outlook
The company is estimating its Q2 2013 production from continuing operations to be in the range of 1,440 to 1,470Mboe/d, reflecting previously announced planned downtime and turnaround activity. Production from discontinued operations is expected to be approximately 40Mboe/d for Q2 2013. Full-year 2013 production from continuing operations is expected to be in the range of 1,485 to 1,520Mboe/d from which 45% would be natural gas and LNG.
However, the production volumes should remain flat to down this year as new production will unlikely offset natural declines and dispositions. Sales of lower-quality assets, particularly high-cost domestic natural gas may lower volumes but should result in an overall higher-quality portfolio.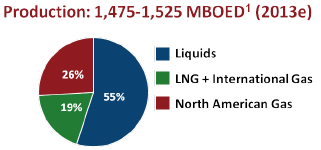 Source: ConocoPhillips' IPAA OGIS Presentation, April 2013
The chart below depicts the projected production from 2012 to 2017 by COP with an estimated CAGR (compound annual growth rate) of 3.5%.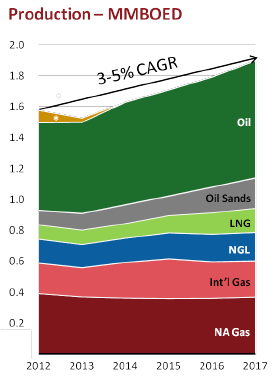 Source: ConocoPhillips' IPAA OGIS Presentation, April 2013
COP's 2012 annual report is estimating its net proved reserves at the end of last year, at 3.27Bboe of natural gas from 3.49Bboe the year before, totaling 8.6Bboe of liquids and total resources of 43Bboe. However, crude oil has increased slightly at 2.78Bboe compared to 2.74Bboe in 2011.
The company also reloaded its prospect inventory by acquiring more than 850,000 net acres since 2011 in key liquids-rich North American shale trends. About 80% of its proved reserves are located in politically stable countries that belong to the OECD (Organization for Economic Cooperation and Development).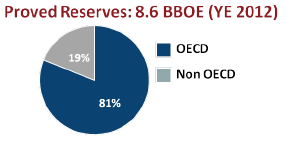 Source: ConocoPhillips' IPAA OGIS Presentation, April 2013
According to the company, COP is contractually committed to deliver approximately 4Tcf (trillion cubic feet) of natural gas worldwide, including about 600Bcf (billion cubic feet) related to the non-controlling interests of consolidated subsidiaries and 80Mboe of crude oil in the future. These contracts have various expiration dates through the year 2028.
Expenses in capital are estimated as follows for years 2013-2017:
Production & selling, general & administrative expense of ~$8 billion
Exploration expense of ~$1.5 billion
Depreciation, depletion and amortization of ~$7 billion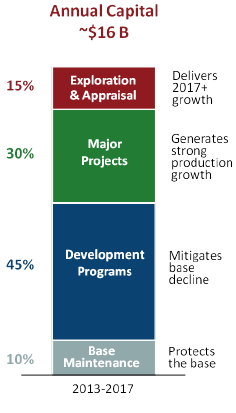 Source: ConocoPhillips' IPAA OGIS Presentation, April 2013
As we have seen earlier in this article, COP has several major projects under way that should ramp-up production in the coming three years such as APLNG, Clair Ridge and Greater Sunrise to name a few. Depicted below is the projected production that should increase from 1.5Mmboe/d last year to 1.9Mmboe/d by 2017, a net growth of 400Mboe/d.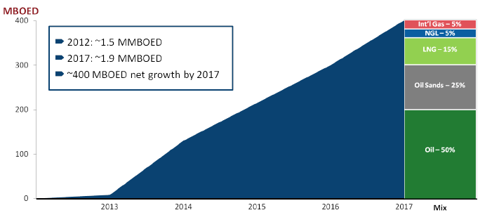 Source: ConocoPhillips' IPAA OGIS Presentation, April 2013
Finally, the company has announced in its Q1 2013 release, plans to dispose of its interests in Kashagan and its Algeria and Nigeria businesses. These transactions are expected to close in 2013, generating expected proceeds of approximately $8.5 billion.
Bottom Line
ConocoPhillips has set its priorities in line with its shareholders by constantly improving financial returns, aiming for 3-5% in production growth rate through drilling programs in its legacy assets and sanctioned major projects globally.
However, the company may be matching up well with its former integrated peers, but is falling short with respect to its smaller rivals. It has a diversified asset profile with onshore, offshore, LNG, oil sands and so on, which is potentially less attractive compared with peers with much more concentrated portfolios.
Management stated in its 2012 annual report that it has a 3-5% in margin growth rate with the divestiture of lower return and non-core assets, and is shifting its production mix to higher-value products. During its reported Q1 2013 highlights, Ryan Lance, chairman and chief executive officer reiterated:
(...) we are on track to deliver production and margin improvements this year. We remain committed to our goal of 3 to 5% volume and margin growth, with a compelling dividend.
Furthermore, ConocoPhillips repurchased 80 million shares of its stock for $5.1 billion and maintained its pre-separation dividend rate of $2.64 per share, a yield of 4.6% on its year-end share price. Thus, COP realized a 2012 total shareholder return of 9.1% for the whole year, which outperformed its peer group average and reflected general affirmation of its strategy.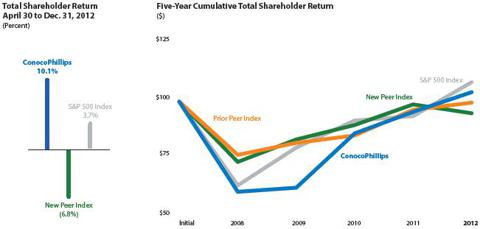 Source: ConocoPhillips 2012 Annual Report
In the chart above, the Prior Peer Index of companies consisted of BP (NYSE:BP), Chevron (NYSE:CVX), ExxonMobil, Royal Dutch Shell and Total. The New Peer Index consists of the Prior Peer Index plus Anadarko (NYSE:APC), Apache, BG Group plc. (OTCQX:BRGXF), Devon (NYSE:DVN) and Occidental (NYSE:OXY).
I believe that the management can efficiently deliver the objectives they have set in place to ensure its growth for the next few years. We have seen that ConocoPhillips is about to produce approximately 45% of natural gas and LNG, out of its total production for this year. Considering its current projects for the commodity and its profitable worldwide development programs, COP should get its share of profit from the global increasing demand for natural gas. Furthermore, Q1 2013 highlights reported that COP's major projects remain on schedule for Q4 startup.
Currently, the company offers a dividend yield of 4.6% which is more appealing than its industry average of 3.31% or its sector average of 2.72%. The 5-year dividend growth rate is at 9.99% and it offers predictable returns to its shareholders. Therefore, I recommend ConocoPhillips for investors interested in opening a long position on the stock and profiting from the expected growth of its share's value, thereby profiting from this natural gas boom opportunity.
Disclosure: I have no positions in any stocks mentioned, and no plans to initiate any positions within the next 72 hours. I wrote this article myself, and it expresses my own opinions. I am not receiving compensation for it (other than from Seeking Alpha). I have no business relationship with any company whose stock is mentioned in this article.