Overview
Over the last few months, many of the major US railroad companies have risen in value in excess of the S&P 500 return for the same period. As the US railroad sector seems to be powering ahead, it seems like an opportune time to reevaluate the future prospects of the industry. Especially as the US and Global economic recovery slowly continues, railroad transportation will continue to be a key metric to watch. On December 15th, 2012 I published an article titled, "2 Cheap Railroad Stocks to Buy For 2013". I highlighted two railroad stocks that traded at valuation discounts to their peers. However, railroad transportation is a very cyclical industry, as large changes in company earnings are linked to slight changes in shipping volume along their routes.
| | |
| --- | --- |
| Company | YTD Return |
| CSX (NYSE:CSX) | 24.73% |
| Norfolk Southern (NYSE:NSC) | 23.87% |
| Canadian Pacific (NYSE:CP) | 22.62% |
| Union Pacific (NYSE:UNP) | 17.26% |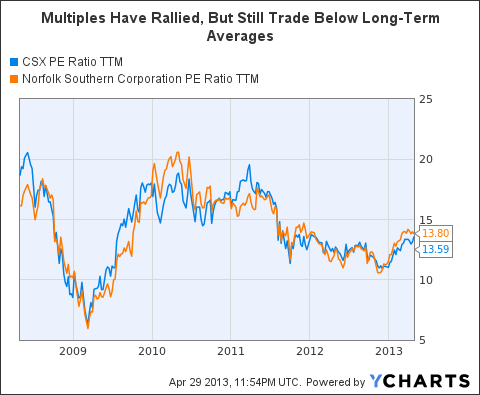 CSX PE Ratio TTM data by YCharts
Energy Transportation
Energy is widely considered to be one of the most volatile and important parts of the railroad transportation industry. Historically, coal has made up a large part of volumes for many of the major players, yet as many know coal has been under pressure and volumes have been decreasing recently. This concern has plagued the railroads, as coal was vital to the industry's profitability. However the recent "Shale Boom" has tangentially provided a new source of volume for the rails. As the lack of pipelines across the country, specifically in the Bakken, have become a problem for shale oil and gas producers, many have turned to rails to provide transportation for the oil and gas production from the wells. Additionally, fracking and oil and gas production requires a significant amount of chemicals and construction materials; the US rails have also been able to transport these across the country for competitive rates.
Berkshire Hathaway Annual Meeting
On Saturday May 4th of this year, Berkshire Hathaway (NYSE:BRK.A)(NYSE:BRK.B) is set to hold its annual meeting of shareholders. Burlington Northern Santa Fe or BNSF is one of the largest railroad companies in the US and is a rather large component of Berkshire Hathaway's diverse portfolio of companies. While Warren Buffett has many shareholder related topics of discussion for Saturday, he should address the performance of BNSF and may shed some light on where he thinks the industry could be headed. If Buffett provides a positive outlook for the railroads, investors may turn to the pure-play, publicly listed railroads listed in this article to gain exposure to the sector.
How to Play it
Both CSX and Norfolk Southern trade at valuation discounts to their peers, at roughly 13.6x and 13.8x TTM earnings, respectively. These valuations are very reasonable, especially considering historic valuation ranges. Both these stocks were highlighted in my December article, and they continue to trade at a lower valuation than both their American and Canadian peers, despite a recent run-up in their respective valuations. These two major players, as well as the general industry, should continue to benefit from a US economic recovery, specifically if the pace of US Shale production and US manufacturing continues to grow at healthy rates. Recently, CSX announced an increase to its quarterly dividend by 7% and an initiation of a $1 billion share repurchase program. Developments like these could provide upside catalysts for some of the major players in the industry.
Conclusion
While US railroad stocks have performed very well recently, it appears that there is still upside for the major players, as there remains ample room for multiple expansion and earnings growth.
Disclosure: I have no positions in any stocks mentioned, and no plans to initiate any positions within the next 72 hours. I wrote this article myself, and it expresses my own opinions. I am not receiving compensation for it (other than from Seeking Alpha). I have no business relationship with any company whose stock is mentioned in this article.