In late November 2012, ConocoPhillips (NYSE:COP) issued a press release announcing its intention to sell the company's stake in the giant Kashagan project in the Caspian Sea to ONGC Videsh Limited, the international arm of Oil and Natural Gas Corporation Limited, India.
The sale is subject to various government approvals, Kazakhstan state preemption rights and co-venturers' preemption rights. Monday, Kazakhstan said it was not interested in boosting its stake in the giant Kashagan field and becoming the largest shareholder. KazNunaiGas National Oil Company Chairman of the Board said, "We are content with the 16.8% we have in the project."
Although Kazakhstan has until May 25th to exercise its preemptive bid, it is now clear the country is not interested in preventing COP from selling its stake. But will COP proceed with its original intention to sell its stake to India or could China swoop in with a higher bid?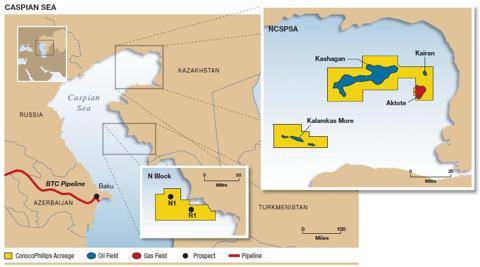 The Kashagan field was the largest oil discovery in the world in the last 40 years and is located in the north Caspian Sea. The oilfield's estimated reserves are 38 billion barrels, with 10 billion barrels being recoverable. The reservoir lies 4,200 meters below shallow waters, is highly pressured (770 bar of initial pressure), and the crude contains a high 'sour gas' content. The combination of a harsh environment and high pressure sour gas makes Kashagan one of the largest and most complicated engineering and logistical projects in the world.
The operator of the field is the North Caspian Operating Company - the "NCOC". The NCOC is a consortium which is composed of equity interests by the following companies:
Eni (ENI) - 16.8%
Exxon Mobil (NYSE:XOM) - 16.8%
KazMunaiGas - 16.8%
Royal Dutch Shell (NYSE:RDS.A) - 16.8%
Total (NYSE:TOT) - 16.8%
ConocoPhillips - 8.4%
Japan's INPEX - 7.6%
Initially, NCOC plans to produce 75 000 barrels of oil per day Tengrinews.kz reported in mid-May 2012, citing statements by Vice Managing Director Zhakyp Marabayev made on the sidelines of a CIS summit on oil and gas. According to Marabayev, plans are to bring the production figure up to 350,000 barrels a day or even up to 450,000 barrels a day:
The current facilities enable to produce up to 350,000 barrels a day (…) Should the gas injection capacities be expanded, we could produce up to 450,000 barrels a day.
India or China?
India and China are in intense competition to lockup energy supplies to power their economies and ever growing middle class transportation demand. Buying reserves is one way to acquire oil and gas reserves, but true energy security also requires the ability to deliver those reserves. And this is why I think China has its eye on COP's Kashagan stake.
The Kazakhstan-China Pipelines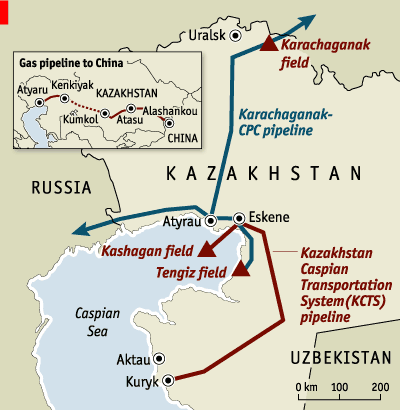 The Kazakhstan government has a majority stake in all newly built pipelines. Recently enacted legislation effectively guarantees that no one can transport oil or gas out of Kazakhstan through new pipelines unless they meet the government's conditions - one of which may be the identity of the final buyer. This favors China over India since existing and planned oil and gas pipelines directly connect Kashagan to the Chinese border. The Kaz-China pipeline route began operating nearly ten years ago and has been extended westward, section by section, over the past decade. The new rules appear to leave a loophole for treating a further extension of the pipe, to tap Kashagan oil, as exempt from majority state-ownership.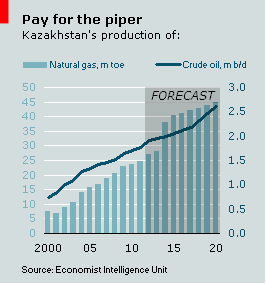 China has clearly identified Kazakhstan as a major source of future oil and gas supply. It could use Kazakhstan energy supply deals as a lever in negotiations with Russia. Buying COP's stake in Kashagan will effectively lower the price of Kashagan oil as well as put another ace in its hand with respect to future contract negotiations to acquire Russian energy supplies.
Conclusion
I expect a Chinese company will swoop in and buy COP's stake in Kashagan. A competition between India and China should realize the best possible price for the asset. Indeed, there are already reports that China is eyeing COP's stake in Kashagan. Kashagan is the biggest piece left in Conoco's multi-year strategy of monetizing non-strategic assets. I expect COP to announce its intent to sell its 8.4% stake to a Chinese company shortly after the May 25 deadline and for the deal to close in the second half of 2013. Despite skeptics of COP's multi-year strategic transformation plan, the company continues to monetize non-strategic assets just as it said it would. For the majority of the deals completed to date, COP has been realizing prices above what many analysts have expected. Kashagan should be another such sale. And I suspect it will go to China, not India.
Disclosure: I am long COP, XOM. I wrote this article myself, and it expresses my own opinions. I am not receiving compensation for it (other than from Seeking Alpha). I have no business relationship with any company whose stock is mentioned in this article.
Additional disclosure: I am an engineer, not a CFA. The information and data presented in this article was obtained from company documents and/or sources believed to be reliable, but has not been independently verified. Therefore, the author cannot guarantee its accuracy. Please do your own research and contact a qualified investment adviser. I am not responsible for investment decisions you make. Thanks for reading and good luck!