The market continued its yearlong rally as the S&P ended Monday at all-time highs and the NASDAQ finished at levels not seen for a dozen years. The economy remains on shaky ground as a disappointing 1st GDP report recently illuminated. However, all investors still believe the Federal Reserve has their back even as the other indicators like the April Jobs report are pointing down. I think it is a good time to examine where the market & economy are at and also project what lies ahead. With apologies to the iconic Western, it is time to look at The Good, The Bad & The Ugly. In order to make this article more readable, I am breaking it into three pieces. Today we cover the "Good" with the "Bad" and "Ugly" covered in subsequent posts this week.
The Good -
The housing market continues to recover although its contribution to GDP slowed significantly from 4Q2012 through 1Q2013. We certainly are in a better place than we were a few years ago. Both residential and commercial construction should be positive for economic & job growth for the quarters ahead. The challenge for investors is that the direct plays on the housing recovery like the Homebuilders (NYSEARCA:XHB), Home Depot (NYSE:HD) and Lumber Liquidators (NYSE:LL) have already had huge moves since the end of 2011 (See Chart) and look fairly valued here. I am using Bed Bath & Beyond (NASDAQ:BBBY) as a backdoor housing play that is just starting to move over the past couple of months.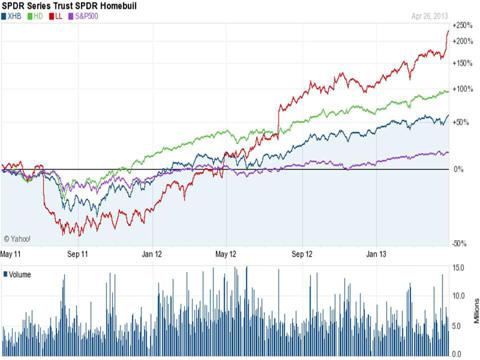 In addition, U.S. auto production remains robust as most estimates are calling for more than 15mm vehicles to be produced for North America. I own Ford (NYSE:F) as a play on this continuing recovery as I think it is the strongest of the domestic auto manufacturers and the only one that did not need a government bailout during the crisis.
Energy expansion continues unabated as the U.S. marches toward energy dependence despite a more aggressive EPA and holdup in approving the Keystone Pipeline even though the approval is supported by 62 senators as well as two thirds of the American public currently. Energy and Oil Services make up one of the two biggest allocations in my portfolio currently (the other being technology). I have more than a dozen names currently running the gambit from Halliburton (NYSE:HAL), ConocoPhillips (NYSE:COP) and Warren Resources (NASDAQ:WRES) among a myriad of other plays.
Finally, we are seeing a nascent migration out of defensive sectors like Consumer Staples (NYSEARCA:XLP) into the Technology sector (NYSEARCA:XLK). I have "tweeted" often over the last few weeks that should happen in the second quarter as well as discussed this projected move several times on TheStreet where I am a paid daily contributor. After underperforming both the S&P & Consumer Staples all year, technology has started to outperform nicely over the last few trading sessions (See Chart). I think we are in the early innings of this move as the tech sector has lower valuations than the overall market and much better longer term growth prospects than Consumer Staples.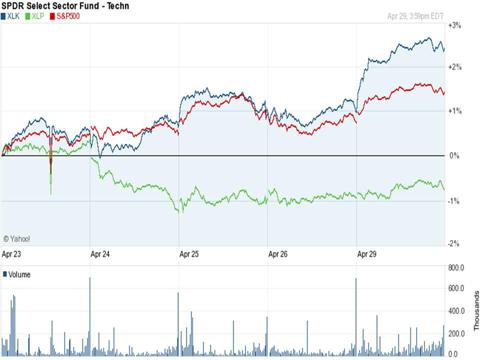 My two favorite plays in the large cap technology are Microsoft (NASDAQ:MSFT) and Apple (NASDAQ:AAPL). Both have made nice moves over the last few sessions. Let's quickly review why these equities have further to run.
Microsoft -
The stock is breaking out and hit a five year intraday high Monday.
The company is rolling out a new Xbox console for the first time in years and the device should generate positive buzz for the company as it is a niche it has come to be the leading player in.
The stock yields nearly three percent (2.9%) and if its follows the historical trend, it should announce another dividend hike by the end of summer. Given Apple's recent massive stock repurchase announcement, I would not be surprised if it couples its dividend hike with a substantial buyback of its own.
The company is growing nicely with analysts expecting 7% to 8% annual revenue growth over the next two fiscal years.
Finally, the stock is cheap at under 8x forward earnings once you subtract the more than $70B of cash & marketable securities off its AAA rated balance sheet.
Apple -
The company now has $60B in its repurchase plan to be completed by 2015. This is the largest announced buyback program in history. It will put a floor under the stock akin to what the Federal Reserve is doing to keep interest rates low. The positive for Apple is that at end of the program it will have grown its balance sheet back past $150B at current free cash flow rates. On the flip side, the Federal Reserve will have expanded its balance sheet with trillions of dollars of debt holdings that it will have to effectively exit from over time.
The stock broke decisively above the $420 level in Monday's trading. This level held three times before failing last week before recovering over the last few trading sessions. If AAPL can hold this level, it will be a significant positive.
Subtracting Apple's $145B cash/marketable securities hoard, the stock sells for approximately 6x forward earnings.
With the recently announced dividend hike, Apple pays an investor almost three percent (2.9%) while waiting for sentiment to improve.
Disclosure: I am long AAPL, BBBY, COP, F, HAL, MSFT, WRES. I wrote this article myself, and it expresses my own opinions. I am not receiving compensation for it (other than from Seeking Alpha). I have no business relationship with any company whose stock is mentioned in this article.