From an investment standpoint, the companies below are trading at attractive discounts that should not be ignored. Their downside exposure is minimal in comparison to their upside potential. Each company has a story worth exploring. The following developments in mobile and online real-money gaming are good reasons to take a closer look at these companies.
New Jersey, Delaware, and Nevada have all legalized online gambling.
Several other states, including Massachusetts, California, Hawaii, Illinois, Iowa and Mississippi, are considering some kind of online gambling legislation.
Reuters reported that CEO Charles Cohen of Probability Plc estimates half the U.S population will have access to online gambling over the next 2 years.
H2 Gambling Capital published a research report which forecast a $28 billion online global gaming market, projected to grow 30% over the next few years.
ZYNGA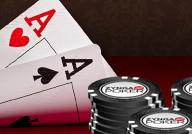 When Zynga reported its Q1 financial report and cautious guidance for the next 2 quarters, Zynga's enemies did as expected and trash talked the company. Never mind the fact that Q4 2012 and Q1 2013 results actually beat expectations with a surprise profit. Those facts were summarily dismissed as pundits gleefully rushed to castigate Zynga. But we must not forget that Zynga creates social games and they are the best "Gamesters" in the business. It is possible that Zynga is playing games with the enemy. If so, CEO Mark Pincus may have launched Zynga's best game yet, "Sandbag." If you can't overwhelm the enemy, undermine them.
According to Q1 guidance, Zynga was expected to report a $0.04 per share loss, but surprised with a $0.01 per share profit (sandbagging). Pincus now says that Q2 and Q3 earnings will fall short of previous guidance. But I'm not buying the transition guidance. I believe Pincus is running a game on his enemies by understating and over performing. When the game is played right it can leave your enemies speechless.
After Zynga's Q1 earnings and guidance hit the street, Zynga's enemies started spinning Zynga as a company "pleading" for more time to succeed. Others said that people "no longer want to paly" Zynga games, and that it's game over for Zynga. Even Mad Dog Cramer went off on Zynga after making positive comments about the company on February 6, 2013 when CNBC's Carl Quintanilla asked the following question:
(Quintanilla) BofA hold to buy on Zynga? (Cramer) You know what, the valuation is just too darn low. I can see it, the poker business looks good.
Fast forward to April 25, 2013. After previously telling his viewers (the stiffs that believe him) that Zynga was undervalued, Mad Dog Cramer now mocks those that see Zynga as undervalued. Perhaps he thinks everyone is too stupid to remember what he says? Investors would do well to stick to the fundamentals and long range company vision. Now let's get back to the story behind the story.
As I stated in a previous article "Will Glu Mobile and Zynga Revolutionize Real-Money Gaming," Zynga just launched two real money games "Zynga Plus Poker" and "Zynga Plus Casino." Zynga also filed for a Nevada gambling license. Plans are being finalized to launch online real-money gaming in that state. But Pincus remains tight lipped, even refusing to comment on any revenue or potential revenue that will be derived over the next two quarters from real-money gaming. I believe Pincus is sandbagging and planning to trump Zynga's sworn enemies. It is very likely that lower expectations will result in an upside surprise, just as we saw in 2012 Q4 and 2013 Q1.
Zynga is the largest social gaming company in the world and well capitalized with over $1.28 billion in cash and $1.28 billion in annual revenue. Pincus recently added John Doerr to the board, a general partner at venture capital firm Kleiner Perkins Caufield & Byers. Doerr also sits on Google's (NASDAQ:GOOG) board and a number of other tech companies. The chart below shows Zynga is moving off its lows. We could see a return to $4.50 to $5.00 on the first real-money gaming report Zynga publishes.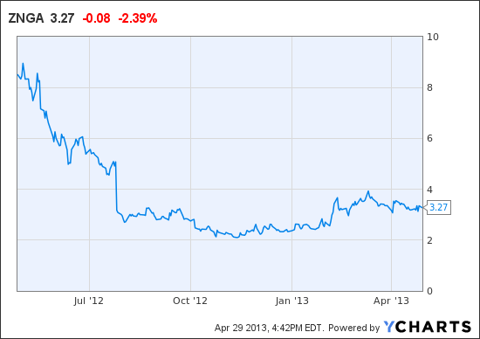 Glu Mobile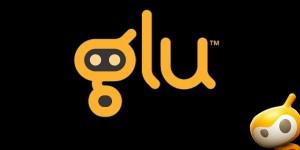 Glu Mobile is on the move tooling up with top talent. CEO De Masi continues to execute his real-money mobile gaming strategy. Recently, Lorne Abony joined the Board of Directors as Chairman of Glu's Strategy Committee. Glu stated in a recent company press release:
Abony brings to Glu strong public company growth experience in skill-based gaming and online gambling. The Strategy Committee will assist the Board and senior management in refining Glu`s strategic vision and growth initiatives.
According to the press release, part of Abony's responsibility will be to "enhance stockholder value." Abony is currently CEO and Chairman of Mood Media (MM.TO) providing in-store media supplies to over 570,000 locations worldwide with gross revenues topping $444 million. Abony, also founded Fun Technologies, an online gaming company that was acquired for $484 million in 2006. I think Abony is an excellent fit for Glu and will significantly contribute to Glu's bottom line.
De Masi also hired Chris Akhavan as President of Publishing.
Akhavan will lead Glu`s global efforts to strengthen and grow Glu`s distribution and monetization capabilities. Akhavan brings to Glu a strong background in mobile monetization, advertising, user acquisition, developer relations, business development, and international expansion.
De Masi has recruited experienced talent to monetizing Glu's real-money games. These guys are game changers for Glu. When you consider Glu's recent offerings into a $28 billion real-money gaming market, Glu appears to be undervalued and should be trading between $4 and $5.
Glu reports Q1 earnings on Wednesday, May 1, 2013, after the close of trading. Glu's earnings consensuses is estimated to be $-0.07 per share. However, based on Glu's past 5 quarters of beating the street, Glu may give us another surprise to the upside. Investors are betting that Glu's real-money games will explode into new revenue streams as Glu gains market share in the evolving real-money gaming space. Glu recently launched its first mobile real-money game in the UK, beating Zynga to the draw.
During March 2013, Northland Capital's analyst, Darren Aftahi, who closely follows Glu Mobile raised his price target to $4.50 with a market "Outperform" upgrade. You can see the parabolic spike in the chart as investors bought the upgrade. From a technical perspective, Glu should move up to that $4.50 target before encountering serious resistance.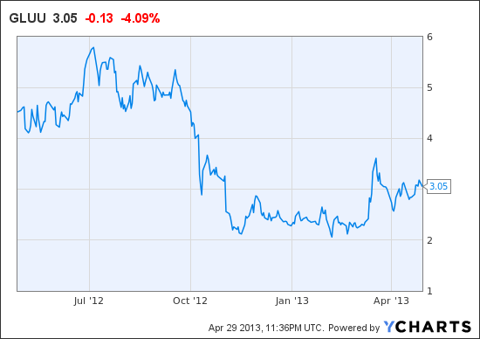 MAJESCO ENTERTAINMENT
Majesco (NASDAQ:COOL) has been basing around $0.55 after sliding from the $2.50 to $3.00 range last year. The $40 million question everyone is asking is "what went wrong last year?"
Majesco's big mistake came when they embraced a concept game, "NBA Baller Beats." It is the elephant in the room that no one wants to talk about. The problem with this interactive game is obvious. Players stand in front of a $2,500 TV in a room filled with $10,000 of furnishings and accessories while trying to bounce an official size basket ball to the sound of fast paced music. The bouncing ball gets wilder and wilder as the game intensifies to the point you lose control of the ball and it crashes into the TV or mom's china cabinet. Are you getting the picture yet? Would your mom allow you to play this game in her home?
To add insult to injury, Majesco bet on "NBA Baller Beats" to be their holiday blockbuster. This miscalculated disaster left Majesco without a contingency plan. Moreover, Majesco mostly distributes console games and has shifted into cruse control as they cautiously anticipate the new console players coming this fall. In the interim, the market seems to have priced in all the bad news and Majesco's shares appear to be entering recovery mode.
The silver lining here is that Majesco has been in business for over 20 years and is a well established gaming company that is normally well managed. Both the company and the share price should easily recover. Majesco has no debt and $27 million in cash. CEO Jesse Sutton is co-founder of Majesco and a sharp businessman. I am confident he will correct the problem and increase shareholder value.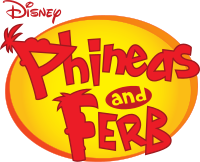 Majesco just announced the release of "Phineas and Ferb: Quest For Cool Stuff" based on Disney's Emmy Award-winning hit series. This is a multi-platform game including a mobile version for smartphones and tablets that is scheduled for summer release. You can view more of Majesco's games slated for summer release here.
Majesco's shares closed on Monday at $0.57, just below its cash value of $0.66. I am expecting Majesco's shares to return to the $1.50 - $1.75 range by Christmas or sooner, and return to $3.00 by mid 2014, as Glu expands their mobile offerings, and perhaps enters the real-money online gambling market.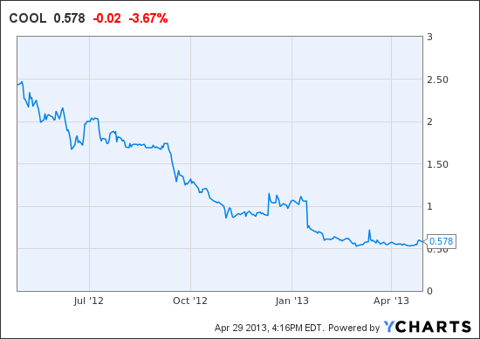 Disclosure: I am long ZNGA, GLUU, COOL. I wrote this article myself, and it expresses my own opinions. I am not receiving compensation for it (other than from Seeking Alpha). I have no business relationship with any company whose stock is mentioned in this article.