On Monday April 29th Sturm, Ruger, & Company, Inc. (NYSE:RGR) reported the results of what I believe to be a very strong first quarter. The company's Q1 EPS of $1.20/share beat street estimates by $0.19/share and its revenue of $155.9 million beat street estimates by $24.25 million. In the wake of the company's impressive first quarter, I wanted to examine several catalysts behind my decision to consider establishing a long-term position in this higher-yielding firearms play.
Recent Performance: On Monday, shares of RGR-- which currently possess a market cap of $984.23 million, a P/E ratio of 14.16, and a forward P/E ratio of 21.24-- settled at $50.97/share at the end of the trading day.
Based on its closing price, shares of RGR are trading 4.82% above their 20-day simple moving average, 1.68% below their 50-day simple moving average, and 5.30% above their 200-day simple moving average. These numbers indicate a short-term and long-term uptrend for the stock, which generally translates into two-thirds of a buying mode for traders. Although the company's 50-day simple moving average is negative, it's not something I'd worry about, since the difference is less than 2.00%.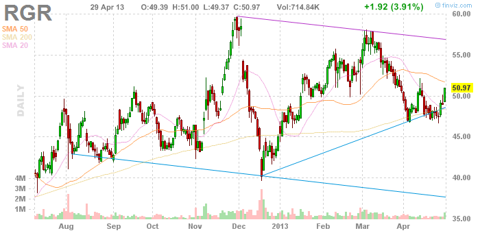 Recent Senate Victory: On Wednesday April 17th, Sturm, Ruger, and Company won a key victory when gun-control legislation that would have required background checks for the purchase of firearms over the internet and at guns shows failed in the U.S. Senate by a vote of 54-46, just six votes shy of the 60 required to pass.
What had caused this piece of potentially crippling legislation to fail? Although there were a number of key reasons, such as the claim that it would violate the second amendment of the U.S. Constitution, there were also those who thought such background checks were completely unnecessary for responsible, law-abiding gun owners. However, the background check portion of the bill wasn't the only amendment that failed to receive the 60 votes needed for legislative passage.
According to Ed O'Keefe of The Washington Post, "A number of other amendments also failed to earn the 60 votes necessary to pass: A GOP proposal including a number of changes, 52 to 48; a bipartisan amendment to stiffen penalties for "straw purchasers," 58 to 42; a GOP-backed amendment that would have permitted "national reciprocity" of state-issued concealed carry permits, 57 to 43; a GOP plan to extend gun rights for veterans, including those deemed unable to manage their financial affairs, 56-44; and a Democratic amendment to limit the size of ammunition magazines, 54-46".
Dividend Behavior: Since May 13th 2009, RGR has had some very irregular dividend behavior, and although I'm not a fan of such activity, the company's overall increase in dividend distributions over that particular period of time is what attracts me. Between the company's most recent dividend distribution of $0.404/share and its May 13th 2009 distribution of $0.086/share, we've seen the company increase its payout nearly five-fold, making the company a very compelling income play at present levels-- even though I'm not attracted to the company's super high payout ratio of 161%.
Conclusion: For those of you who may interested in following my lead when it comes to considering a position in Sturm, Ruger and Company, there are a few things to keep in the back of your mind.
First and foremost is the fact that any restrictive legislation approved by the U.S. senate (and subsequently signed into law by President Obama) regarding a background check requirement for consumers looking to purchase a fireman will hinder sales and send shares much lower.
Secondly, and although the company had a very strong quarter in terms of EPS and revenue generation, I'd continue to watch out for any hindering legislation at both the state and federal levels regarding the purchasing of firearms over the internet or at a firearms-related convention.
Any type of legislation that makes it a law requiring background checks for individuals looking to make such purchases is going to significantly hinder the bottom line growth of not only Sturm, Ruger and Company, but many of its sector based competitors as well. These legislative restrictions could also eventually result in the reduction of the company's dividend if and when such legislation goes into effect.
Disclosure: I have no positions in any stocks mentioned, but may initiate a long position in RGR over the next 72 hours. I wrote this article myself, and it expresses my own opinions. I am not receiving compensation for it (other than from Seeking Alpha). I have no business relationship with any company whose stock is mentioned in this article.