The "sell in May" chorus is coming back, but I am prepared. For the last few weeks, I have been examining the potential for a summer slump in the S&P 500 (NYSEARCA:SPY) by looking at four indicators: unemployment, Federal Reserve policy, Europe and S&P 500 earnings. These were the catalysts for the correction last summer, but they are in better shape this year. There is no denying that economic growth is sluggish and the S&P 500's valuation is extended relative to the last few years (but not the last few decades). However, an extended market can still generate further gains before correcting. Under the surface there are pockets of strength and weakness and that is not necessarily a reason for a sell-off either. In this article, I will look at the performance of the S&P 500 and discuss if the summer slump indicators are supporting or resisting further gains for the S&P 500.
S&P 500 Performance
The S&P 500 is again approaching new highs and rebounded nicely from the weakness following the big drop in gold (NYSEARCA:GLD) on April 15.
On a multi-year timeframe, the S&P 500 may seem extended. The current rally from the November lows is outpacing the rally going into Q1 2012 and the S&P 500 has gone a few months without a pause.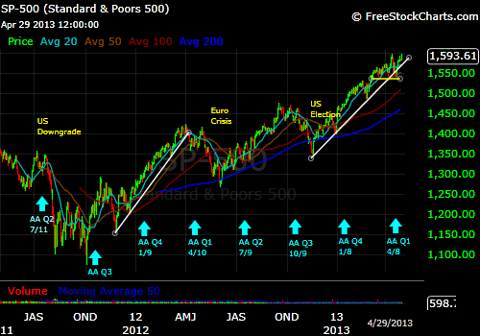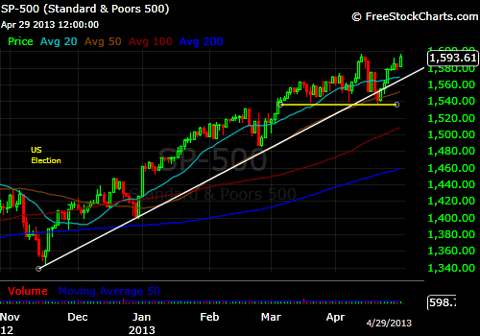 (Source: FreeStockCharts.com)
It is important to consider sentiment when examining the S&P 500's run to new highs. It still seems like many investors are bearish. The year started with many investors scared of the fiscal cliff and the disappointed with a second term for Obama. Since then, the S&P 500 has rallied and there hasn't been a meaningful pullback that the bears have been looking for. Furthermore, the few times that the S&P 500 dropped a couple of percentage points, dip buyers came in and were rewarded.
It seems like many investors have capital on the sidelines and are waiting for a big pullback to get in the market. With the absence of a negative catalyst, that kind of sentiment could drive more gains as the reluctant investors eventually give up and start to chase the market.
This outlook assumes no negative catalyst, which is why I examine the summer slump indicators every week. A negative catalyst may arise from the many macro events this week (Fed meeting, ECB meeting, jobs number), but I continue to be bullish on the S&P 500 until one shows up.
Summer Slump Indicators
The following is a summary of how I view the indicators discussed below. If a box is left blank that means that there was not enough "new news."

This is just my view. I am interested in hearing other opinions, so please feel free to give feedback in the comments section below.
Jobs
The April nonfarm payroll report will be released on Friday. Following the disappointing number in March, the April number will be important in establishing if there is a trend of weakness on the jobs front or if March was an outlier. Here is the data for the last few years: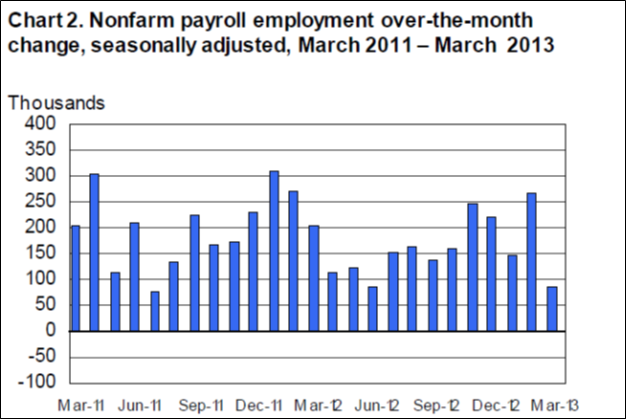 (Source: BLS.gov)
The weekly jobless claims are too volatile to serve as a good indicator, but they showed some improvement last week:
"In the week ending April 20, the advance figure for seasonally adjusted initial claims was 339,000, a decrease of 16,000 from the previous week's revised figure of 355,000. The 4-week moving average was 357,500, a decrease of 4,500 from the previous week's revised average of 362,000." (Source: US Department of Labor)
Federal Reserve
The FOMC is scheduled to meet on Tuesday and Wednesday. Expectations call for an uneventful Fed meeting. A few weeks ago, there was talk about the Fed "tapering" down its $85 billion of monthly bond purchases, but since then, the economic data has been weak: disappointing job growth in March and disappointing Q1 GDP growth. Furthermore, falling commodity prices are weighing down inflation and some FOMC members think that inflation is too low.
The economic data is producing a "Goldilocks" moment for the Fed and investors. The economy is recovering and unemployment is coming down, but the growth rate is below expectation. The economy is doing well enough to provide some growth, but not that well that the Fed would end QE sooner rather than later.
Likewise, the fall in commodity prices is good for many parts of the economy, but is also providing the Fed more reasons to continue QE.
I expect the Fed will continue with quantitative easing until, at least, Ben Bernanke finishes his term as Fed chairman in January 2014. This implies that the Fed's balance sheet would grow to approximately $4 trillion, from the current $3.2 trillion. The S&P 500 has performed well during previous periods of QE and I expect a similar performance now.
Europe
Expectations are growing for the ECB to cut interest rates at its meeting on Thursday.
The ECB has held off cutting rates longer than many expected. The European bond markets rallied and recovered well from the Cyprus crisis. Despite the ongoing economic malaise, there does not seem to be a imminent catalyst for a rate cut. Furthermore, Mario Draghi has repeatedly said that the ECB has a limited ability to deal with economic weakness in the Eurozone and that it is up to fiscal authorities to act.
However, there are many ECB watchers that follow it much more closely than me. Many of them think that a rate cut could be coming. Therefore, I don't have a prediction.
I discuss the situation in Europe in more detail here: ECB Decision On Interest Rates And The Impact On The Euro.
Putting aside ECB rate cut speculation, there is no denying that the European capital markets are doing better, even if the economy is weak. The European sovereign bond markets have been rallying since the Draghi Put last summer and the rally continued after a brief pause for the Cyprus crisis.
Over the last few days, European equity markets started to rebound.
If the ECB does not cut rates, the European bond and equity markets may give back some of the recent gains. At best, Europe may stage a comeback. At worst, Europe is stable (for now). But, Europe does not seem like a negative catalyst for the S&P 500 like it was last summer.
S&P 500 Earnings
In an article a few weeks ago, I outlined my roadmap for Q1 earnings season (Roadmap For Navigating The Upcoming Earnings Season...), which focuses on the following categories and sectors.
S&P 500 Earnings (Aggregate)
As of April 25, 271 companies in the S&P 500 reported earnings and 189 beat analyst estimates (see: S&P 500 Q1 Earnings Seem Positive: Is It Enough For More Gains?).
There have been some earnings disappointments from bellwether companies in the S&P 500, such as General Electric (NYSE:GE) and IBM (NYSE:IBM), but the aggregate numbers look good so far. There are a lot more earnings reports to come, so it is still too early to tell how Q1 earnings season will turn out.
Banks
As I mentioned last week, the banks delivered good, but not great, Q1 results. This was in-line with my expectations.
The market reaction is more important than the actual numbers and, so far, bank stocks have held up well. Many of these stocks rallied going into Q1 earnings, so I was not expecting an immediate move higher, but I wanted to see if the Q1 results would be good enough to allow the banks to hold on to their previous gains.
So far, so good, as seen in the performance of the Financial Select Sector SPDR® Fund (NYSEARCA:XLF). The XLF is back up to multi-year highs dating back to the financial crisis.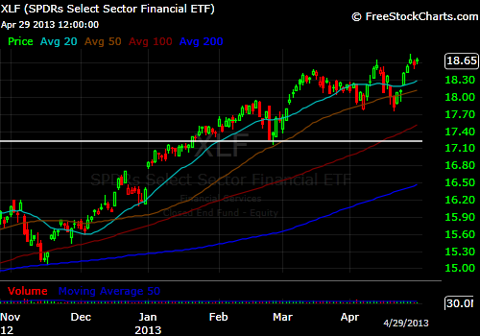 (Source: FreeStockCharts.com)
Apple
Apple (NASDAQ:AAPL) is important for two reasons: it is the second largest component in the S&P 500, representing 2.78% of the index, and it is a widely watched stock that is significant for investor sentiment.
Although analysts and pundits reacted negatively to Apple's Q1 earnings report, I thought it was pretty good. Despite the negative reaction, Apple's share price has rebounded since the earnings report. Maybe this is a bottom in negative sentiment.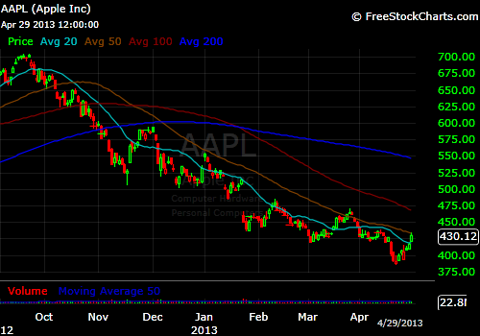 (Source: FreeStockCharts.com)
The initial stock market reaction to Apple's earnings was positive, but it will be important to see if there is follow-through and if the reaction to the reaction is also positive.
Tech
Big tech earnings have been weak, especially from companies that have exposure to the federal government. With the sequester curtailing government spending and sluggishness in Europe, tech companies face challenges in two important markets.
Following earnings disappointments from Oracle (NASDAQ:ORCL), Tibco (NASDAQ:TIBX), Fortinet (NASDAQ:FTNT) and IBM , Riverbed (NASDAQ:RVBD) just came out with weak results.
However, there are some pockets of strength in the tech space. Google (NASDAQ:GOOG) reported good Q1 results and its stock moved up on the news. Surprisingly, Intel (NASDAQ:INTC) and Microsoft (NASDAQ:MSFT) are trading up despite the problems that they face in the PC space.
Despite the problems in the tech sector, the Nasdaq (NASDAQ:QQQ) is performing well. Although the Nasdaq is lagging the S&P 500 year-to-date, it is also rallying to multi-year-highs.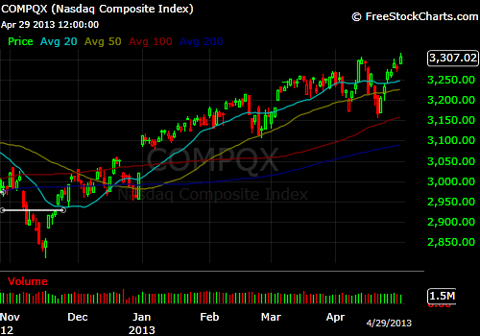 (FreeStockCharts.com)
Materials
The metals/mining sector has been the most obvious pocket of weakness during the recent rally. Last week, Caterpillar (NYSE:CAT) released Q1 earnings and its commentary about the mining industry was not encouraging.
However, the materials sector has been performing better. I had been lumping the metals/mining sector together with the materials sector in these updates, but it is important to distinguish between the two.
The following charts show the one year performance for the SPDR® S&P® Metals and Mining ETF (NYSEARCA:XME) and the Materials Select Sector SPDR® Fund (NYSEARCA:XLB).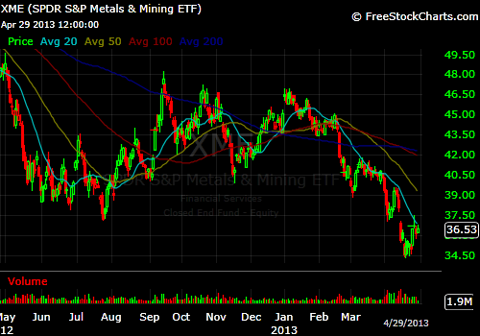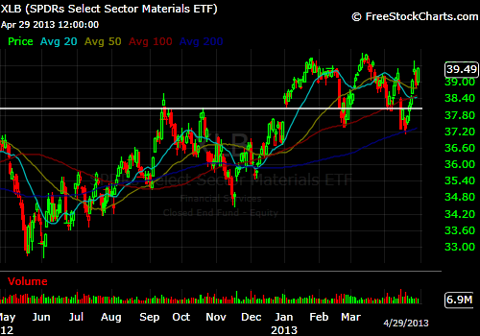 (Source: FreeStockCharts.com)
The following are the top 5 companies in each ETF:
XME - Cloud Peak Energy, Compass Minerals, Consol Energy, Alcoa, Reliance Steel (together, 19% of the XME)
XLB - Monsanto, Du Pont, Dow Chemical, Praxair and Freeport-McMoRan (together, 43% of the XLB)
The metals/mining sector is clearly lagging, but not all cyclicals are weak. In fact, Du Pont (NYSE:DD) spiked up to multi-month highs following Q1 earnings.
Conclusions
The S&P 500 is approaching new highs. Many investors seem to be hesitant about the market, but the S&P 500 does not need to top out just because it is at new highs and its valuation is a bit extended.
Last year, there were four main reasons for a 10% correction, but these factors seem to be in better shape now. There is a lot of macro data coming this week that could change the situation, so I am keeping a close watch and will update this analysis next week too.
There are pockets of strength and weakness in the market, but the S&P 500 has been resilient. In aggregate, Q1 earnings for companies in the S&P 500 look good and the problems in certain sectors (metals/mining and some areas of tech) are not serving as catalysts for broader declines.
The S&P 500 cannot rise forever and will experience a correction at some point. But, I wonder if the lack of negative catalysts and the abundance of capital on the sidelines will fuel further gains and delay the eventual pullback.
Disclaimer: The opinions expressed above should not be construed as investment advice. This article is not tailored to specific investment objectives. Reliance on this information for the purpose of buying the securities to which this information relates may expose a person to significant risk. The information contained in this article is not intended to make any offer, inducement, invitation or commitment to purchase, subscribe to, provide or sell any securities, service or product or to provide any recommendations on which one should rely for financial, securities, investment or other advice or to take any decision. Readers are encouraged to seek individual advice from their personal, financial, legal and other advisers before making any investment or financial decisions or purchasing any financial, securities or investment related service or product.
Information provided, whether charts or any other statements regarding market, real estate or other financial information, is obtained from sources which we and our suppliers believe reliable, but we do not warrant or guarantee the timeliness or accuracy of this information. Nothing in this article should be interpreted to state or imply that past results are an indication of future performance.
THERE ARE NO WARRANTIES EXPRESSED OR IMPLIED AS TO ACCURACY, TIMELINESS, COMPLETENESS, OR RESULTS OBTAINED FROM ANY INFORMATION IN THIS ARTICLE OR ANY LINKED WEBSITE.
Disclosure: I am long AAPL, IBM, GOOG. I wrote this article myself, and it expresses my own opinions. I am not receiving compensation for it (other than from Seeking Alpha). I have no business relationship with any company whose stock is mentioned in this article.
Additional disclosure: I may trade any of the securities mentioned in this article at any time, including in the next 72 hours.