Nvidia (NASDAQ:NVDA) was one of the pioneer semiconductor companies to enter the mobile segment. It got the first mover advantage by building SoCs (system-on-a-chip) for mobile devices. In fact, it was the first company to launch a quad core SoC, the Tegra 3, in 2011. After registering 30% of the total revenue in the last fiscal quarter from the Tegra computing chipsets, now Nvidia is coming up with Tegra 4i, the world's first integrated Tegra 4 LTE processor. Let us see how this state-of-the-art chipset will shape Nvidia's future in the long term.
Tegra 4i - A revolutionizing device
Here's how an Nvidia whitepaper describes Tegra 4i:
"Nvidia Tegra 4i is based on the Tegra 4 architecture and it brings the Tegra 4 super phone experience into the mainstream smartphone, and integrates Nvidia's LTE i500 SDR modem, all on a single chip. Tegra 4i includes ARM's newest and most efficient core- the Cortex-A9 r4 CPU- in a quad-core implementation at 2.3 GHz with a fifth battery saver core, and is half the size of the competing quad-core integrated LTE mobile processors."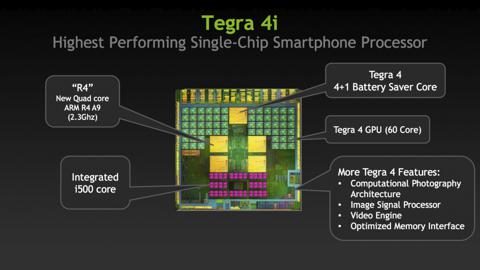 Nvidia released Tegra 4i, the first completely integrated 4G LTE mobile processor, in February 2013 a month after releasing Tegra 4 which is the world's first quad core processor. Tegra 4i is architected to offer a superior multimedia and visual experience on smartphones, tablets and even in cars. It is slated to launch at the end of this year with the code name "Grey."
The chipset is built on the latest ARM (NASDAQ:ARMH) cortex A9 processor, which gives a thrust to the visual computing capabilities of Nvidia. With this device, Nvidia opens up a whole new range of possibilities in the growing 4G market. It offers features like super-fast web browsing capabilities, video-on-demand and faster wireless connectivity. Add to that, quick load time for apps and a great battery life. Qualcomm (NASDAQ:QCOM) is the leader in telecommunication equipment devices and LTE-enabled chipsets, however, Tegra 4i is designed to be better than its closest rival, Snapdragon 800, by Qualcomm. Altogether, as it looks now, it seems to be the most advanced mobile computing device till date.
Opportunity in the fast growing LTE market
The LTE market has seen the strongest growth as carriers around the world are increasingly shifting to the new standard for wireless communication. Nvidia estimates the LTE market to more than double by 2016. According to a research by Gartner, smartphone shipments increased by 43% in 2012 which accounted for 39% of the mobile phone market. Gartner forecasts mobile phone shipments to climb to 2.2 billion units by 2016. The demand for smartphones is mostly from emerging economies like China and India with the entry of low cost smartphones.
Also the long-term evolution (LTE) technology is currently at a nascent stage but growing fast. The market size of high volume LTE is around $700 million, which can act as the main leverage point for Nvidia. Smartphones and tablets are increasingly imbibing LTE capabilities and with Tegra 4i, Nvidia is going to have a deeper foray in the smartphone market. The graph below shows the LTE projections in the next 4 years.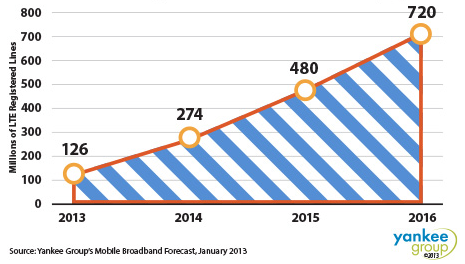 Huge Investment behind Tegra 4
After registering a CAGR growth of around 97% in the last 2 years, Nvidia announced that its mobile processing business will remain flat in 2013. This news might be disappointing for some in light of the 14% decline in Q1 2013 global PC shipments sales.
However, there is good news too. Nvidia is not very dependent on PC sales and has captured much of the smartphone and tablet market. Google Nexus 7 has been launched, powered by Tegra 3. According to Nvidia, they have invested heavily in building Tegra 4i LTE. They also delayed their Tegra 4 processor launch and will release both of the devices together by the next quarter. This has been done to advance the production of Tegra 4i chipsets by 2 quarters.
Limitations of Tegra 4i
There is a limitation of Tegra 4i, that is CDMA enabled devices are not compatible with the technology. The integrated modem on Tegra 4i can handle HSPA+ and LTE networks. This can affect Nvidia's market penetration because Verizon (NYSE:VZ) and Sprint (NYSE:S), which use CDMA, will be unable to use this new chipset. Until these carriers start accepting LTE-only devices, Tegra 4i can miss a significant market opportunity.
Other Product Lines
Nvidia's new product line GRID will lead to low cost virtualization of graphical processing. According to the management, "GRID is a $10 billion opportunity for the company." It is mainly targeted for cloud gaming and software-as-a-service (SAAS) hosting of intensive graphics applications. Another product line, PROJECT SHIELD, is like an Android gaming console optimized to help users enjoy digital content in the cloud. With this device, users can play on a LAN-sharing basis anywhere, connected to the cloud.
Conclusion
Tegra is the fastest growing business of Nvidia registering a 29.3% revenue growth in fiscal 2013. The other business is the GPU segment whose revenue rose just 2%. Clearly Nvidia is banking on the next generation wireless technology (LTE) driving millions of handheld devices. At a low price range of $13, Nvidia currently looks cheap to me. With all these innovative product lines at hand, Nvidia is surely slated to be a market leader in the visual computing segment. By the end of this year, we will see a huge technological shift led by Nvidia. That makes the stock a good long-term buy.
Disclosure: I have no positions in any stocks mentioned, and no plans to initiate any positions within the next 72 hours.
Business relationship disclosure: StockRiters is a team of analysts. This article was written by Sourav Dutta - B.Tech, Information Technology, MM, Paris, MBA in Finance, IIFT - one of our analysts, and edited by Shas, StockRiters' Editor-in-Chief. We did not receive compensation for this article (other than from Seeking Alpha), and we have no business relationship with any company whose stock is mentioned in this article.