In preparation for the Vivendi (OTCPK:VIVHY) shareholder meeting today at 3:30pm (Paris time), I cracked open the 2012 Annual Report to review the business results and to see if there was any more language with respect to the 'strategic review' of Vivendi's assets.
The Business:
From the Group Profile section, Vivendi describes itself as:
Vivendi is one of the few multimedia groups in the world to operate across the entire digital value chain. It creates and publishes content for which it develops broadcast networks and distribution platforms. The Group capitalizes on both its employees' expertise and its strong brands to offer its customers high added-value digital services and products. Vivendi currently operates a number of companies that are leaders in content, media and telecommunications.
Vivendi's simplified conglomerate structure, includes the following assets: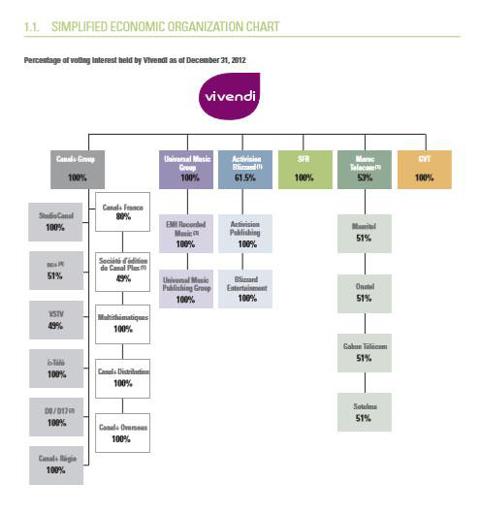 Click to enlarge
The Strategic Review (Catalysts):
As I discussed in a prior column, Vivendi received two binding offers for its 53% interest in Maroc Telecom, the first actionable catalyst in Vivendi's strategic review process to unlock shareholder value. The review appears to call for selling and/or spinning off the remaining telecom assets (GVT, SFR) into a separate entity, and focusing on its media businesses.
The Annual Report also indicated with respect to the strategic review:
The purpose of the review is to examine all options available for creating more value for Vivendi's shareholders. The review focuses on three facts:

Vivendi's share price has been impaired by a conglomerate discount, which clearly raises questions about the

Group's

scope;
Vivendi has all of the necessary attributes to bolster its status as a European, if not world, leader in content and media, a growth market driven by the unprecedented boom in major global digital distribution platforms; and
telecoms activities are perceived as "mature," with increased competition and strong tax pressure forcing operators to adapt their positioning and offerings.

Vivendi's strategy consists, on the one hand, of strengthening its content and media operations, and on the other, of repositioning its telecoms activities and exploring opportunities to consolidate in that market. The strategic review will set out the procedures and timetable for any such operations.
Baupost Position:
Vivendi is a classic, out-of-favor value play with catalysts to move the stock price higher; in other words, a deep value, risk-averse and Baupost-like selection. Interestingly, the Baupost position decreased from 26 million shares as of February 29, 2012 to 18.25 million as of December 31, 2012.
Vivendi's share price swooned to a 9-year low in April 2012 to around $16/ADR share, then recovered to around $22.50 at the end of 2012, an increase of about 40% from the trough to the peak. In addition, Vivendi paid a $1.30 cash dividend payment to holders of record on April 30, 2012 and awarded a 1 for 30 stock dividend. My guess is that Baupost opportunistically added shares in April 2012, and sold shares towards the end of the year, thereby trading around a core position and locking in gains before certain changes to the U.S. tax laws.
What's Next?
After the Maroc Telecom deal is concluded, I expect management to turn to the remaining issues with respect to the conglomerate discount afflicting the equity price. In my view, it might make sense to package GVT and SFR together, along with any remaining debt balance after allocating the Maroc Telecom proceeds, leaving Vivendi with three content creation and distribution businesses: Canal + (film and TV), Universal Music Group (music recording and publishing) and Activision Blizzard (NASDAQ:ATVI) (video game production and publishing).
To further alleviate any conglomerate discount, one reasonable step might be to either acquire the remaining 38.5% of the ATVI float Vivendi doesn't own, or attempt another asset sale. I'd prefer to see ATVI remain in the Vivendi camp, as it continues to develop and release blockbuster videogame franchises.
Dividends:
For investors seeking yield, Vivendi management is suggesting a one euro per share ($1.30) cash dividend, payable to owners of record on May 17, 2013. Vivendi pays an annual dividend, so income-seeking investors can expect a dividend yield of 5.7% at current prices.
Like I said last year, for Vivendi shareholders, la vie en rose; things appear in place for an appreciating security price.
Disclosure: I am long OTCPK:VIVHY. I wrote this article myself, and it expresses my own opinions. I am not receiving compensation for it (other than from Seeking Alpha). I have no business relationship with any company whose stock is mentioned in this article.