One sector that will be held in most income portfolios is Tobacco, it has historically rewarded investors for sticking with it through thick and thin. These companies not only generate huge amounts of revenue, but are still managing to grow.
The tobacco industry has been fairly skeptically viewed over the past 20 or so years as many doubted their future due to the detrimental impact cigarettes had. However, they defied the odds and managed to beat the 'Smoking Kills' slogan applied to all packages. As regulation continues to battle this business, there still may be hurdles to overcome.
British American Tobacco (NYSEMKT:BTI), one of the world's biggest, has seen steady growth over the past 10 years returning 505% to investors (not including income).

British American Tobacco has four principal tobacco brands, Dunhill, Kent, Lucky Strike and Pall Mall. The company brands were sold in around 180 markets worldwide, and in 2012 they sold over 694 billion cigarettes!
Despite the numerous tax increases and smoking bans, tobacco companies have continued to expand and grow revenue. In 2007, smoking bans in public places within the UK and certain US states were implemented, and the effect on revenue was hardly felt. A study by the Office of National Statistics found in 2009 that 21% of adults were smokers, unchanged from 2007 when many public smoking bans came into force.
Growth of British American Tobacco has been down to expanding into emerging markets. In our recent article, 'how to capitalize on the rise of emerging markets', we discussed the increasing maturity of consumer demand for more developed products and food sources, this is highlighted by the increased demand for cigarettes. The first quarter saw demand from the Asia Pacific region increase 6.7% year on year to 48 billion cigarettes. Whilst developed markets have seen gradual declines over the past 10 years, emerging markets still offer a lot of potential growth.
China has the biggest tobacco market with an estimated 350 million smokers, however, this industry is state owned. The big four (British American Tobacco, Imperial Tobacco (ITYBY.PK), Japan Tobacco and Phillip Morris International (NYSE:PM)) account for three quarters of the market outside of China, and despite many headwinds, the global market is expected to reach £500bn ($770bn) by 2015.
The success of British American Tobacco is reflected in their most recent year end earnings, in 2012 profits rose 14.5% from £4.9bn ($7.54bn) in 2011 to £5.6bn ($8.62bn).
For an income focused investor, British American Tobacco offers an attractive prospect for long term investing and a stable source of income. The following chart shows the free cash flow and dividend yield over the past 10 years and, as you can see, the company has capacity for further dividend growth going forward.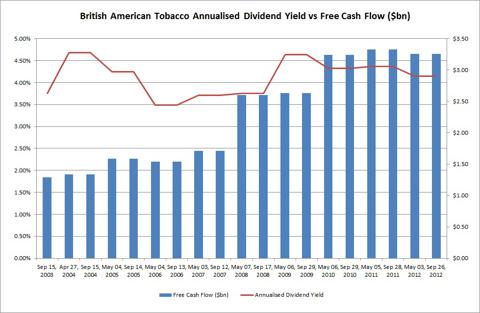 Headwinds the Tobacco Industry Faces
Having spoken to a number of income focused fund managers recently, a few expressed concerns with the tobacco industry. There were two main problems that could have a detrimental effect on profits going forward.
Since the credit crisis, many governments have tried to cut budget deficits and devote spending in key areas to stimulate growth. In the UK especially, tobacco is an easy target for tax increases. Smoking is said to cost the government £3bn ($4.62bn) a year in medical costs and it makes sense to attempt to deter smokers. However, the net effect for the government is positive, last year the government generated over £12bn ($18.48bn) in revenue from tobacco duties. Currently, for the price paid on an average pack of cigarettes, 78% is tax.
Even with the taxes increasing on average just above inflation over the past 10 years it has not hampered profits thus far and unless global governments take an aggressive stance on high taxation of tobacco, it is unlikely to have too much of an impact. You must remember, this is a significant area for revenue and governments would not want to destroy this completely.
Another major concern is plain packaging. We are all familiar with the pictures of lung cancer and 'Smoking Kills' written all over packages. Plain packaging has been adopted by the Australian government, whereby all cigarette and tobacco packaging cannot display brand colors or logos. This prevents companies from attracting customers to their brands, making advertising less effective.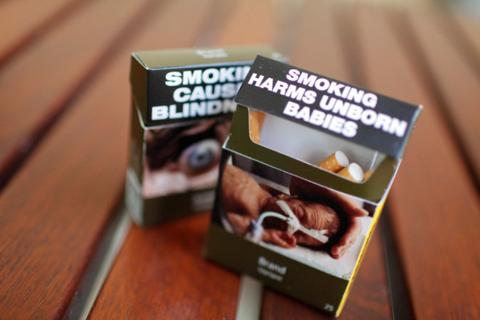 Source: theconversation.com
Although we don't know whether this will deter smokers yet, it is unlikely to support popular brands.
Cigarettes are among the most commonly traded items on the black market due to the high profit margins, (especially when 78% goes to the government). It is estimated 660 billion cigarettes are smoked illegally each year. This is costly both to the major brands and to the governments who are losing around $40bn a year. Plain packaging could provide these illegal dealers or counterfeit products an ideal opportunity. Not having to abide by stringent government regulations, illegal cigarettes without plain packages would be more attractive. There is undoubtedly a lot to consider before implementing plain packaging, and it is unclear as to whether this will be implemented at all within other markets.
Despite these two fundamental issues facing the tobacco industry and the continuing healthcare battles, British American Tobacco still remains an attractive investment. Year to date it has returned 15.24% and the past five year dividend growth of 15.30% looks to continue to reward shareholders going forward. Dividends currently stand at 3.76% and from the chart above, this has been fairly consistently kept between 3.5-4.5% over the long term.


Source: Google Finance
There will be a limit to revenue growth within emerging markets, however long term, frontier markets such as Africa may offer further prospects of revenue. Shareholders will continue to expect steady revenue and with the tobacco environment unlikely to be significantly affected for some time, this is a top share for an income portfolio.
Disclosure: I have no positions in any stocks mentioned, and no plans to initiate any positions within the next 72 hours. I wrote this article myself, and it expresses my own opinions. I am not receiving compensation for it (other than from Seeking Alpha). I have no business relationship with any company whose stock is mentioned in this article.