We noticed an interesting article (located here) from CNN Money (via Yahoo Finance) which oddly enough seems that it could have been written in the boom years of the housing bubble to describe the happenings in markets such as Las Vegas, Miami, Charleston, SC and many others. It has been our belief that this housing market would be strong and what would lead us out of the recessionary levels. It is happening and it is real, the only thing we need to see now is investors buy into it wholeheartedly and begin to push all housing-related stocks higher, as we have noticed many topping out. There is an earnings growth, and possibly even more importantly, a revenue growth story here people. Buy it, hold it, and ride it higher.
Chart of the Day:
We saw some articles yesterday highlighting someone who thinks that the Australian Dollar is THE short to play right now. Some nonsense about short of the century or decade or other long-time period. To that we say 'thanks for showing up, but the party is over.' The guy is only 4 years too late from a great call and maybe 3 from a good one. For that apocalyptic prediction to occur, one would have to see the commodity sector collapse, the country's real estate market to collapse and unwilling buyers of Australian assets on the cheap when the first wave of that downturn hit. Sounds like a perfect storm.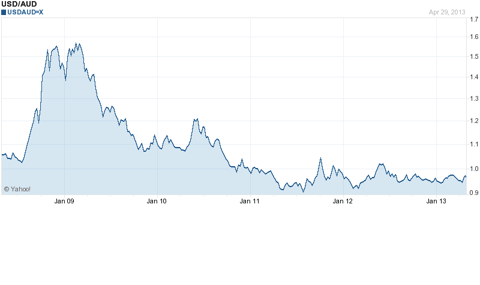 Chart courtesy of Yahoo Finance.
We have economic news due out today, and it is as follows:
Employment Cost Index (8:30 a.m. ET): 0.5%
Case-Shiller 20-city Index (9:00 a.m. ET): 8.7%
Chicago PMI (9:45 a.m. ET): 52.0
Consumer Confidence (10:00 a.m. ET): 61.0
Asian markets finished higher today:
All Ordinaries -- up 1.18%
Shanghai Composite -- CLOSED
Nikkei 225 -- down 0.17%
NZSE 50 -- up 0.73%
Seoul Composite -- up 1.20%
In Europe, markets are trading mixed this morning:
CAC 40 -- down 0.33%
DAX -- up 0.46%
FTSE 100 -- down 0.16%
OSE -- up 0.23%
Technology
Yesterday, we discussed Apple (NASDAQ:AAPL) in our 'Chart of the Day' section and pointed out that even though the narrative have turned exceptionally negative as it pertains to the company's outlook, in the present they continue to deliver very strong numbers... THE strongest numbers as it relates to the bottom line and the highest margins in their industry. That is not by accident and one must also remember that they own their entire ecosystem, something which could very well play out to be important as we move forward with an ever growing number of attacks and hacks on operating systems and IT systems worldwide. Relying on someone else to protect your customers is never a comfortable situation to be in, but that is something Apple's competitors have to worry about and not Apple. The stock rose a bit over 3% in yesterday's session and with the close at $430.12/share the company is about 12% above its recent 52-week lows. It may just be a bounce, but we think it is something more.
The stock fell through the support that was here only weeks ago, but can this recent strength find enough energy to continue the move higher and break through any resistance that may now exist?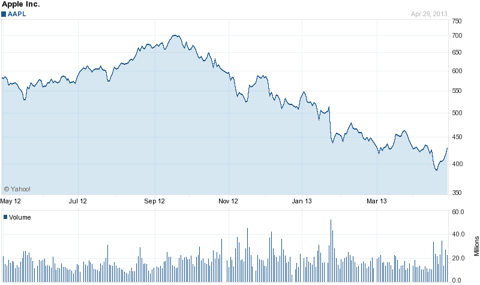 Chart courtesy of Yahoo Finance.
There is a lot of talk of Alibaba these days and how the IPO could be the latest in a string of $100 billion IPOs in China. Yahoo would seem an obvious winner, but so too would Sina (NASDAQ:SINA) with their exposure to the same market and the possibility that they begin to trade like a tracking stock. We have seen it before in some of our mini super bull markets over the years and this most certainly would fit the bill (one should think about the rare earths and what the Molycorp (MCP) IPO did to really inflate valuations there). Further, after yesterday's deal with Alibaba, whereby Sina sold an 18% stake to the company in its twitter-esque site Weibo.com, the two companies are interlocked and the talk of a takeover in the future shall surely be a recurring rumor. We like the story regarding Chinese internet stocks and with smartphones finally here and penetrating not just the first world but developing areas of the world as well, we see the potential for the Chinese sites to begin to dominate the rankings as some of the largest in the world. Although we have no issues with the company's accounting or business practices from what we have studied over the years, we would be remiss if we did not tell readers that investing in Chinese stocks can be a roller coaster ride, especially when one of the short-side boutique "firms" (not even sure what you would call them really) begins to issue their negative research reports.
Investors should also be aware that 3D Systems (NYSE:DDD) reports their earnings for the 1st Quarter of 2013 before the market opens today and will hold a conference call at 9:00 AM EST to discuss the results. With yesterday's rise, the shares are at $35.77/share and have been stuck with this area showing a bit of resistance as investors await news of whether the company saw an improvement in the latest quarter or not after the confusion of last quarter. We will give our thoughts tomorrow after we have the data to look at, but wanted everyone to be aware of today's event.
If earnings are good, watch the $40/share level and whether that will be broken moving forward...if bad, one will have to hope that $30/share holds. Either way volatility shall be on the upswing.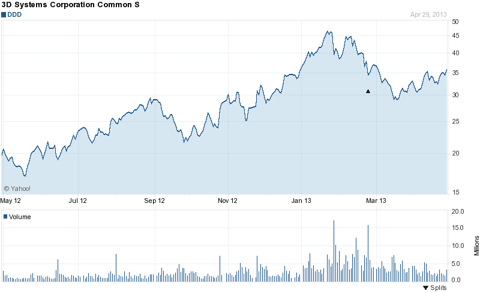 Chart courtesy of Yahoo Finance.
Financials
Regions Financial (NYSE:RF) lagged a bit yesterday, but the shares managed to close at $8.42/share on volume of 12.9 million which puts the shares about halfway to our estimated gain of 10% from the $8/share level. If one looks at the housing market in the southeast, it has improved materially; however, Regions has trailed its peer group as it relates to mortgage origination and benefiting from this trend. Yes, the numbers are improving but we want to see the company take advantage of the housing recovery that is taking place because in the southeastern US it means everything. There are more jobs tied to the construction and service industry there than elsewhere in the US, and any growth in housing tends to build upon itself (no pun intended) in the general economy. The company did focus on some of the most overheated markets when they had their last expansion push, and admittedly those markets have trailed the overall regional advances, so maybe we should just remain patient and let this all play out. Readers should adjust their stops and keep a tight stop now. We want the gains to be protected.
Moody's (NYSE:MCO) saw shares surge $4.57 (8.29%) to close at $59.69/share yesterday on extremely high volume of 6 million shares after it was announced that the company would be splitting with S&P and Morgan Stanley a $225 million settlement for two SIVs (special investment vehicles) which the ratings agencies had issued opinions on and Morgan Stanley had marketed. The case had not yet gone to trial but was set to begin next week. It is a win for sure, but there are other cases out there and we do have the US government to be on the lookout for, and as S&P has learned, that can be a game changer of sorts when you least expect it. Among the ratings agencies, we still prefer Moody's over S&P.
Disclosure: I have no positions in any stocks mentioned, and no plans to initiate any positions within the next 72 hours. I wrote this article myself, and it expresses my own opinions. I am not receiving compensation for it (other than from Seeking Alpha). I have no business relationship with any company whose stock is mentioned in this article.