Oil has been quite strong the past few sessions but oil and natural gas stocks have not been. It could be a situation where oil is showing us the direction we are to head and the reaction from the equities is simply on hold right now as other sectors have garnered the attention of the fast money crowd. Whether we are lagging for good reason or not, we continue to be buyers here, even in the face of the 'sell in may and go away' crowd really beginning to step up their banter in recent days. If one is buying quality names with growing production and a solid production mix of oil, condensates and natural gas liquids then there is nothing to worry about other than falling prices...which is obviously not the case right now.
Commodity prices this morning are as follows:
Gold: $1470.90/ounce, up by $3.50/ounce
Silver: $24.33/ounce, up by $0.164/ounce
Oil: $94.36/barrel, down by $0.14/barrel
RBOB Gas: $2.821/gallon, down by $0.0065/gallon
Natural Gas: $4.376/MMbtu, down by $0.016/MMbtu
Chart of the Day:
We are back into the good area of the chart where we can live. It is what we will call a 'Goldilocks' area as it is not too hot and not too cold but rather just right. Conducive to economic growth as well as strong earnings for our E&P plays.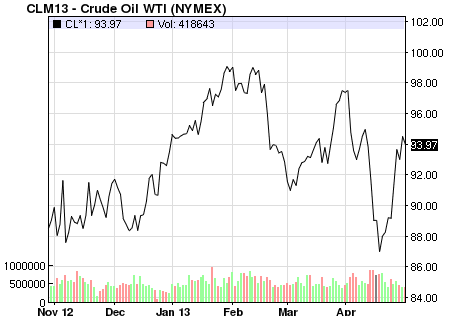 Chart courtesy of Nasdaq.com
Oil & Natural Gas
It seems that investor sentiment is changing in regards to Petrobras (NYSE:PBR) as we are seeing an inflow of capital before a recovery is seen. Yesterday's earnings did beat estimates, however the results were still pretty weak but the good news is that investors shall see an improvement in the overall numbers as these price increases approved by the government begin to take effect. Shares finished the session up $1.21 (6.71%) yesterday with volume surging to 36.1 million shares after the earnings. For those who missed the conference call, the transcript is located here. The other news that investors were talking about in regards to Petrobras is that the company is looking to restart the Frade Field with partner Chevron (NYSE:CVX), see Reuters article here.
The rise in natural gas prices has given rise to natural gas stocks, specifically those which are dedicated natural gas producers. Southwestern Energy (NYSE:SWN) is one of those stocks, and one of the few natural gas names we would invest in if one forced us to pick a name out of the industry. With shares at $36.97/share a lot of the current rally has already been priced in, especially when one considers that a rise in natural gas prices was already factored into the share price as speculators had placed bets months ago. For those who were playing this name, we would rotate out into a name with natural gas exposure in a low cost basin and also drilling for liquids in an area such as the Eagle Ford or Utica Shales. We see better upside with that type of trade rather than sticking with full on 100% nat gas exposure at this point.
FX Energy (NASDAQ:FXEN) has been quite volatile as of late, with the day traders still playing with it after having discovered it when they announced their results from Poland. After falling late last week, shares rebounded yesterday and finished the session higher by $0.54 (15.70%) to close at $3.98/share. We point this out for our readers who are traders and are in search of volatility in the commodity space, which right now is somewhat difficult to find. The one thing to watch however, is volume as it generally trades fewer than 1 million shares and this could lead to difficulty when trying to exit a position.
We are watching to see how long the good times can last at FX Energy. History tells us it usually doesn't, as does our experience in following the company.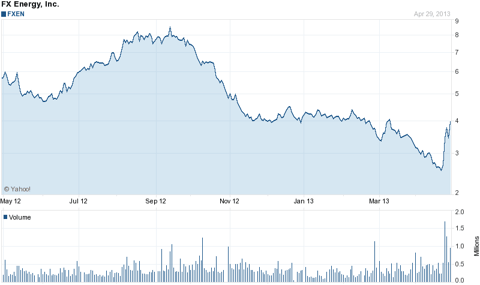 Chart courtesy of Yahoo Finance.
Iron ore
Speaking of Brazil this morning, take a look at Vale (NYSE:VALE) and just how far it has fallen. With everyone having gone bearish of iron ore and the growth out of China almost mandating this, shares have retreated to 52-week lows. It is not pretty, but investors do have some yield to protect them...although the payout is shrinking (the trailing twelve months is a bit overstated too as they lowered the payout recently). The company is doing some restructuring, and this will lead to them recognizing some losses but those have already been factored into the financials for the most part, but we do see some future losses as projects are in fact sold off or written off entirely. Our thinking is that the Chinese or Indians will make a move for the potash project for literally a few of dimes on the dollar.
The chart looks ugly, and it could get more so. There is yield here, but that too is a bit of a trap. Investors might be wise to simply steer clear for a while.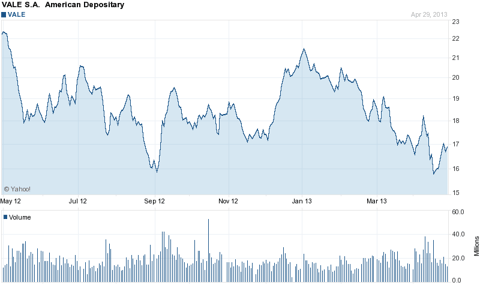 Chart courtesy of Yahoo Finance.
Cliff Watching
Readers know we like to watch stocks in the short-term and their behavior in order to better value them in the long-run and figure out entry points and exit points. We are big on support and resistance as it pertains to 'psychologically important milestone numbers' and this is what we have been watching with Cliffs Natural Resources (NYSE:CLF). Shares have been finding both support and resistance at the $20/share level and yesterday it was support. Only briefly did we see the shares dip below $20/share and the fact that they finished strongly after that support was hit signals good things. One cannot turn sentiment in one day or with one earnings report, but their latest numbers went a long way to mending wounds as the recent price action testifies to.
Disclosure: I have no positions in any stocks mentioned, and no plans to initiate any positions within the next 72 hours. I wrote this article myself, and it expresses my own opinions. I am not receiving compensation for it (other than from Seeking Alpha). I have no business relationship with any company whose stock is mentioned in this article.