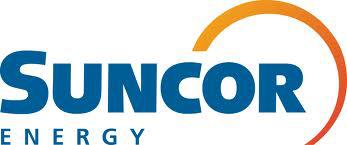 Suncor Energy (NYSE:SU) announced an increase in the quarterly dividend from $0.13 to $0.20 per share. The 54% rise in the dividend boosted SU's yield from 1.8% to 2.7% as of yesterday's close.
The company also amended its common share repurchase program by an additional $2 billion. The share buyback program will begin on May 2, 2013 and end on September 19, 2013. The actual number of common shares that will be repurchased and the timing of any such purchases will be determined by the company.
Suncor CEO Steve Williams explained the company's actions:
Suncor is dedicated to delivering a dividend that is reliable, sustainable, meaningful and competitive. Today's 54 per cent increase in our dividend, combined with a further $2 billion share buyback program, underscores our commitment to returning cash to shareholders and reflects our confidence in the company's future earnings and cash flow."
Q1 2013 Earnings
Suncor also reported Q1 2013 earnings of $0.71/share. This compared to the average analyst estimate of $0.74. Revenues came in at $10.016 billion. Quarterly and Y/Y production, earnings, and oil prices are summarized in the chart below.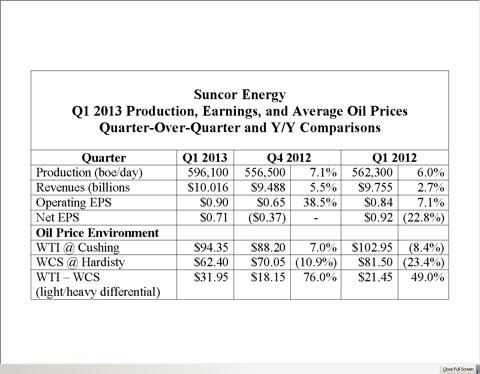 Obviously the WTI/WCS spread ($31.95) blew out significantly from the prior quarter and was up close to 50% from the year earlier period.
Saved By The Refineries
Considering the murderous pricing environment for WCS during the quarter, SU was able to post respectable earnings due to its refinery operations. Refining and marketing earnings jumped to $782 million from the prior year's $476 million: +64%. CEO Williams had this to say:
The strength of our integrated business model enabled the company to achieve solid results despite a very challenging
price environment for Oil Sands crudes. This quarter, we saw our downstream business more than offset the impact of low
price realizations on our Oil Sands production. Our refineries demonstrated excellent reliability, contributing to record quarterly earnings in the Refining and Marketing segment, a business that consistently ranks as the North American leader based on earnings per barrel of crude refining capacity.
Oil Sands Operating Costs Per Barrel Declined 8.7%
Cash operating costs per barrel for Oil Sands operations decreased in the quarter, averaging $34.80 per barrel compared to $38.10 per barrel in the first quarter of 2012 due to higher production volumes.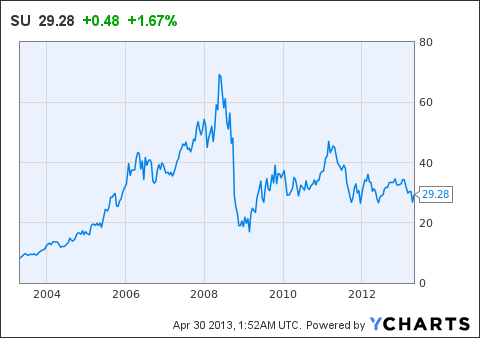 SU = $29.28
Mkt Cap = $44.60 billion
Shares Outstanding = 1,512,343,000
P/E (ttm) = 16.03
EPS (ttm) = $1.83
Div (Yield) = $0.80 (2.7%)
Summary
Suncor's refining business bailed the company out of a quarter that saw realized prices for its WCS product drop significantly both sequentially and Y/Y. Under the pragmatic leadership of CEO Steve Williams, the company made good on recent promises to reward shareholders and focus on the business on profitability instead of production growth for growth's sake. Once pipeline infrastructure is in place to enable WCS pricing to close the spread on WTI, SU will be firing on all cylinders and will have the ability to meaningfully grow production, earnings, and dividends. With the step-function growth in the dividend making SU a 2.7 yielder, Suncor is now a low-risk BUY.
Disclosure: I am long SU. I wrote this article myself, and it expresses my own opinions. I am not receiving compensation for it (other than from Seeking Alpha). I have no business relationship with any company whose stock is mentioned in this article.
Additional disclosure: I am an engineer, not a CFA. The information and data presented in this article was obtained from company documents and/or sources believed to be reliable, but has not been independently verified. Therefore, the author cannot guarantee its accuracy. Please do your own research and contact a qualified investment advisor. I am not responsible for investment decisions you make. Thanks for reading and good luck!