Torex (OTCPK:TORXF) stands out because it has two high value targets at its Morales project in the Guerro gold belt, right next door to Goldcorp's (NYSE:GG) low cost Los Filos mine. Torex's Todos Santos is shaping up to be of the same genre. It is expected to run 2.6 grams of gold throughput at a low cash cost of $421, gearing up from a start up 128,000 oz in 2015 to 375,000 oz from 2017 on. There are 4.8 million oz of M&I and 0.6 inferred. Capex net of revenue credits is $552 million, for a 28.9% IRR at 1500 POG. Payback is 3.2 years.
Torex has $405 million in cash on hand, and $250 million in debt financing to independently build this mine. Market cap is $800 million, leaving an enterprise value of only $395 million. Warrants are well out of the money 47.5 million at 2.65 average. The are 25.5 million management options slightly out of the money at 1.48. With the stock at 1.32, I treat this as marginal dilution as cash needs to be paid for the shares.
Torex is now drilling out a new nearby target called Media Luna. As you can see this target is three times that of Todos Santos, and so far the results are every bit as promising. Click through and look at the grades and clusters in the Media Luna west zone target and northeast zone running hot.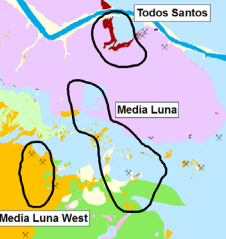 With 100 holes drilled so far, the hunt with 12 rigs is for new inferred resources to be announced in 1Q 2014. Analysts generally feel that 4 million oz will be added to Torex's kitty from Media Luna.
But judging from the sniffs (see second to last graphic) from the initial Media Luna West target, Torex may have a third windfall on its hands. The good news about this district is Torex has been able to convert 85% of resources to reserves. Like at Todos Santos, the gold is found in magnetite skarn formations with the best hits located in the dips or "pools" between the marble overlay and the granodiorite underlay. These darker magnetite outcrops make for excellent targets (last graphic). This orientation is well suited for low cost flat room and pillar mining. There is potential for ramp access on the hillside rather than a shaft.
A 115 kn powerline crosses the property and there is ample water. Torex is involved with a village relocation. I am not aware of any serious mine opposition in this historic mining district. The permitting process in Mexico is not onerous, although can be bureaucratic. Torex submitted the EIA in early September 2012, which is undergoing a 6-9 month review. Expectations are that the company will receive the construction permits in mid-2013.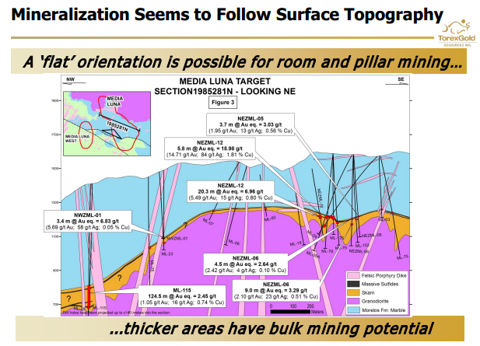 Click to enlarge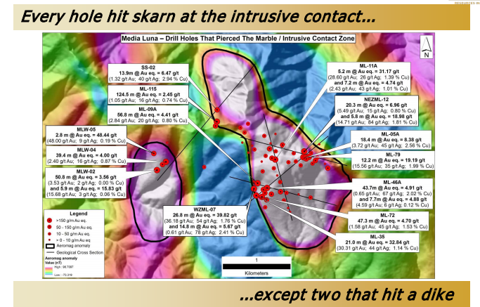 Click to enlarge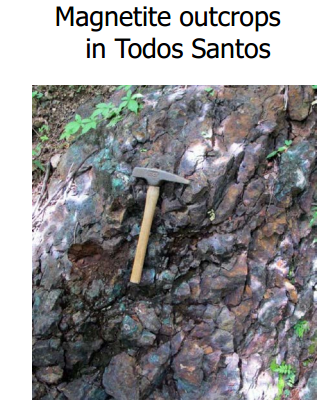 Disclosure: I am long OTCPK:TORXF. I wrote this article myself, and it expresses my own opinions. I am not receiving compensation for it (other than from Seeking Alpha). I have no business relationship with any company whose stock is mentioned in this article.