Business Relationship Disclosure: The article has been written by the Hedge and Mutual Fund Analyst at GuruFundPicks.com. GuruFundPicks.com is not receiving compensation for it (other than from Seeking Alpha). GuruFundPicks.com has no business relationship with any company whose stock is mentioned in this article.
Billionaire Eric Sprott is well known in the investment community for his commitment to precious metals investing, and his track record of earning consistently high returns for his precious metals and natural resource-focused hedge funds. His Toronto-based hedge and mutual fund company, Sprott Asset Management LP, has over $10 billion in assets under management, including $763 million in equity assets per its most recent SEC 13-F filing for Q1/2013. Its lead hedge fund strategy Sprott Hedge Fund LP has delivered 11.2% annualized returns since inception in 2000 versus 2.6% for the S&P 500. Just over half of its portfolio is invested in the gold, silver and platinum mining industry, and about two-thirds of the portfolio is invested in small-cap and micro-cap companies. The company was spun-off the asset management business of Sprott Securities, now called Cormark Securities Inc., which Mr. Sprott founded in 1981.
Sprott's top precious metals pick in Q1/2013 is MAG Silver Corp. (NYSEMKT:MVG), a Canadian company engaged in the acquisition, exploration and development of silver properties in Mexico, in which Sprott bought a large new $26.2 million position, four times the size of its next largest buy during the quarter. Besides Sprott, MVG was also the top precious metals pick in Q1/2013 for another leading gold-focused fund in our list, Tocqueville Asset Management, that added $17.1 million in Q1/2013 to its $24.0 million prior quarter position.
MVG shares, like many of its peers in the precious metals group, have been down recently and are trading near 52-week lows. However, the decline in its shares may be related more to its mid-November eviction from the Cinco de Mayo silver mining property in Mexico by the local community of Ejido Benito, seeking to establish a 100-year mining moratorium in the area. In the week prior to the eviction, MVG shares traded near all-time highs, after mounting a strong 100% rally in the preceding six months, and they have since given back almost all of those pre-November gains.
While the eviction is a significant setback for the company, it is likely that it will be resolved in the company's favor. Per the company, both the calling of the meeting and the way the voting was conducted at the meeting was illegal, motivated by a group of radical activists opposed to mining and industrial agricultural development in the region, and does not reflect the will of the majority of the community. Accordingly, the company is pursuing legal remedies to have the resolutions passed at the meeting be declared null and void, Besides, the company has seven other silver mining properties in Mexico, and with a 40% drop from the eviction news, the market at current prices may already have factored in a complete loss of the Cinco de Mayo property (an unlikely event). Gold stocks have been in a strong decline for the last 18 months, and the index as represented by the Market Vectors Gold Miners ETF (NYSEARCA:GDX) is trading near multi-year lows. We believe that the index is primed for a cyclical and secular rebound in the short- to intermediate-term, and when that happens, MVG shares are likely to rebound at a faster pace than many of its peers.
Besides MVG, Sprott also increased its position in Platinum Group Metals (NYSEMKT:PLG), that is engaged in the exploration and mining of precious metals in South Africa and Canada, adding 4.5 million shares in Q1 to its 0.2 million share prior quarter position in the company.
High conviction bearish moves by Sprott in Q1/2013 in the precious metals group included:
Sprott's largest holdings in the precious metals group in Q1/2013 also included stocks of the following companies:
First Majestic Silver (NYSE:AG), a Canadian company engaged in the mining and acquisition of silver properties in Mexico, in which Sprott held a 4.40 million share or $71 million position, cutting a minor 0.38 million share during the quarter.
Silver Wheaton Corp. (NYSE:SLW), a Canadian buyer of purchase agreements for silver and gold from mining companies operating in Mexico, Sweden and Peru, in which Sprott held a 0.77 million share or $24 million position, cutting a minor 6,784 shares during the quarter.
Pan American Silver Corp. (NASDAQ:PAAS), that is a Canadian mining company focused on silver, with mining operations in Mexico, Peru, Argentina and Bolivia, in which Sprott held 0.75 million share or $12 million position, cutting a minor 35,024 shares during the quarter.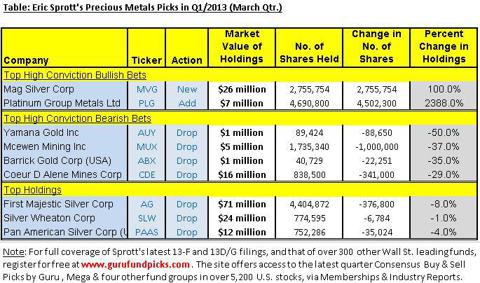 Click to enlarge
Credit: Fundamental data in this article and company descriptions are based on SEC filings, Zacks Investment Research, Yahoo, Thomson Reuters and Briefing.com.
The information and data is believed to be accurate, but no guarantees or representations are made.
Disclaimer: Material presented here is for informational purposes only. Nothing in this article should be taken as a solicitation to purchase or sell securities. Before buying or selling any stock you should do your own research and reach your own conclusion. Further, these are our 'opinions' and we may be wrong. We may have positions in securities mentioned in this article. You should take this into consideration before acting on any advice given in this article. If this makes you uncomfortable, then do not listen to our thoughts and opinions. The contents of this article do not take into consideration your individual investment objectives so consult with your own financial adviser before making an investment decision. Investing includes certain risks including loss of principal.
Disclosure: I have no positions in any stocks mentioned, and no plans to initiate any positions within the next 72 hours. I wrote this article myself, and it expresses my own opinions. I am not receiving compensation for it (other than from Seeking Alpha). I have no business relationship with any company whose stock is mentioned in this article.