On April 30, Pitney Bowes (NYSE:PBI) announced a reduction in its dividend. The new quarterly dividend will be $0.1875 per share, or $0.75 annually. This is a 50% reduction from its previous quarterly level of $0.375 per share, or $1.50 annually. As of this writing, shares of Pitney Bowes are down as much as 10% to $14.50 per share. However, prior to the announcement, Pitney Bowes was up over 50% YTD. At current prices and at the new dividend level, Pitney Bowes' new yield is about 5.2%.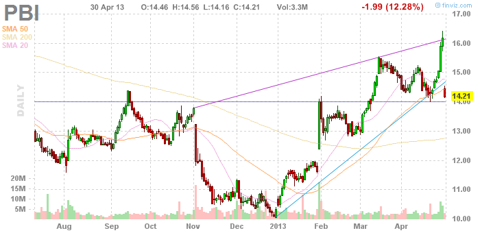 During the quarter, Pitney Bowes generated nearly $1.2B in revenue, a 4% decline from last year. Adjusted EPS from continuing operations fell 20% to $0.42. Adjusted EBIT was $176M, down 17% from last year. Adjusted EBITDA was $233M, down 16% from last year. FCF came in at $107M, down 43% from last year.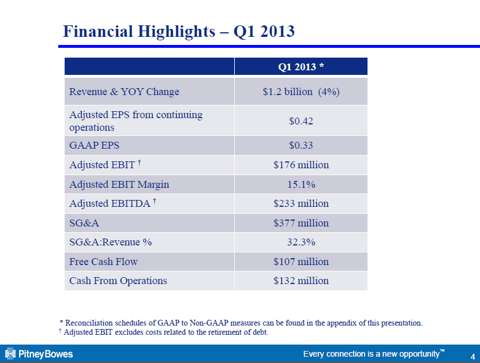 In the Q1 2013 earnings release Pitney Bowes' new CEO Marc Lautenbach mentioned that the new dividend policy was enacted in order to support the long-term health and growth of the company. In addition, the CEO mentioned that the new dividend will add financial flexibility to invest in its business and enhance its capital structure. The new dividend policy will allow Pitney Bowes to save about $150M in annual cash flow.
During the Q1 2013 conference call, Pitney Bowes' CEO mentioned that the new dividend policy will help Pitney Bowes 'unlock' value and to achieve a compelling and sustainable total return. In addition, the CEO mentioned that the cash flow saved will be used to enhance the company's capital structure and to maintain its credit rating.
It is no secret that Pitney Bowes must keep an investment grade rating. Pitney Bowes has a massive $3.7B in long-term debt, which is quite a bit larger than its total market capitalization. In addition, the company has seen its free cash flow steadily decline. During the quarter, Pitney Bowes generated only $132M in operating cash flow and $107M in FCF. The previous dividend level would have taken up over 70% of the Pitney Bowes' FCF, which leaves little for growth and/or to pay down debt. Pitney Bowes has been hit with multiple credit downgrades, and as a result its future interest rate on debt may increase. The company already pays out over $120M a year in interest expenses.
Pitney Bowes also updated its FY 2013 guidance. Pitney Bowes reaffirmed its FY 2013 guidance for revenue, FCF, and adjusted EPS from continuing operations. The company expects ex-currency revenue to be flat to 3% growth, FCF to range from $600M to $700M and adjusted EPS to range from $1.85 to $2.00. Pitney Bowes did update its GAAP EPS range to $1.77 to $1.92, due to a $0.08 charge related to a recent debt tender.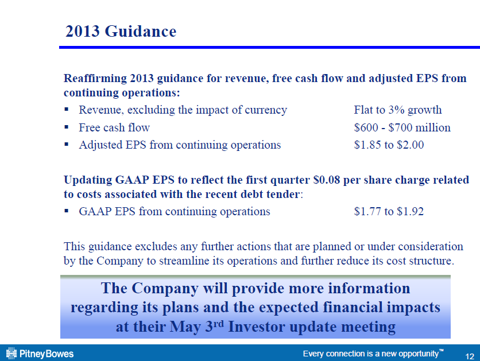 Conclusion
Pitney Bowes' history of 30 consecutive years of dividend increases is over. Pitney Bowes faces serious challenges due to its exposure to mail volumes, which is in secular decline. Due to its large debt load, Pitney Bowes has to keep bondholders and rating agencies happy. Further credit downgrades will not at all help the company. Pitney Bowes' debt is now much greater than its overall market capitalization.
During the conference call, Pitney Bowes mentioned that it will go into much more detail regarding its future plans in its May 2013 investor day. The dividend reduction, while unfortunate, was easily predictable. During last quarter's conference call, CEO Marc Lautenbach hinted about a strategic review when he stated "I'm going to have a lot more to say about the company, and our going forward plans at our investor briefing end of May."
Paradoxically, Pitney Bowes' stock may now present a buying opportunity. There is no doubt that the market has reacted positively to the new CEO, as the stock was up over 50% YTD prior to today's decline.
Disclaimer: The opinions in this article are for informational purposes only and should not be construed as a recommendation to buy or sell the stocks mentioned. Please do your own due diligence before making any investment decision.
Disclosure: I have no positions in any stocks mentioned, and no plans to initiate any positions within the next 72 hours. I wrote this article myself, and it expresses my own opinions. I am not receiving compensation for it (other than from Seeking Alpha). I have no business relationship with any company whose stock is mentioned in this article.