by Chris McKhann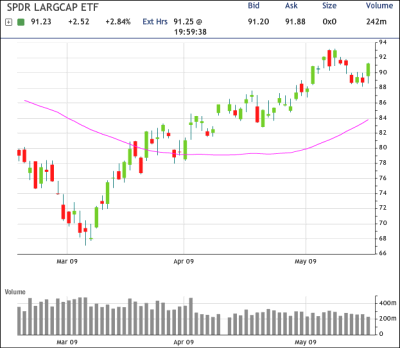 One trader is using a call spread to bet on a continued rise in the S&P 500.

The SPY S&P 500 exchange traded fund closed yesterday up 2.84 percent to $91.23, erasing the losses from the end of last week. But this still leaves the ETF below the previous week's levels up near $93.
Despite the pullback, the SPY remains in an uptrend, putting in a higher low. One concern is the fact that volume has been tapering off as the ETF has climbed.

One trader is betting on a break above those recent highs. There was a purchase of 25,000 of the July 87 calls for $6 and seconds later a sale of 25,000 of the July 93 calls for $2.61.
This in-the-money spread has a net debit of $3.39, which eliminates any time premium from the spread. The maximum profit of $2.61 will be realized if the stock is at or above $93 at expiration.

(Chart courtesy of tradeMONSTER)