In the world of weather, things can change very quickly. One of the most dramatic weather shifts that has also altered market psychology and perception is going from drought to floods in sections of the Midwest. In a blink of an eye, we have seen the previously drought-ridden Mississippi, Missouri, and Red River Valley Rivers go from famine to feast. These areas are now suffering from too much rain. The unparalleled cold late winter and early spring, which anointed the natural gas markets as one of the stellar commodity plays of the last two months, is also one that is resulting in the slowest corn planting pace on record.
Duluth, Minn., has had record snowfall this month and Peoria, Ill., (just one of many cities in the Midwest) has breached the latest spring date for not yet reaching 70 degrees. This is all garnering new concern in the grain market.
Click to enlarge images.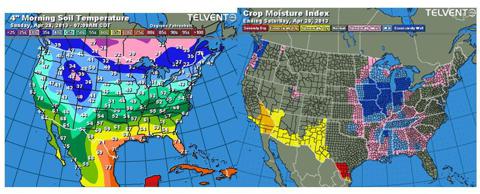 Click to enlarge
"Soil temperatures (left) are some of the coolest this late in the spring in recent memory and are preventing spring wheat and corn planting giving a boost to grain markets. To the right, what was a severe drought has not switched to too much moisture (blue) from the Red River Valley to the central corn belt, where some flood issues are becoming an issue." (Roemer) Map source: DTN-TELVENT.

Click to enlarge
Source: USDA.
Grains
After our previously bearish attitude on corn and soybeans -- which really began last fall due to our prognostications of lower world demand, big crops coming out of South America, and the possibility of the U.S. drought easing (which it has, except for the Southern Plains wheat belt) -- the grain market focus these next few weeks will be on planting issues. For wheat, the Kansas wheat tour begins this week and I continue to feel that four freezes will chop off some 100 million bushels in the Plains wheat crop estimate. Wheat prices and WEAT would be on much more of a longer-term tear to higher prices if the global stocks situation was tighter and if we had steeper weather issues in Ukraine, Europe, or China. The wheat crop in Kansas, Oklahoma, and Nebraska could still benefit from late spring wheat, due to the slow maturity of the crop. But the short-term higher corn prices and slow planting pace of spring wheat in the Dakotas and Minnesota will keep this market from falling very far right now.
The corn market and CORN is on an immediate planting-delay-ridden panic, rallying some 5% since late last week. This is still down some 20% from last summer's drought-ridden highs. While I see some short-term bullish weather developments (multiple trading affairs), the first signs of extended warm, dry weather would pressure this market. But for the time being, I do not see that. Longer term, my forecast for good summer crops should eventually pressure both corn and SOYB, but the first line of business is getting the crops planted.
Soft Commodities
The cotton (NYSEARCA:BAL) market is one that is really always at the mercy of what China does. China has begun selling again, after beefing up its reserves last winter that helped prices rally from 73 cents/lb to over 90 cents/lb last month. Nevertheless, extended planting delays in the deep south may keep this market nervous. Solid demand and a potential tightening of global supplies will probably keep cotton prices from falling much below 80 cents/lb. However, trying to predict what world crops will do in the important countries of India, Pakistan, and China is almost impossible to predict this early in the growing season.
If Mother Nature breeds some summer weather issues in any of these three other countries, cotton prices could stay strong this summer. However, since we are in a ENSO-neutral phase (neither El Nino or La Nina), any major production issue may not be in the cards. Traders will also focus their attention on the Texas drought and how much land may be abandoned in coming weeks.
Coffee prices and JO continue to tread water. The huge off cycle Brazil coffee crop of potentially 50-51 million bags would be a record. This realization is a key factor (two big Brazil crops the last two years) and coffee futures plunging more than 50% since 2011. The disease issues in Central America is pretty much the only bullish factor in this market for now, but it will take an unusual deep summertime (Brazil winter) freeze in June or July to get this market out of the gutter. The chances of a freeze this summer is about three to five times as great as it has been in any of the last 15 years, but the market will not look at this for the present time. As a cheap shot, traders may want to buy the September $140.00 July coffee call option, just in case we see a freeze situation in a couple months. However, we should point out that Brazil's coffee zone has shifted quite a bit further north the last 15 years, making the odds of a major devastating freeze a bit less likely than it was during the 1950s to 1994.
Cocoa prices and NIB have seen a nice 10%-15% bounce in prices the last couple months. This is due to seasonal factors, stronger grind data out of Europe, and the potential of a slight short fall in the mid-crop from earlier dry weather last summer. Most of that dryness was alleviated last fall and winter, however. Given what we call a relatively weak Pacific Warm Pool north of Australia, cool ocean temperatures off the coast of Peru and other criteria, the chances for any major production issue this summer for cocoa in West Africa are not high. Hence, cocoa prices may not have more than another 5%-8% more upside and could fall back later this year if production rebounds again.
Citrus greening and the Florida drought continue to keep orange juice prices strong. There are some signs that more seasonal wetter summer weather may arrive for Florida and if so, orange prices could fall back this summer or fall. Of course, traders will also be following the hurricane season. Every time a storm brews in the Atlantic the recollection of the infamous 2004 season, in which four hurricanes devastated Florida citrus groves, looms in the back of speculators' minds.

Click to enlarge
"Second guessing models, that 95% of all meteorologists don't do, takes time and practice. Looking at what we call 'teleconnections' (climate anomalies that relate to each other over long distances and can be used to forecast the weather and second guess models weeks advance), is not only a science but an art. The most emblematic of teleconnections is El Nino and La Nina, but there are many other important ones. The chart above shows two teleconnections that will result in more cold Midwest weather that may still affect the natural gas market a bit and corn planting." (Roemer) Map source: WSI.
Natural Gas
Natural gas prices and UNG originally sold off last week on expectations that we are entering the typical "shoulder spring months" when demand is curtailed by warmer weather. However, I continue to see the recent cold spells as a factor that has put us into a fairly modest deficit of natural gas stocks vs. the five-year average. After this week's EIA, that deficit (though not enormous) should be some 105-115 under the five-year average. The last time this happened more than 15 months ago, natural gas prices were in the $4.30-$4.60 range.
While my forecast of a potentially normal to cool summer could result in a summer sell-off in natural gas prices, I'm looking for more cold Midwest weather and associated heating demand in the short term. Also, articles like this may keep nervousness in this market. While a major price spike over $5.00 or so may only come if we have an unusually hot summer, any precipitous break in natural gas prices for the next week or two is unlikely.
Note: Unfortunately, due to client obligations I am not going to be able to write frequent reports with regard to the grain and other markets, other than maybe once every two to four weeks.

Disclosure: I have no positions in any stocks mentioned, and no plans to initiate any positions within the next 72 hours. I wrote this article myself, and it expresses my own opinions. I am not receiving compensation for it (other than from Seeking Alpha). I have no business relationship with any company whose stock is mentioned in this article.