Recent data flows suggests U.S. housing has bottomed and a recovery is under way. House prices are rising at rates not seen since 2006 and with inventories at suppressed levels house builders are increasing production to meet this growing demand.
The most logical way it seems to benefit from this trend is to purchase U.S. home builder stocks. However, these cyclical stocks can be extremely volatile. With the recovery still fragile and housing an important indicator, any economic weakness will most likely be reflected in falling homebuilder share prices. Home Depot (NYSE:HD) seems a great stock to invest in to benefit from the housing trend, but should offer more downside protection and less volatility than homebuilders. The logic here is sound; people moving to another house will often invest in new furniture, appliances and other household goods - Home Depot is the largest home improvement retailer in the U.S. However even if there is a slowdown in housing starts, or fall in prices, homeowners will still carry out home improvements; again Home Depot is poised to capture this market. Many consumers are still wary of heavy capital outlays following the credit crunch and so low-cost home improvements and DIY (Do It Yourself) renovations have become increasingly popular and Home Depot is catching this market.
The chart below shows the out performance of Home Depot versus more cyclical house builders over the last 10 years. House builders have been hit very hard during market pullbacks and this downside exposure has impacted long-term returns.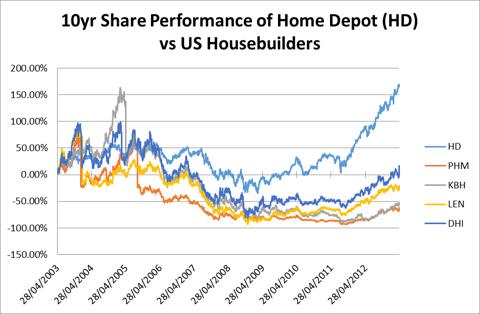 Click to enlarge
HD: Home Depot; PHM: Pulte Homes; KBH: KB Home; LEN: Lennar Corp; DHI: DR Horton
source: Yahoo finance
The chart below shows the performance of Home Depot during the Credit Crunch versus the four house builders and on a relative basis it outperforms the house builders.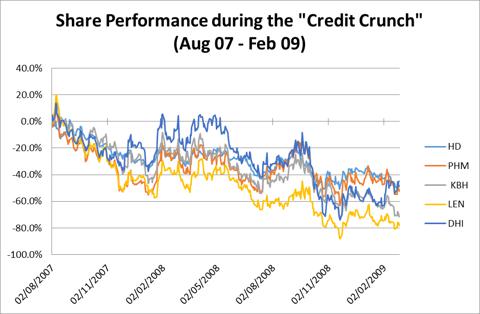 Click to enlarge
source: Yahoo finance
On a company level Home Depot is in a strong position with an excellent brand. It has good distribution networks, and a very robust operation strategy. Its focus on customer service should help retain customers. By focusing on product innovation it should mean strong sales are repeatable and not simply a one-off occurrence. It is also aware of the need to monitor and control Capex; too often as investors we have suffered due to frivolous Capex. Finally, and what I consider its most important plus, its focus is on the changing habits of consumers. The shift to Internet shopping has been huge, and Home Depot has embraced this, investing in top of the range IT systems to provide a seamless service to customers. These strategies should help grow the business over time. Management has also recently carried out share buy backs, limiting supply of stock to the open market, and also has a long history of returning cash to investors through dividends, which have grown year on year, making it an excellent equity income stock.
After diving into the financial statements there are some positive trends occurring within the business. The company is managing to grow both top-line sales and bottom-line Net Income over the past few years; the business is selling more and becoming more profitable. Free Cash Flow is positive, and trending upwards, which should give investors confidence that dividends can continue to be paid and grown, and also that share buybacks may become more frequent. Return on Equity is high and shows management has a good ability to reinvest money back into the business and generate strong returns on these reinvestments.
Year Ending

3rd Feb 2013

29th Jan 2012

30th Jan 2011

Revenue

$74.8bn

$70.4bn

$68bn

Net Income

$4.54bn

$3.88bn

$3.34bn

Free Cash Flow

$1.16bn

$0.56bn

$0.19bn

Return on Equity

25.47%

21.34%

17.35%
Summary
Home Depot offers investors a great way to benefit from the housing recovery without being exposed to some of the downside risk the more cyclical house builders have exhibited in the past. Consumer shifts to both low-cost DIY projects and Internet shopping are trends we are currently witnessing and Home Depot is positioned to benefit from this. Management has a clear and meaningful strategy, which should continue to produce strong returns for investors and the company history of distributing cash to investors provides a nice income stream.
Disclosure: I have no positions in any stocks mentioned, and no plans to initiate any positions within the next 72 hours. I wrote this article myself, and it expresses my own opinions. I am not receiving compensation for it (other than from Seeking Alpha). I have no business relationship with any company whose stock is mentioned in this article.