Under Armour (NYSE:UA) is an American sports clothing company approaching maturity in its life cycle. The company has been able to capture roughly 3% of the US athletic footwear market since it started its operation. Its stock moved from $6 in 2009 to $56 in 2013, which is an increase of 900%. I believe that the company still has a lot of scope to grow before it finally reaches the maturity phase of its growth curve.
Under Armour is the originator of performance apparel, which is designed to keep athletes cool, dry and light throughout the course of a game, practice or workout. Let me now discuss a few things that give the company an edge over its competitors.
Good Numbers
Q1FY13 net revenues were up 23% to $472 Million and full year guidance for 2013 revised up in a range of $2.21billion to $2.23 billion. For this quarter diluted earnings per share were $0.07 compared with $0.14 per share same quarter last year. However, the company saw a dip in its net income from its previous level. Net income decreased 47% in the first quarter of 2013 to $8 million compared with $15 million in the prior year's period, reflecting the planned timing of marketing expenditures.
Innovation in products and marketing
From being a "tight t-shirt company" to a fully integrated athletic brand capable of servicing the full needs of athletes, Under Armour has done a lot of innovations to make its products more qualitative and technologically sophisticated.
The company has produced technologies like 'Coldblack', a fabrication that reflects the sun's heat and light, keeping the wearer cooler and more comfortable on a hot summer day.
This year, Under Armour will release its new product called 'Infrared'. This is designed to disseminate heat using ceramic powder and re-circulate heat around the wearer's body.
Under Armour also released a product with scent control technology in 2012 titled, "Under Armour Scent Control". This line is designed so that the wearer's body odour is reduced.
Innovation is driving its brands like Charged Cotton and UA Storm and Fleece. This is helping it become a leader in their respective segments.
To market and promote its product, the company follows a strategy of 'outfitting agreements' and 'professional and collegiate sponsorships'. It provides and sells its products directly to the team equipment manager and to individual athletes. It became an official supplier of gloves to the NFL in 2011. In addition, it became the official performance footwear supplier of Major League Baseball. It also partnered with the National Basketball Association ("NBA").
Fundamentals of the company and its competitors
Under Armour competes against the big names like Nike (NYSE:NKE), Adidas (OTCQX:ADDYY) and Columbus.
Nike is the biggest player in this segment and has a market share of around 20%. Besides its own operations, Nike grows on the revenue earnings of its associates like Converse Inc, Hurley International, LLC, Jordan Brand and Nike Golf. These associates account for 12% of the company's total revenue. In 2012, Nike's sales grew by 9% and net earnings grew by 4%. Nike has a P/E at around 24 and PEG around 2.
Adidas is the next biggest player in this industry. It is the holding company for the Adidas Group, which consists of Reebok sportswear company, TaylorMade-Adidas and Rockport Besides sports footwear. Adidas also produces other products such as bags, shirts, watches and eyewear. In 2012, the company's total revenue increased by 13 percent but its bottom-line decreased by 11 percent. It has a P/E of 31 but its PEG is negative.
Under Armour, with a P/E value of 46, PEG 1.81 and P/S of around 3, is the industry leader in terms of fundamentals. It is trading at a trailing P/E of 45x and a forward P/E of about 37-38x. However, it still has an impressive growth rate to support the price level and maintain its fundamentals in the long run.
Growing Earnings
Net revenue of the company is increasing at a CAGR of 24.8%. EPS is increasing at a CAGR of 31%.
Chart showing growth pattern of Under Armour over the past 5 years-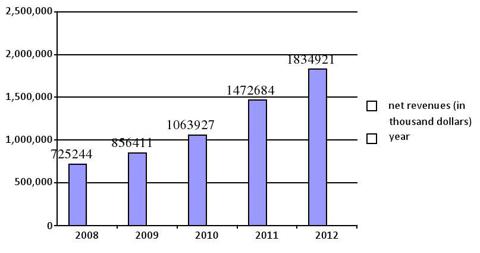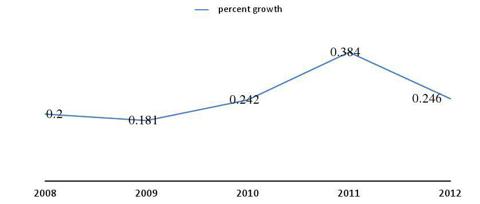 Data from http://investor.underarmour.com/investors.cfm; chart: http://stockriters.com/
The company's bottom-line increased by 30% and its cash and cash equivalents increased by 100%. The company's total revenue-increase is accompanied by the increasing number of points-of-sale like vendors and stores. In order to sell more of its product, it has different channels like factory house, tie-ups with retailers and in-house distribution centers. It also focuses on selling through online stores.
Industry Outlook
According to Global Industry Analysts, the world sports apparel industry is expected to exceed $126 billion by 2015. The market is driven by a trend towards healthier, more active lifestyles, older demographics and women becoming more active.
The US sports and fitness clothing market is the largest in the world. The EU and Asia-Pacific are quite far behind the US in terms of regional market share. However, Asia-Pacific has vast potential for expansion, driven by rising demand from various countries. This region is expected to record annual growth of more than 4% through 2015. Product innovation continues to be a key factor in the sports clothing industry. Companies are employing technological innovation to keep up with the changing trends in fitness.
Conclusion
Under Armour has been able to capture around 3% share of the US market. As per the company's Annual report, it is expanding its footprint in the Asia-Pacific region also. The company has a chance to grow above the market-growth rate, because of its unique and technologically more sophisticated product-line. It has been innovative enough to prove its edge over its competitors and has been able to create demand for its product. In addition, it knows how to innovatively market its product. I think that the company has the ability to achieve 15-20% annual growth rate in the long run, which is a moderate estimate given its past performance.
Disclosure: I have no positions in any stocks mentioned, and no plans to initiate any positions within the next 72 hours.
Business relationship disclosure: StockRiters is a team of analysts. This article was written by Vaibhab Srivastava - B.Tech, Information Technology, MBA in Finance, IIFT, one of our analysts, and edited by Shas, StockRiters' Editor-in-Chief. We did not receive compensation for this article (other than from Seeking Alpha), and we have no business relationship with any company whose stock is mentioned in this article.