As advertisers finally shift their financial focus from print to web media they must once again redirect their attention, this time to mobile. In 2012 the average amount of time American consumers spent on mobile devises, excluding talk time, swelled to 82 minutes per day, up from just 34 minutes in 2010. [1] Consumer time spent with print continued to spiral downwards and now occupies a mere 38 minutes of media time, down from 63 minutes in 2008. [2]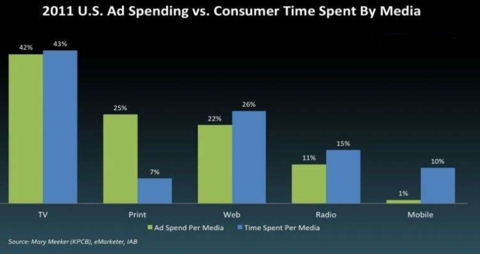 While consumer time allocated to mobile far surpassed print and continues to show robust growth, the distribution of ad spending has yet to reflect this. Last year only 1.6% of US ad spending was directed towards mobile whereas adults spent 11.6% of their media time with smartphones and tablets. Conversely, print received 20.7% of total advertising dollars though adults spend only 5.4% of their media time with newspapers and magazines. [3] Despite occupying less than half of the consumer's time spent with mobile media, print received almost 1300% more advertising cash than mobile, down from receiving 2500% more money in 2011. While slow at first, advertisers are quickly becoming aware of this anomaly in spending and US mobile ad spending is predicted to rise to $27.13B in 2017 up from just $1.48B in 2011. [4]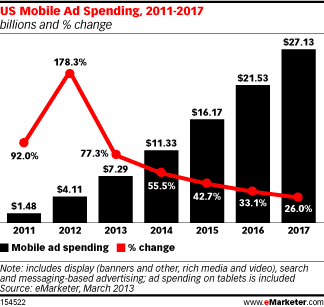 So why do advertisers lack faith in mobile ads despite the clear paradigm shift towards mobile media? Simon Birkhead, director of global advertising sales at Telefonica Digital, believes most mobile advertisers lack audience targeting:
"Then there are mobile display campaigns, which represent 52% of mobile media spend yet 70% are still sold blind with almost no targeting. The industry continues to use an ad format designed for a PC but shoehorned onto a mobile screen. It's hardly surprising advertisers still question their value."[5]
Many companies new to the field and eager to jump on the mobile ad bandwagon have insufficient means for audience targeting. Thus, they produce ads that directly take from the PC format and are "shoehorned" onto mobile screens. Their lack of data points and precision mechanisms for consumer targeting also leave advertisements with poor click and buy rates.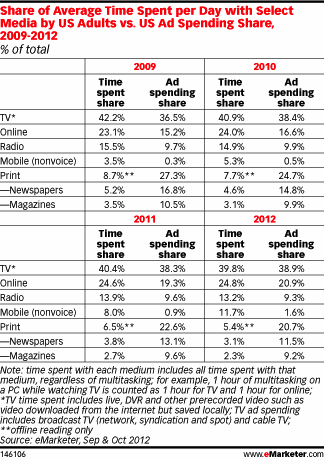 One small cap company is especially well poised to capitalize on the growing mobile ad field as well as the weaknesses of their peers - Voltari (VLTC). Voltari, formerly Motricity, has been active in mobile marketing for over 15 years. Voltari was one of the first companies in the industry. In that time they maintained a decade-long relationship with AT&T (NYSE:T) and Verizon (NYSE:VZ). They now have amassed over 30,000 consumer data points for use in their predictive analytics software for precision consumer targeting. Voltari also had a long-standing relationship with Carl Icahn, who has taken a strong position in the company and whose average investments were priced at over $100 per share on a split adjusted basis.
Motricity, a mobile marketing company, transformed its core business focus to their high margin predictive analytics for mobile advertising, Voltari. In the past 12 months Voltari has increased from 10 broad advertising programs to over 150 today. Their recent ad targeting programs include Voltari Auto, which utilizes 300 additional auto-related data points from Polk. [6] Voltari also collaborated with a top independent film studio to create a mobile media campaign to support a horror movie release. With their audience targeting analytics, Voltari was able to locate a new, previously missed demographic group with very high interest in the film. As a result of insight from Voltari's audience models, the movie premiered at #1 at the weekend box office due to an "unexpected audience bump." [7]
In its creation, Voltari managed to preserve Motricity's 320m-carry forward net operating loss. Unlike industry peers such as (VELT) Voltari is also profitable, with 52M in cash and 68M in current assets. Their current liabilities total 36M with the majority, (22.5M) to Mr. Icahn, who just recently bought 95% of the 29M preferred stock offering. Carl Icahn clearly believes in this company, he currently owns 30.7% of the common stock, 95% percent of the preferred, and 100% of the debt. We believe Voltari is currently a 35m business growing as much as 15-20% per quarter.
Disclosure: I am long VLTC. I wrote this article myself, and it expresses my own opinions. I am not receiving compensation for it. I have no business relationship with any company whose stock is mentioned in this article.