After scaling the early $30s at the start of the year, Facebook (NASDAQ:FB) has been trading within a $25-$28 range for the past couple of months as investors wait for the right catalyst to buy the stock. Bulls maintain that Facebook's monetization opportunities for its more than a billion users make the stock a strong buy, whereas bears argue that Facebook's valuation is still too high given the risks to its earnings growth. In this article I will discuss what to expect from Facebook's upcoming Q1 2013 earnings results to be announced after market close on May 1st.
Here is a look at analysts' estimates for Facebook's Q1 2013 earnings release:

Source: Yahoo Finance
Going by consensus estimates, analysts expect Facebook's revenue to grow 36% year-on-year but with earnings of just 13 cents a share. However, a slight miss or beat on either the top line or the bottom line won't matter too much; in the Q4 2012 earnings call, Zuckerberg had warned investors that Facebook's expenses would outgrow its revenues in 2013 because Facebook's aim for the year is to develop products for long term success rather than maximize profits in the short term. And this aspect of Facebook's strategy has been quite visible since the start of the year.
Last year, Facebook had focused on ramping up its monetization efforts by showing more types of ads as well as by increasing the number of ads it showed to users. Since the start of this year though, instead of focusing on increased monetization efforts for the short term, Facebook has focused on innovating around its existing products and has also launched several new products. Facebook has made the following major announcements since the start of the year:
On January 15th, Facebook announced the launch of what Mark Zuckerberg described as the "third pillar" of Facebook platform, the Graph Search. The Graph Search is a social search engine that answers users' queries based on the data their friends have shared with them.
On March 7th, Facebook announced a significant redesign of its News Feed, which Zuckerberg touted as the "best personalized newspaper" a user could have. The new news feed which is still in the process of being rolled out, gives the users richer stories, a choice of feeds, and consistency across mobile and desktop platforms.
On April 4th, Facebook announced Home, a "launcher" app that would replace a user's Android home screen with a completely Facebook-centric interface. The idea behind Facebook home is to give millions of Android users the opportunity to make their Android phone a "Facebook phone", without Facebook having to launch their own mobile OS.
Mobile Growth
Rather than focusing on the revenue or the EPS numbers, investors will be focusing on the underlying metrics that make up those numbers. Specifically, the metric that will be under everyone's spotlight will be the mobile advertising revenue. Q4 2012 results showed that Facebook doubled its mobile advertising revenue from Q3, which represented 23% of Facebook's total advertising revenue for the quarter, up from 14% of advertising revenues during Q3. Sterne Agee analyst Arvind Bhatia expects Facebook's mobile advertising revenue to rise to $360 million for the quarter, an increase of 18% from Q4 2012's figure of $302 million.
Facebook Fatigue
Investors will also be interested to see if reports of "Facebook Fatigue," especially in developed markets, are true. Citing data from socialbakers.com, Guardian recently reported that Facebook has lost millions of users in developed markets such as the US, Canada, UK and other major European countries. Data suggests that in the last 6 months, the social networking giant has lost almost 9 million monthly visitors in the US and 2 million in the UK. I would be interested to see if the official figures from Facebook conform to these reports, and if Facebook's growth in emerging markets such as Latin America and India is strong enough to offset the headwinds from developed markets.
User Engagement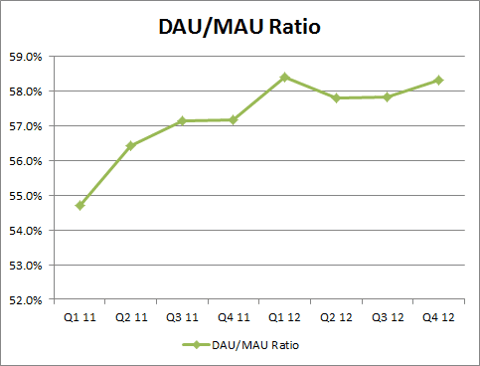 Click to enlarge
Source: Company Reports and SEC Filings
Another important metric that will be important to note is user engagement. Citing data from ComScore, the report from Guardian says that the amount of time American users spend of Facebook is falling. Another recent report from Piper Jaffaray suggests that teenagers are losing interest in Facebook as they move on to more mobile oriented competitors like Snapchat. You can see from the chart above that Facebook has been able to maintain its Daily Active Users [DAU]/Monthly Active Users [MAU] ratio, a measure of user engagement, close to the 58% level for the past year. A fall in this ratio could be worrying for investors as this would confirm fears about falling engagement levels.
When Will FBX Come to Mobile?
In addition to the operational metrics, investors would also like some questions answered on the earnings call. An important question for me is that when would Facebook exchange [FBX] come to mobile so that Facebook can take advantage of the huge trend shift from desktop to mobile and counter desktop ad revenue cannibalization. FBX allows advertisers to target ads to Facebook users based on their browsing and shopping habits on the internet. Although FBX has drawn a lot of interest from advertisers, this tool is currently only available on desktop and that too for the sidebar ads. Facebook has recently started testing News Feed ads based on FBX but there is still no timeframe as to when FBX will come to mobile. Moreover, since FBX is based on cookies and mobile doesn't support cookies the same way as that desktop does, I would be interested to hear from Facebook as to how they would track a user's preferences on mobile as the users are increasingly using smartphones and tablets for browsing and shopping.
Conclusion
Despite various concerns from skeptics, Facebook remains a very interesting investment opportunity on the back of a billion active users. However, there are still concerns as to how the maturing user base in developed markets will affect Facebook's growth. In its Q1 results, Facebook also must show that its growth in mobile advertising continued to give investors more confidence about its overall growth prospects. I believe that much of these concerns are already priced in; Facebook stock is down more than 13% since it announced its Q4 results in January. Therefore, if Facebook can silence the recent reports about Facebook Fatigue and show strong growth in mobile, the Q1 results could be the catalyst that triggers a rally back to the stock's IPO price.
Disclosure: I have no positions in any stocks mentioned, and no plans to initiate any positions within the next 72 hours.
Business relationship disclosure: This article was written by Dividend Pros' analyst covering technology.