The 2006 vintages of subprime loans, reflected in the price of the Markit ABX index for AAA tranches, have shown a sharp improvement over the past couple of weeks.
2006 Subprime AAA's Up 20%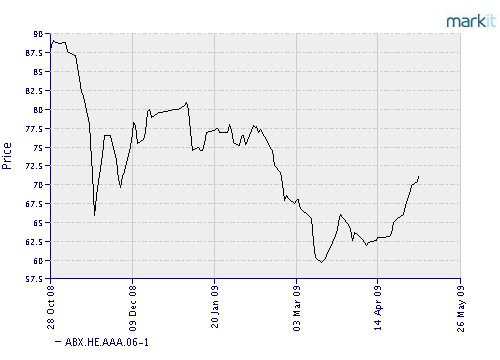 Later 2007 vintages languish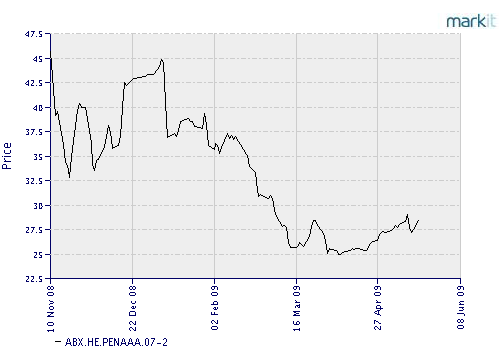 Investors, it appears, are venturing into subprime distressed starting with the older, less default-prone vintages. The AAA's have 35% band of loss protection. That means they are money good with a 70% default rate and 50% recovery. Of course, some pools will show 0% recovery — there are whole developments and sections of Cleveland or Detroit that are abandoned. Southern California has no problem generating 50% recovery rates, however. The differentiated performance of different vintages suggests that the professionals are looking carefully at underlying value and committing funds based on prospective loss severity. In short, the market is normalizing — as it should, given the trillions of dollars' worth of support that the Fed has provided.
Like the stealth rally in CMBX I noted May 17, the stabilization of some parts of the subprime mortgage-backed securities markets is another sign that the banks are settling into their new zombie lives.
This puts modest cash flows into bank equity, and makes them worth something — my standing estimate of $4-$5 for Citigroup (NYSE:C) and $10-$12 for Bank of America (NYSE:BAC) remains.
It appears to be enough, though, to keep the interest of the sovereign wealth funds:
SINGAPORE, May 19 (Reuters) - Singapore state investor Temasek's brief love affair with Wall Street banks has ended in tears, but the country's biggest sovereign wealth fund GIC is still sticking with its bets.

The Government of Singapore Investment Corp (GIC), which has ploughed billions into Citigroup (C) and UBS (UBS), told Reuters it was holding on to its investments.

"GIC is a long-term investor and will continue with its investments in Citigroup and UBS," a GIC spokeswoman said on Tuesday. GIC is one of the world's largest sovereign wealth funds.

Last week, Singapore's other state investor Temasek said it had sold a 3 percent stake in Bank of America (BAC) at a hefty loss of over $3 billion, stoking investor concerns that GIC and other sovereign funds might follow suit.

Singapore's two funds have suffered from the global market turmoil, with GIC's portfolio falling 25 percent from a peak estimated at $300 billion while Temasek's assets declined by 31 percent during March to November last year.

Cash-rich sovereign wealth funds were thrust in the limelight in financial markets in recent years after high profile investments in ailing Western banks, but are now licking their wounds as the financial crisis hammered stocks.

After being hit by paper losses, GIC agreed to convert its preferred Citi shares at $3.25 a share in February, compared with an original price of $26.35 a share. But its investment is now in the black as Citi shares closed at $3.64 on Tuesday.

"If you look at Citi, it turned out to be pretty good for them," said a banker who has advised sovereign wealth funds on M&A deals.

The biggest fear over Citi earlier this year was a forced nationalisation, but analysts said those risks may have subsided.

"We think that the broad nationalisation concerns are behind us," BlackRock's CIO Bob Doll told reporters in Singapore on Monday.

GIC's second major Western bank investment was UBS, which has a big regional private banking business in Singapore and plays an important role to cement the city-state's goal of becoming Asia's premier wealth centre.

"In the general financial malaise, SWFs are still one of the few remaining sources of capital willing to take on risk and opportunity amid the debris of depressed asset markets and lame banks," Jan Randolph at IHS Global Insight said in a report this month on wealth funds.
($1 = 1.463 Singapore Dollar) (Additional reporting by Martin De Sa'Pinto in ZURICH; Editing by Neil Chatterjee and Anshuman Daga)