Finding great businesses is never the hardest part. There are plenty. But finding these superb companies at a good or even great price? That is the real challenge of investing. Especially in a four-year-old bull market where values of virtually all asset classes are blurred by nonstop quantitative easing performed by the major central banks.
One of the options to find great value in an ongoing bull market is to look for the best stocks in the most undervalued, most out of favor sectors.
The current general flight to safety and hunt for yield, together with the 2008-2009 US banking troubles followed by the recent EU banking crisis, have made the financial sector the absolute worst underperformer and underdog of all S&P sectors in the last ten years. If you look at a ten-year chart comparing total returns of all S&P sectors, financials sector's performance is abysmal, with negative nominal return. If you take away average inflation of 2.5%, financials lost 30% of their value over the last ten years. Even if you add the dividends, the financials didn't even keep up with the inflation.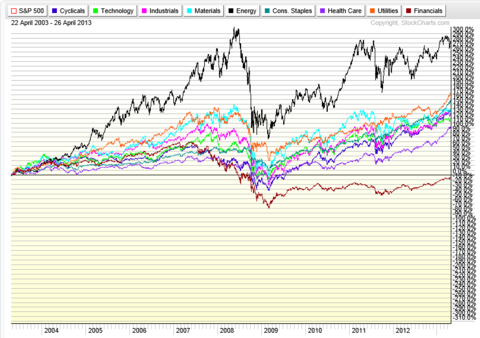 source: Stockcharts.com
Compared with the energy sector's almost 300% gain during the last ten years, or even the more defensive utilities sector's 150% gain over the same period, the difference is stark.
This situation offers great long term opportunities for smart investors who are patient and willing to accept higher temporary volatility. This abysmal performance of the financials has dragged down with it many solid or outright excellent companies. One of such companies is Wells Fargo (NYSE:WFC). It currently sells at a very attractive valuation and its financial performance has been very solid and steadily improving.
Wells Fargo
Wells Fargo is the largest US retail bank with many diversified revenue streams from multitude of products which Well Fargo offers to all main segments of retail, commercial as well as corporate banking clients. Revenues are also internationally diversified, with offices in 35 countries.
The largest institutional holder is Berkshire Hathaway (NYSE:BRK.B) with 8.34%. In fact, with $15B value, it is the second largest outside stock holding of Berkshire Hathaway, second only to Coca-Cola (NYSE:KO). Wells Fargo is one of Warren buffet's most favorite holdings. WFC was also one of the two banks hired to consult and finance part of the recent Berkshire's Heinz (HNZ) takeover deal. Warren Buffett is well known for buying great companies at good or great prices. You can read here why Berkshire is a buy.
Fundamental analysis
Let's have a look at the current fundamentals of Wells Fargo, starting with the price for the last three decades: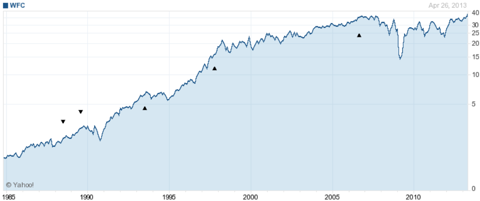 source: Yahoo finance
Current Valuation
Current Wells Fargo share price is $38
Market cap is $200B
Trailing P/E is 10.72
Forward P/E is 9.7
PEG Ratio (5 yr expected) is 1.25
Price/Sales is 2.51
Price/Book is 1.34
Current Financials
Revenue: $79.85B
Profit Margin: 24.82%
Total Cash: $222.30B
Total Debt: $186.88B
Return on Assets: 1.46%
Return on Equity: 13.07%
Dividend
Trailing annual dividend yield: 2.4%
Forward annual dividend yield: 3.2%
Dividend payout ratio: 26%
Ex-dividend date: May 8, 2013
Reasons to buy
1. Strong market position
Wells Fargo is the largest retail bank in the US with 25% market share. In mortgage business, its number one position is even stronger with over 33% share. Strong, and strengthening, market position is a great sign that this bank serves its customers well. The second position is held by Bank of America (NYSE:BAC) with 17% of deposits. Although deposits are not the most profitable segment of bank's services, they still offer a good gauge of how strong a bank is in terms of the basic pool of depositing customers.
2. Great business model
Moreover, Wells Fargo is very successful in converting this large number of customers into additional sales by cross-selling them many additional services. The average number of services per customer is six. This means that WFC is able to sell high number of its products to one customer. This brings multiple benefits, including higher average total value per customer, low customer churn, high loyalty and low share of customer acquisition costs on revenue.
Additionally, Wells Fargo's business model of community banking focuses on many local branches with the aim to serve the mass of small and mid sized customers and businesses as their "local", yet strong bank, which can cover all their financial needs. This is how WFC's strong market share position is further leveraged by Wells Fargo's business model.
3. Excellent financial situation
Wells Fargo's dividend payout ratio is on a very low level of just 26%. This gives plenty of room for multiple years of dividend yield expansion even if the profits didn't rise. With a healthy growth in sales and maintaining the current sustainable profit margin of 24.82%, Wells Fargo can keep increasing the dividend for many years. For example, WFC could immediately double the dividend yield, which would bring it up to 6.4%, and it would still use only 50% of current profits for the dividend payout, which is a standard level used in financial and other industries.
4. Attractive price for the value
In addition to a very strong dividend position, Wells Fargo sports also other strong financial values. Very low trailing (10.72) and forward P/E ratio (9.7), low price to book ratio (1.34), high profit margin (24.87%) and high return on equity (13.07%).
Main challenges and risks
When we consider buying a stake in a company from a financial sector, we have to evaluate the main risks for which the financial sector itself is undervalued. The positive factor is that there are no major company-specific risks.
1. Financial sector is sensitive to slowing economic growth
Financial sector is typically sensitive to the general well-being of the economy and to the growth of its GDP. The US and world economy face major headwinds in 2013. Slower growth is possible. If there is a stock sell-off, financials are likely to fall more than the average market. However, in the long-term, the world economy as well as the US economy are likely to grow. Albeit more moderately. Banking services for consumers and businesses are here to stay and are essential to a well functioning economy.
2. Risk of bank failures
There is a risk of the repeat of the 2008 events with multiple bank failures. However, people will always need banking services. Therefore, a high quality conservative retail bank such as Wells Fargo could actually benefit from the influx of customers from other riskier banks.
3. Wells Fargo investment branch
Although after the 2008 takeover of the Wachovia bank, WFC now has an official investment branch, it is primarily fulfilling the role of serving its existing high net worth customers in managing and growing their wealth. The bank's investment arm is not very active in trading or derivatives business, so the potential risk of problems of excessive risk taking is very low. However, we still have to take this into consideration, judging from the fact that even during the period after the main banking crisis of 2008-2009, we have witnessed cases of some recent bank scandals, single trader failures and inadequate risk management in some banks.
However, WFC's recent involvement in the large Wall Street mergers of Warren Buffet's Berkshire, namely the 2009 BNSF railroad deal and 2013 Heinz mega deal raise some concerns about increased risks of investment banking for WFC. Moody's recently issued a negative credit rating outlook for WFC due to the Heinz deal, although Wells Fargo dismissed the concerns.
Conclusion
Wells Fargo is an excellent business with strong financial performance and very attractive valuations in a sector which has been stigmatized and punished en masse by bank failures and excessive risk-taking for more than ten years now. This unique situation creates an attractive long term opportunity to acquire shares of a strong performing company which started paying dividends again. Additional factor which depresses the current price of Wells Fargo is the recent history of the company temporarily suspending the dividend during the tough times of the financial crisis. Understandably, this made some of the dividend investors uneasy. However, from a long term perspective, the flexible dividend policy shows that the company puts effective money management and financial strength of the company in the first place. Wells Fargo focuses on providing investors with the highest possible long term return on investment.
Recommendation
For long term investors, Wells Fargo is a strong buy at a great price. However, WFC share of the overall portfolio should be kept at a reasonably low level due to higher volatility of financial stocks in case of an economic or banking turmoil. I also suggest spreading the purchases into 6 monthly installments diversified between May and October 2013. This not only dollar cost averages your purchase and decreases risk of buying extremely high or low, but waiting until May also takes advantage of the possible even more attractive price due to summer weakness and summer rotation to safer assets and sectors.
For investors who wish to capture the current dividend, I suggest making a purchase before May 8, which is the ex-dividend date. Investors who prefer to skip the dividend can wait for a potential corresponding price fall on the ex-dividend date and start purchasing afterwards.
Disclosure: I am long BRK.B. I wrote this article myself, and it expresses my own opinions. I am not receiving compensation for it (other than from Seeking Alpha). I have no business relationship with any company whose stock is mentioned in this article.