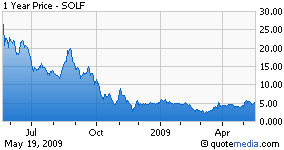 Solarfun (SOLF) Tuesday morning posted Q1 revenue of $100.1 million, down 43% year over year and 39% sequentially, but in line with the Street. The company lost 2 cents a share in the quarter, better than the Street forecast of a loss of 17 cents. Module shipments totaled 35.7 MW, down 11.4% sequentially and off 25% year over year.
The company also said that CEO Harold Hoskens has resigned, effective June 30. Solarfun said its management committee, which includes President Peter Xie, will over all day-to-day business activities and the company's strategic direction.
Solarfun said it expects Q2 shipments to be comparable to Q1, but with lower ASPs.
In Q1, module ASPs fell to $2.78, from $3.37 in Q4. Gross margin in the quarter was 7.2%, improving from a negative 33.7% in Q4.
Xie said in a statement that the company thinks Q1 will prove to be the low point for industry demand. "We are cautiously optimistic for a more meaningful rebound, particularly during the second half of this year and heading into 2010," he said. "That being said, the timing and magnitude of this turn is quite unpredictable and as a result, we will continue to refrain from making specific quarterly and full year projections."
The company said it expects lower ASPs for the year to be more than offset by lower polysilicon pricing, with gross margins approaching or reaching low double digits for the full year. Solarfun said for 70% of its poly and wafer requirements, prices will be determined by prevailing marketing conditions. SOLF notes that spot prices are below $70/kg. SOLF said its capacity expansion plans are on hold "until the demand picture becomes more clear."
SOLF said a combination of cash on hand and access to commercial bank lines should provide adequate funding for anticipated 2009 spending requirements.
SOLF Tuesday morning is up 50 cents, or 9.9%, to $5.57.