For some time Gold Resource Corp. (NYSEMKT:GORO) seemed to be the one stop shop for gold investors looking for growth and dividends all at the same time. And indeed, GORO paid a maiden dividend within four weeks of declaring commercial production at their El Aguila mine in Oaxaca in southern Mexico in July 2010. Since then dividend yield has climbed to almost 7%, which is well ahead of peers in the gold mining space. The chart below shows dividend yield for GORO in comparison with Newmont Mining (NYSE:NEM) and Agnico-Eagle (NYSE:AEM) who led the pack of the second-comers in 2012.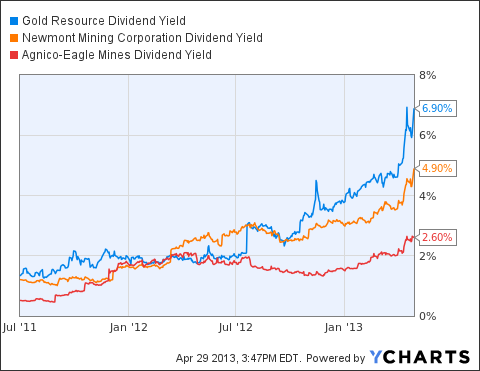 GORO Dividend Yield data by YCharts
Things did not always go according to plan, though. The production target for 2011 was missed by more than 25%. And again in 2012 by approximately the same margin. Last year's production was hampered by water issues in the underground mine, a dispute over concentrate grades and lower than expected head grades. This proved a bit rich for many investors and as a result GORO all but missed the gold rally in the second half of 2012 as illustrated by the chart below comparing GORO with the Gold and Silver Index ( XAU).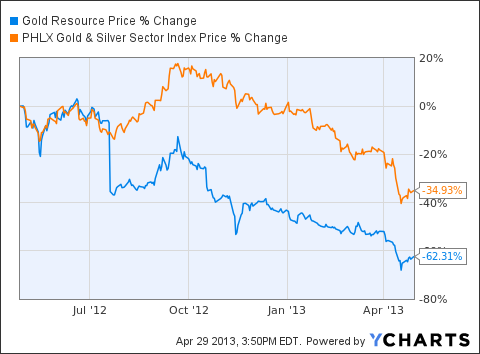 The company has been playing their cards very close to the chest. The El Aguila project was put into production without the publication of a NI 43-101 report and consequently without a feasibility study and a reserve statement. On August 29, 2011 it was announced that a Colorado-based engineering firm had been engaged to produce a NI 43-101 report for GORO. Finally, after some delays, in July 2012 the document was completed and made available through the company website. Unfortunately, this report only gave indicated and inferred resources. Apparently reserve estimations had not been commissioned and remain unavailable. Additionally, over 60% of the resource was reported in the inferred category due to limited drill data. This type of resource confidence level could be expected for an exploring company but is highly unusual for a producing miner. To put it kindly, this report leaves investors with an unusual lot of guesswork when trying to evaluate the asset.
All precious metal miners that we follow have released their 2012 annual reports weeks or even months ago; all but GORO. For some reason GORO has not published a 2012 annual report on their website to date. However, an annual financial statement has been published through SEC. According to this filing, total mine cost of sales increased by 43% year-on-year in 2012, G&A costs increased by 52% and most importantly, the company incurred a considerable tax bill. In total, Net Income was reduced to $33.7M in 2012 from $58.4M in 2011. Investors should be looking forward to a management discussion of these results.
This lack of information combined with last year's mishaps has certainly raised some eyebrows but it seems that many investors were willing to cut the company some slack due to the generous dividend payments. Well, today monthly dividends were cut in half citing the low gold price.
GORO markets itself as a low-cost producer, which would in fact reduce their leverage to the gold price. We performed a quick back-of-the-envelope calculation to check the sensitivity of GORO's bottom line to the gold price. According to the report filed with the SEC the realized price per gold-equivalent ounce in 2012 was $1457. Assuming a reduced realized price of $1357 and leaving cost and dividends as reported for 2012, income before tax would be $37.9M. Slicing another $100 off the gold price would still leave $28.8M in the kitty before tax.
To us this indicates that the gold price cannot be the only culprit here. We suspect that cost must have increased significantly as well for GORO to take the step of cutting dividends.
All of this should make for an interesting annual meeting in June.
As for the present point in time in the light of reduced dividends, a sagging share price, undecided gold price and lack of information to pass reliable judgment on the asset and on 2012 finances we would be inclined to suggest trading GORO on the short side or at least remain on the sidelines until some dust has settled.
Disclosure: I am long AEM. I wrote this article myself, and it expresses my own opinions. I am not receiving compensation for it (other than from Seeking Alpha). I have no business relationship with any company whose stock is mentioned in this article.