Anaren Inc. (NASDAQ:ANEN) is an East Syracus, NY company founded in 1967 that designs, develops, and manufactures microwave and radio frequency components, assemblies, and subsystems that receive, process, and transmit radar for the wireless and satellite communications and defense markets.
I can go into all the wonderful and exciting products that Anaren offers but I have a feeling a lot of people will not fully understand exactly what I am discussing and, anyways, what is the point when you have the internet and the ability to go to the company's self-named website.
The honest and historically proven truth is that it really doesn't matter if you know a ton about the products—though it sure does help, don't get me wrong—but it is very important to know the fundamentals and technicals of the company so that you know you are in a stock that has reason to go higher. Let's take a look at the reason ANEN should be making a similar move to the one it had back in 1999-2000 when it produced a 500%+ gain.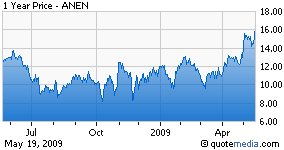 The earnings-per-share for the company started to slide from late 2007 to the summer of 2008 but, as all true long term leaders do, this stock had a nice turnaround and sports some solid numbers on the very short term and overall long term. EPS has grown 0%, 5%, and 58% the past three quarters reversing four quarters of slowing growth. Sales came in stronger as the product continued to grab market share, even while earnings were slowing. Sales growth for the past eight quarters has been 23%, 6%, 7%, 0%, -5%, 19%, 28%, and 33%. It is clear that the last three quarters have seen the stock make big bullish changes.
While it is very important to be long a strong stock with strong current earnings and sales, it is the future earnings that really matter to a lot of fund managers. 2009 and 2010 YOY EPS growth is expected to come in with gains of 38% and 17% respectively. That kind of growth in EPS and sales, along with an EPS growth rate of 26%, 0% debt-to-shareholder equity, $1.28 cash flow compared to .30 in the most recent quarter for EPS, and a 7% return-on-equity, sets up ANEN for some big potential gains. This is, of course, as long as the general market is rising.
The growth of ANEN is very attractive to growth fund managers, however the value fund managers also have reason for getting long this little powerful stock. The P/E ratio of ANEN is currently at 17. This is well into the lower end of the five-year range of 10-42. Even with this stock on value and growth fund manager's radars, fund ownership has slipped from 50 to 41 to 39 to an actual tick back up to 40. These funds hold 24% of the shares outstanding. Despite ANEN being a company since 1967, management still owns 14% of the shares outstanding, proving that the management still has faith in higher prices. The shorts better pray that management is wrong because this stock has a 20% short interest and it would take 3.4 days to cover.
There are other stocks in this group that have very bullish charts and fundamentals. One of them, oddly enough, was one profiled on Monday— Starent Networks (NYSE:
STAR
). Others in the group I have my eye on include Loral Space & Communications (NASDAQ:
LORL
), Novatel Wireless (NVTL), and Wavecom (WVCMY.PK).
PALM
is the other top stock in the group, according to IBD, but I am already long PALM.
Confirming the hard numbers to the ratings in Investor's Business Daily shows that we do indeed have a potential winner here. The EPS rating is a very high 92, the stock's RS line is a very strong 90, the group RS line is also strong with an 80, the SMR rating is B, the ACC/DIS rating is an A-, the Composite rating is a best 99, the Timeliness rating is A, the Earnings Stability is 26 (remember, 1 is best for this category), and the only dark spot on a very bullish overview of ratings in IBD is Sponsorship rating which is a worst E. All of the best CANSLIM quality stocks will have low Sponsorship ratings due to the depth of the crash that has left most growth mutual funds with horrible records, besides the last three and six month periods.
The fundamentals are great on ANEN, this is now obvious. The next step is to look at the chart to see if price, volume, and BOP are looking strong and hinting that the stock is ready to run. When we take a look at the daily chart below we can see that ANEN broke out clean at the end of April/start of May. Since then the stock consolidated gains on lower volume and green BOP, pulling back to the pivot point of the 52-week high and bouncing right off of it. This puts ANEN in a good buy as long as you have a cut loss with a close below the ex-resistance (now support) line.
I am personally going to watch it closely here and see if it can not continue to consolidate gains by moving sideways another week or three. If it does that I will look forward to getting long with a breakout to new highs, hopefully on very strong volume and max-green BOP. The better the chart looks on the bounce and breakout, the more I will invest in ANEN.
Click to enlarge
Disclosure: at the time of publication Joshua was long PALM (4/3, 4/16, and 4/30) and not long ANEN, LORL, NVTL, STAR, or WVCMY