Chipmaker Qualcomm (NASDAQ:QCOM) announced wonderful second-quarter results Wednesday afternoon. Revenue jumped 24% year-over-year to $6.1 billion, exceeding consensus expectations. Non-GAAP earnings per share rose 16% year-over-year to $1.17 per share, which was also above consensus estimates. Free cash flow for the quarter jumped 10% year-over-year to $1.99 billion, equal to a whopping 33% of revenue.
On the expense side, the firm did a fairly good job of keeping costs contained. Research and development costs increased 100 basis points (28% year-over-year on an absolute basis) to 20% of revenue. Management cited development of CDMA-based 3G tech and 4G LTE technology as the main drivers, though stock-based compensation was also 24% higher year-over-year at $156 million. Because the firm is generating excess free cash flow and repurchasing shares, we aren't worried about dilution at this time.
SG&A expenses rose 14% year-over-year to $661 million, but declined 1% as a percentage of sales to 11%. Although total compensation rose, the firm did not increase share compensation and was able to leverage fixed costs. While legal and patent costs will drive SG&A to increase 21%-23% for the full-year, we're confident that Qualcomm will keep fixed costs from soaring.
As for sales, both equipment and licensing sales were strong, growing 27% and 18%, respectively. Qualcomm's licensing revenue lags a quarter, so its sales represent smartphone shipments during the fourth quarter of 2012, which were up 18% year-over-year for a total of $61.1 billion of devices sold. Interestingly, we're seeing an industry decline in average selling prices per units (ASPS), which fell to $214-$220 in the fourth quarter from $227 in the prior quarter. EVP Derek Aberle cited device release timing and holiday competition as the drivers, saying:
"I think the December quarter is obviously a very competitive dynamic. A lot of things going on in pricing. And it's a quarter where we have less volume coming from some of the higher ASP regions like Japan. But as I said, as we look out and we have a certain amount of information already from our licensees and then based on publicly available data, we do expect ASPs to increase in Q3. And then as you suggested, there are a number of new higher end products launching that should have a positive impact on the Q4 ASP as well."
Still, we would not be surprised to see industry-wide ASPs fall as smartphone devices are extended to lower-end consumers. Although we do not believe this means the industry will become heavily commoditized, low-end consumers remain underpenetrated relative to high-end consumers, so ASPs should fall. We do not believe it will impact the demand or pricing for high-end Apple and Samsung phones. We doubt some slack in pricing will materially impact Qualcomm.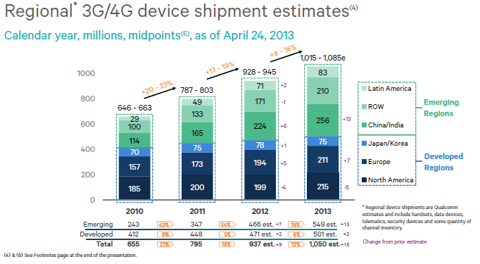 Click to enlarge
Image Source: Qualcomm Q3 FY2013 Earnings Presentation
Looking ahead, Qualcomm is forecasting a strong fiscal year 2013 third quarter. The firm provides wide ranges, but anticipates revenue growth of 25%-36% year-over-year for the third quarter to $5.8-$6.3 billion, driving earnings per share of $0.97-$1.05 (up 14%-24%). If Qualcomm can maintain its current pace, free cash flow could total $1.7-$2 billion. Global 3G/4G devices growth looks strong for 2013, as the firm forecasts growth at 8%-16%.
Given Qualcomm's cash rich business model, strong results and terrific guidance, we were a bit surprised to see shares retreat. However, if share price weakness persists, we could become interested in adding the name to the portfolio of our Best Ideas Newsletter at a price below the low end of our fair value range ($55).
Disclosure: I have no positions in any stocks mentioned, and no plans to initiate any positions within the next 72 hours. I wrote this article myself, and it expresses my own opinions. I am not receiving compensation for it (other than from Seeking Alpha). I have no business relationship with any company whose stock is mentioned in this article.