There is a long-term trend in the Western world towards a green culture. This includes hybrid cars, energy-efficient homes, and organic foods. Once a niche sub-culture, organic food is now pervasive throughout our society. The industry has been growing without fail for a decade, both in total organic sales and as a percentage of total food sales. Organic food, of course, is noticeably more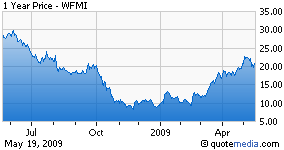 expensive than non-organic food, due to the higher cost of production. This was not a problem during the 'good' years, but with rising unemployment and the decline in consumer spending; consumers began to cut back on this green luxury.
The recession, as is the nature of recessions, is temporary. It is a cyclical downward movement in the economy. The organic foods trend, however, is a secular shift. Once we come out of the recession, the growth should continue to surge. The best play on this trend is Whole Foods (WFMI).
After peaking around $77 per share in late 2006, shares of Whole Foods began to steadily drop, reaching an astonishing low around $9 in late 2008. The company faced the common issue of expanding too much in the good years, only to be to bitten when the consumer became tighter with their wallets. This caused same-store sales to plummet for Whole Foods. The stock has recently recovered from its lows to about $19 a share. Whole Foods share price has the opportunity to continue to rise with an economic recovery.
I realize that the decline in the economy is not yet over. I expect comps at Whole Foods store to continue to fall, albeit at a lesser rate, with sales approximately flat for 2009 due to new store openings. Stocks are forward looking indicators as we all know, and the best way to profit is to take advantage of cyclical downturns and snap up best of breeds plays in great businesses.
Whole Foods is the number one organic and natural foods retailer, hands down. The only threatening competitor in my opinion is Wal-Mart Stores, which does sell organic products through its grocery segment. Wal-Mart's selling point is its price, which works well in environments like this. Whole Foods, however, sells an atmosphere: an upscale environment, courteous staff, and high-quality food. You can play the organic trend through a number of grocery stocks, as well as Wal-Mart, but I am a firm believer in the value of a company like Whole Foods that specializes. Its focus on organic and natural foods is what gives it a competitive advantage, or its "moat" as Warren Buffet would say.
Whole Foods also has a dedicated CEO in John Mackey, who is the original founder of the company, and who still owns over $20 million in Whole Foods common stock. Mr. Mackey started the company with a $45,000 loan from friends and family when he was 25 years-old, and even lived in the store at first, to save money. Two years later he opened the original "Whole Foods Market," only to have it wiped out by a devastating flood. Less than a year from originally opening, the flood destroyed $400,000 worth of inventory, and Mackey had no insurance on the location. Mackey worked tirelessly with customers and neighbors to rebuild and recoup, and nearly three decades later, he has a lot to show for his commitment. To have a CEO like Mr. Mackey, who was there in the beginning and has a truly personal stake in the company, adds a lot of value. When management's and equity holders' interests are aligned, good things tend to follow.
Trading at such a small percentage of its all-time high, this feels like a great time to jump into Whole Foods: a niche play with a strong competitive advantage, dedicated management, and on top of a great long-term trend. After the devastation in 2008, WFMI is a great way to start marking your portfolio 'whole' again.
The rest of this free research report "Stocks For An Economic Recovery" which includes commentary on all sectors is available for download at the following link.
- Harry Lacheen
Disclosure: None.