I've been thinking a lot lately about what the next shoe to drop in the domestic high yield credit markets might be, and when it might occur. We really haven't witnessed any significant volatility, or spread widening since the third quarter of 2011. With so much complacency, are investors participating in one of the most susceptible areas of the bond market in for more than they bargained for? Something I've learned in my years in this business is that an investor's memory can be both short and selective. They seem to either block out valuable lessons that should have been permanently installed in their future decision making process, or vividly remember and boast about instances in which they merely lucked out. The real question remains: did yield hungry investors luck out being in the right asset class under the right conditions over the last 18 months, or will high yield turn into another lesson to apply to future allocation decisions?
The widespread debate of mutual funds vs. ETFs rages on in almost every category of investing. At my firm, whenever I go in search of a new investment allocation for my clients, I always perform a detailed analysis of all my options. I tend to give ETFs the benefit of the doubt because of the broad generalization that they are low in cost and are easy to access. In other words, I would never pay more for a strategy that I could replicate myself with equal or greater success using a consortium of index based ETFs alongside sound risk management practices. However, there are still some areas of the market where specialized knowledge and research coupled with a unique strategy can produce that ever-elusive alpha. After a thorough evaluation of the investment methodology, I am happy to pay marginally higher compensation for superior risk adjusted returns or even raw outperformance.
In a more recent review of investors' options for their investments in high yield bonds, it is startling to see how low the index-based options rank in comparison to other strategies. More specifically, in a Morningstar criteria based screen, there are well over a hundred no-load mutual funds that outperformed their category average over the last one year, and have expense ratios less than 1%. In an illustration below, I compare some of the best and brightest options to the two popular high yield bond ETFs: the iShares High Yield Corporate Bond Fund (NYSEARCA:HYG) and the SPDR High Yield Bond Fund (NYSEARCA:JNK).

It is interesting to see the general outperformance of the mutual funds in 2012 vs. the ETFs and their indexes due largely in part to expertise in security selection, and not merely for the sake of higher yields. I personally believe that if you plan to allocate capital to high yield bonds, it should be done for the benefits of high cash flow parallel to the opportunity for improving credit fundamentals during an expanding economic environment. The mutual funds have really excelled at allocating to areas of the market that have benefited greatly from the Federal Reserve's accommodative policies, as well as sectors presenting the highest potential for growth.
Another contributing factor for the future of investments in high yield bonds is an active manager's ability to sidestep any default risk. Since default rates are hovering near all time lows at just 1.8%, due largely in part to the expanding market size, they could likely rise in the future due to high demand leading to poor underwriting, or simple lack of economic growth. I would also point out that the mutual funds listed don't have the allocation constraints as the indexes that comprise the ETFs. So depending on the manager's own unique strategy, the mutual funds can own common or preferred stock, senior loans, convertibles, ABS, or distressed securities in their portfolios. Which can definitely broaden the scope of potential benefits, but in some cases, the risks as well.
In addition, HYG and JNK suffer from the same issues that plague the iShares Core Total Bond ETF (NYSEARCA:AGG) and the Vanguard Total Bond ETF (NYSEARCA:BND) that I recently wrote about in the article entitled, 2 Popular Fixed Income ETFs I Would Never Own. When the ETF needs to sell securities to rebalance the index or redeem shares, or buy securities to keep pace with the index and issue shares, they are typically offered the worst possible pricing on either side of the trade. Its tough to be nimble in a relatively smaller area of the bond market when everyone knows what you need, and when you need it. However, I do have to hand it to the ETF industry and their marketing techniques as evidenced by the amount of assets they have been able to amass within these two funds, a staggering 27.6 Billion dollars. As comforting as "being with the crowd" can be, it is worth noting that smaller funds have the added benefit of agility, and also capability to invest in smaller offerings, which can lead to additional outperformance.
In a more recent comparison, looking at the funds on a year to date basis, the benefits I just pointed out still ring true to this day, with all three mutual funds dutifully pulling their own weight vs. the ETFs. With a divergence of roughly 6% between JNK and HYG, and the top performing Third Avenue Focused Credit Fund (MUTF:TFCIX).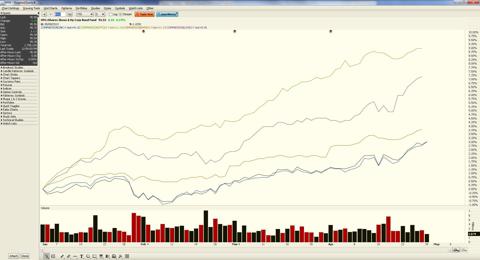 However, I don't believe new investments in high yield at this very juncture will prove to be a timely on a short term basis. I offer this article as food for thought to anyone whot would rather just enter a quick ETF order and be done with it, rather than sit down and do a bit of research on exactly what you are allocating your hard earned dollars to. Investors seeking an entry into one of these funds should closely monitor how it performs during the next disruption in the credit markets, since maximum opportunity is usually created in the midst of a crisis. I believe that true differences lie in the details, and when shopping for exposure to any one asset class for your portfolio, a little due diligence will go a long way to adding that ever elusive alpha.
Disclosure: I have no positions in any stocks mentioned, and no plans to initiate any positions within the next 72 hours. I wrote this article myself, and it expresses my own opinions. I am not receiving compensation for it. I have no business relationship with any company whose stock is mentioned in this article.
Disclaimer: Fabian Capital Management, and/or its clients may hold positions in the ETFs or mutual funds mentioned above. The commentary does not constitute individualized investment advice. The opinions offered herein are not personalized recommendations to buy, sell or hold securities.