Supermajor oil producer Exxon Mobil (NYSE:XOM) reported lackluster revenue of $108.8 billion, which fell a bit shy of consensus estimates. Earnings per share increased 6% year-over-year to $2.12, exceeding consensus expectations. However, earnings were only modestly higher, growing 1% year-over-year to $9.5 billion. Unfortunately for Exxon, operating cash flow declined 30% compared to the same period a year ago, to $13.6 billion. This came at the same time the firm invested $11.8 billion in capital expenditures and exploration, thus free cash flow declined precipitously.
Though Exxon is among the largest companies in the world, its earnings stream contains several moving parts and remains reliant on global oil prices. Exxon's upstream segment struggled with lower volumes and lower crude oil barrel price realization. Total segment earnings declined 10% year-over-year to $7 billion and were 15% lower in the United States. Although the company could benefit from stronger natural gas prices in the back half of the year, we think crude prices could be constrained as long as additional shale supply comes online in North America (Image Source: Exxon).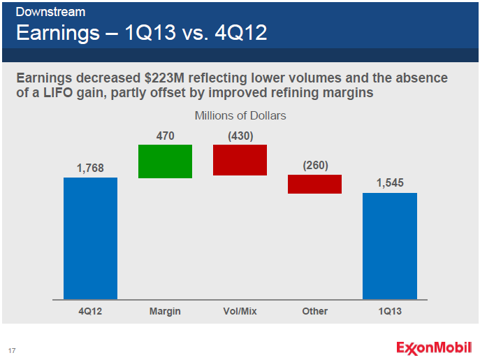 Nevertheless, downstream earnings were relatively solid, driven by continued strength in the US refinery market. Total segment earnings declined compared to the year prior due primarily to volume and mix. Margins increased as the crack spread in the United States remained strong. In fact, downstream earnings in the US were 72% higher than a year ago at $1 billion. In recent years we've seen competitors like ConocoPhillips (NYSE:COP) and Marathon (NYSE:MRO) spin off their respective refinery businesses - Phillips 66 (NYSE:PSX) and Marathon Petroleum (MPC) - to unlock shareholder value and reduce earnings volatility. Though potentially an attractive offering, we suspect Exxon will remain as one entity, particularly as high exploration expenses translate into new sources of crude.
Chemical margins were also much stronger, driving segment earnings to grow 62% year-over-year to $1.1 billion. Management seems relatively confident that the trend can continue as the firm capitalizes on lower cost inputs.
Overall, we thought Exxon Mobil's first quarter was fine, but it revealed the challenges the firm will have in the near term with its upstream business. We feel several factors are working against the price of crude oil in the long-term, but Exxon's management team's stellar stewardship of capital over the past several decades suggests the shareholder returns will remain in focus. Earlier this week, the firm raised its quarterly dividend 10.5% to $0.63 per share, and we know management will aggressively repurchase shares with excess cash flow. Still, we think shares are fairly valued at this time, and we will not be looking to add them to the portfolio of our Dividend Growth Newsletter unless we see further price weakness.
Disclosure: I have no positions in any stocks mentioned, and no plans to initiate any positions within the next 72 hours. I wrote this article myself, and it expresses my own opinions. I am not receiving compensation for it (other than from Seeking Alpha). I have no business relationship with any company whose stock is mentioned in this article.