China's MOFCOM (Ministry of Commerce) finally approved the merger between Glencore (OTCPK:GLCNF) and Xstrata (OTC:XSRAY). The conditions for the merger included two major concessions - (1) Eight years worth of commitments to China in minerals such as zinc, lead, and copper, and (2) The sale of Xstrata's "Las Bambas" copper project in Peru.
MOFCOM is a "super-ministry" in China with a broad mandate. MOFCOM regulates in-bound mergers and acquisitions in China. It also approves Chinese overseas investments above a certain size. Yet, in the case of Glencore and Xstrata, it was MOFCOM's anti-monopoly role that took center stage. Why was China remotely interested in whether or not two European firms merge? It's all about copper.
The figure below highlights China's domestic production of copper as well as its consumption of copper.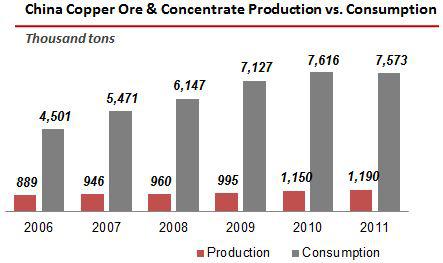 Sources: USGS, UN Comtrade, SLIA Analysis, UN Population Division, BHP
The bottom line is that China needs copper and it fears a Glencore-Xstrata monopoly controlling 7% of the world's copper supply and 10-15% of China's copper concentrate imports.
China's copper consumption is set to grow. The chart below highlights where China is in relation to the rest of the world in copper consumption per capita.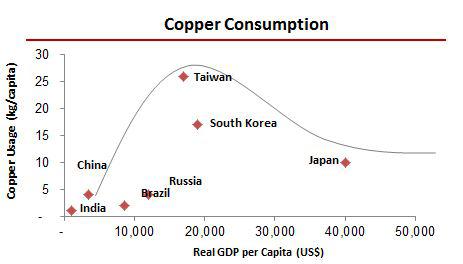 Sources: USDA, USGS, FAO Stat, China Customs
Given China's need for copper and the strategic importance it has for the country, it isn't unreasonable for MOFCOM to delay the merger and to ask for concessions.
As for Las Bambas, it is one of Peru's most important copper projects. The project is expected to begin production in 2014. Once operational, it will produce an estimated 400,000 tons per year of copper. Of the major Chinese players, it's hard to say who would be the most logical bidder:
China Aluminum Corp (Chinalco) - is already operating in Peru. It acquired the Toromocho copper project in 2007 and is spending billions in capex as we speak. It has a large balance sheet (i.e., the Chinese government), but the question is whether it has enough bandwidth to manage two projects in Peru.
Minmetals - It purchased a copper project in Peru called Galeno along with another Chinese firm called Jiangxi Copper (see below). The Galeno project is in a part of Peru that has been dealing with substantial social unrest. The firm's MMR subsidiary is based in Australia and publicly traded in Hong Kong. MMR's team, consisting mainly of Australians, is highly experienced in overseas acquisitions. Yet according to Peruvian government sources, Minmetals is expected to invest $2.5 billion in Galeno over the coming several years. Does it have the bandwidth for another Peruvian project?
Jiangxi Copper is the largest copper company in China. Its refinery produces over a million tons per year of copper and to do this, it needs to import roughly 600,000 tons of copper concentrate annually. Of all of the Chinese copper companies, it has perhaps the greatest need for raw materials.
Tongling Nonferrous - Another important Chinese copper firm that produces over one million tons per year. The firm is almost completely dependent on copper concentrate imports, which are railed or barged hundreds of miles inland to the company's refineries. Along with China Railways, Tongling Nonferrous invested in a copper mine in Ecuador called Ecuacorriente. It recently negotiated a royalty payment with the Ecuadorian government and plans to begin production at the end of 2013. The project will involve an estimated $1.2 billion in Capex.
Jinchuan Group - This firm is mainly involved in nickel mining, but in the past, it purchased a copper mine in Mexico from Canadian-listed Tyler Resources. Again, it is unclear if Jinchuan has the appetite for another Latin American project.
Other global players could also emerge as bidders for this asset. Aside from the multi-billion dollar price tag, it will take a firm with sizable balance sheet to finance its $5.2 billion in capital expenditures. What could a sale of Las Bambas fetch in the marketplace? Let's look at some comparables:
On the public side, a logical comparable is Chinalco Mining Corporation International. This is a Hong Kong-listed firm with only one asset - "Toromocho" - a Peruvian pre-production copper project that is expected to be operational in Q4 2013. It has a $2 billion market value. Factoring in debt and cash results in a $4.1 billion Enterprise Value ("EV"). The deposit contains 7.3 million tons of copper reserves. Another comparable could include Lumina Copper (OTC:LCPRF), a TSX-listed miner with a sizable copper project in Argentina called Taca Taca with 21.15 billion lbs (around 9.5 million tons) of indicated copper resources. Lumina is at an earlier stage of development compared to Las Bambas. This, plus the fact that Taca Taca is located in Argentina, a country beset with political and economic "complications" may account for its $350 million market value.
Looking at M&A comparables, the recent $5 billion acquisition of Inmet Mining (OTC:IEMMF) by First Quantum (OTCPK:FQVLF), is relevant and timely. Inmet's copper project (Cobre Panama) contains 3 million tons of copper reserves. Capex for the project was estimated at around $6 billion (similar to Las Bambas). Another relevant transaction is AAS (Anglo American Sur) a complicated deal involving a number of shareholder disputes between Anglo American (OTCPK:AAUKF), Chilean state-owned Codelco, and Japanese trading houses Mitsubishi and Mitsui (OTCPK:MITSY). Ultimately Codelco and Mitsui prevailed in a lengthy battle and purchased 29.5% of AAS for $2.8 billion. AAS owns the Los Bronces and El Soldado copper mines as well as the Chagres copper smelter. Los Bronces is an asset that is already in production. In 2012, it produced around 365,000 of copper - a similar amount to what Las Bambas will produce when operational.
Readers should consider three takeaways from the Chinese intervention in the Glencore-Xstrata merger:
When it comes to copper or other natural resources deemed to be in China's national or strategic interest, MOFCOM will flex its regulatory muscle. It is something that will impact the timing and future valuations of transactions.
It is clear that China needs copper, but what isn't obvious is whether one of the large Chinese mining companies can take on a project like Las Bambas. Most of them are already committed and have large projects in Peru or nearby countries.
Las Bambas is a world-class project that will command a large price. It is unclear what the price will be, but the comparables I listed above might reflect a rough approximation of pricing.
Disclosure: I have no positions in any stocks mentioned, and no plans to initiate any positions within the next 72 hours. I wrote this article myself, and it expresses my own opinions. I am not receiving compensation for it (other than from Seeking Alpha). I have no business relationship with any company whose stock is mentioned in this article.