Continuing deterioration in the performance of U.S. credit card receivables is leading Standard & Poor's to take a more forward looking approach to its analysis of the sector. The deterioration in the first quarter of 2009 was more severe than S&P has seen in its Credit Card Quality Index (CCQI) since 1992.
Peak credit card losses reached 7.3% in the 2001-2002 recession, compared with the March 2009 8.8% loss rate, which is the highest since Standard & Poor's started tracking bankcard receivables performance in 1992.
The deteriorating economic environment has led S&P to review the whole credit card sector, including the portfolios of receivables backing all outstanding U.S. credit card asset-backed securities (NYSE:ABS) that it rates.
For example, our base case assumption for credit card loss rates is the greater of the worst 12 months' rolling average performance over a typical business and economic cycle (including current and historical comparative pool credit underwriting standards and changes, account management, and collection policy), and the worst 12 months' rolling average performance forecast for the next 24 months, incorporating economic variables and issuer-specific assumptions.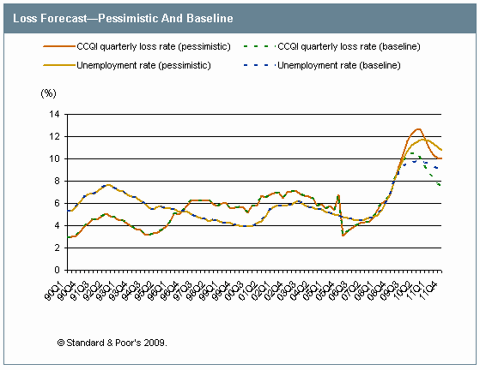 Based on our current baseline and pessimistic economic forecasts, we believe unemployment for the next 12-18 months could reach 9.7% and 11.7%, respectively. Our loss forecast for U.S. bank credit card receivables is 10.5%-12.5% for the same period. We believe that credit card losses, delinquencies, and delinquency roll rates will likely continue to rise, and payment rates will likely decline, as unemployment rates and personal bankruptcies continue to increase.
For details see U.S. Credit Card ABS Issuer Report: CreditWatch Negative
Actions Exceeded Rating Affirmations In First-Quarter 2009.