Logitech (NASDAQ:LOGI) last week reported its 4th quarter and full year results, which ended March 31st. After reporting, the stock fell more than 5% on Friday as results and guidance were both disappointing. Losses in the quarter were -$0.23/share, well below consensus estimates of -$0.11/share. The company is doing some restructuring and divesting of non-core product lines, but even so has publicly stated that it doesn't expect to return to profitability until 2014.
Simply put, Logitech has had a rough time of it the past few years, and it is now trading at a rock bottom price that has not been seen in a long time. Forget 52-week lows, in this case we are looking at a low price not seen in more than 10 years. One word can sum up the recent poor results and worries about the company - the PC. The well known maker of PC peripheral products, including mice, keyboards, speakers, headphones, and a host of other accessories has experienced the same troubles as everyone else has that is connected to the PC market. As IDC has recently projected, PC sales fell nearly 14% year over year in the first quarter of 2013, a much steeper decline than anyone was expecting. This dealt a near-term blow to Logitech, which has been losing money faster than anyone anticipated. Despite the obvious weakness in the PC business, Logitech is transforming itself to capture the growth of the tablet and smartphone markets, both of which are seeing substantial consumer demand for peripheral products. With a P/S ratio below 0.50, a P/B below 1, and a lot of the negativity already priced in, this could be an attractive investment over the coming year as any signs of a positive turnaround should cause a nice appreciation in stock price.
As PC sales continues to fall, is it inevitable that Logitech goes down with the ship?
The key to a successful turnaround for Logitech is to analyze how dependent the company is on the PC and its continuing decline in units sold. Although sales declined 12% in the most recent quarter, this in fact is not as closely linked to the similar decline in PC sales (-14%) as it may appear. For starters, the company actually saw strong growth in keyboards & desktops accessories in both Asia and the Americas regions. In fact, if you discount the businesses that are being divested (remote controls and other non-strategic lines), sales in the Americas were actually +2%. This is a huge improvement from the previous quarter when sales were -8%. It's a similar story in Asia, where sales were +2% compared to a drop of -11% in the previous quarter. The overall negative results were therefore driven entirely by the EMEA region, which has seen continued macro weakness due to economic recession. A drastic drop in channel inventory by partners of 20% in the quarter made the results considerably worse than they could have been.
There are no crystal balls in this industry, but going forward it would be surprising to see further steep declines in EMEA. Eventually the economies there will begin to improve, and the pent up demand from delays in corporate spending will eventually bring some stabilization in PC sales. Even with continued declines, exponential growth in tablet accessories and savings from restructuring will start to quickly offset this. I would therefore expect to see improving overall results in the next few quarters. So although badly damaged, this ship has clearly not sunk yet, especially with the obvious improvement signs in the rest of the world.
The Tablet and Smartphone Market for peripherals is growing rapidly
When you step back and think about it for a moment, to use a tablet as a replacement for a laptop cannot be done by most consumers unless they have some basic peripherals such as a keyboard. From a productivity perspective, especially as tablets become more pervasive in the enterprise, I just don't see how this market will not expand greatly. There is only so much you can do with a touch screen and still be productive enough to meet the ever-increasing demands in the corporate world. The recent results in the Tablet Accessories division of Logitech show the incredible potential here. Sales were up 332% yoy in the quarter. For the full year, sales were up 174%, showing the rate of growth has actually accelerated substantially. Although sales in this unit are still only around $30m, which is less than 10% of total retail sales, if this high rate of growth continues for just 1 more year then it could become 25% of sales. Here are some specific points why I believe this market will continue to expand rapidly in the near term:
Overall Tablet growth remains strong - In recent Q1 results released by Apple (NASDAQ:AAPL), the iPad grew 65% yoy in units sold. This is significantly faster than the iPhone, which has slowed substantially to only 7% growth. The iPad continues to be popular in schools and is growing rapidly in enterprise deployments.
The Enterprise Market for Tablets will drive peripheral demand - The first few years of the iPad saw it largely being used as a consumer device for web browsing, games, calendars, note taking, etc. However now as the market begins to mature and enterprises are starting larger deployments, the market for peripherals will really pick up as the need for higher productivity will drive demand. For example, in the coming 4 years, the Government and Education sectors are expected to grow tablet use greater than 50% per annum. According to Canalys, the overall tablet market will grow slower at 35%, which is consistent with the notion that consumer growth is slowing and enterprise growth still accelerating.
Smartphones have been getting larger - In recent months the "phablet" phones have been getting a lot of press and are growing in popularity. Samsung has released phones recently, which have a 6.3in screen, which is barely smaller than several of the 7in tablets out on the market. This trend for larger is a clear sign that consumers want more productivity out of their phones. The bigger phones are, the more likely a consumer would consider adding peripherals to use with them. I find this as more evidence that the accessories market is growing far more rapidly than tablets or phones themselves.
Valuation
Over the past year Logitech has generated about $0.55/share in free cash flow. Discounting this at 12% and assuming a growth rate of 0% you would arrive at a valuation of only $4.20/share. However, if we assume that the tablet accessories can grow at 50% per annum for the next 5 years and then 10% for another 5 years, the value of this segment alone could be about $1.50/share. Also when you consider some of the bigger retail segments, such as keyboards & desktops are actually growing, I think it's fair to estimate that roughly 50% of the current FCF ($0.27/share) will continue to grow in the low-single digit range. That brings another $2.85/share to the valuation. If you add in the other 50% of FCF and assume that it declines 10%/annum, it still has a value of $1.20/share. Putting this all together, including the $2/share in net cash on the balance sheet, and you arrive at a total valuation of: $7.55/share ($1.50 + $2.85 + $1.20 + $2).
This quick calculation is probably quite conservative as well, when you consider the potential for near-term share buybacks, which can increase near-term growth rates. With over $330m in cash, and this is expected to be near $400m by next year, several analysts were pressing management on the recent conference call if they plan to buyback more shares. No definitive answer was given, but it is looking increasingly likely that the company will move to do this, as its current share repurchase plan is almost complete.
The Bottom Line
Putting it all together I think the shares are undervalued by at least 20% on a cash flow basis, but probably significantly more. Management stated that the margins of tablet accessories is roughly comparable to the other major product lines. Historically, the company traded at a P/S ratio of more than double what it is currently. Considering the stabilization in the Americas and Asia recently with accelerating growth in tablet accessories, I think the market has beaten down the stock price to unjustifiable levels. The turnaround of the company is not guaranteed of course, and it may continue to falter more. However it's worth noting that the last 2 times that the stock traded at levels similar to the current price to tangible book of 2.6, it took significant jumps:
(click to enlarge)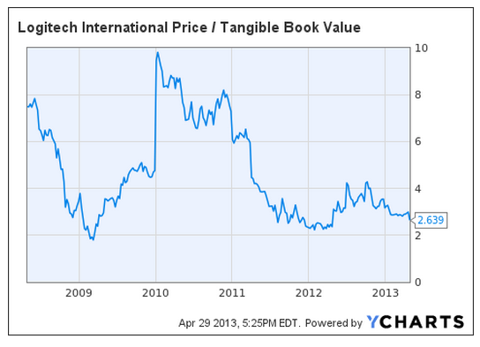 Most interesting here is that the recent jump came in early 2012, when a lot of the knowledge of PC sale declines was already known. Granted the environment has gotten worse since then, but it shows the potential upside here could be over 50% given any positive signs either from Europe, the PC market, or improving operations.
With no love for Logitech, I see limited downside and significant upside potential in the near term, which could be the makings of a great investment at today's prices.
Disclosure: I am long AAPL. I wrote this article myself, and it expresses my own opinions. I am not receiving compensation for it (other than from Seeking Alpha). I have no business relationship with any company whose stock is mentioned in this article.