Shares of T-shirt maker Gildan Activewear Inc. (NYSE:GIL) have been on a tear since the company offered a better-than-expected outlook last week, and UBS Securities analyst Vishal Shreedhar has jumped on the bandwagon. He upgraded the stock to "buy" (from "neutral") and hiked his target to C$19.00 a share (from C$15.00).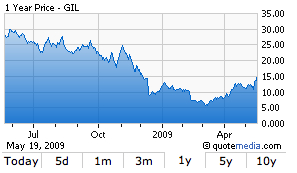 Mr. Shreedhar wrote that the worst of the margin deterioration appears to be over for Gildan, after the company faced serious margin pressure early this year because of a number of internal and external issues (including higher cotton prices and production downtime). The company suggested margins will improve in the second half of 2009.
Mr. Shreedhar also pointed out that Gildan's international and retail results in Q2 were better than expected despite tough market conditions, providing more confidence that the company can deliver long-term growth.
He wrote in a note:
[Gildan] is gaining U.S. market share at an accelerated rate, which we believe underscores [its] exceptional manufacturing and supply chain capabilities.
Another point in Gildan's favour is improved liquidity at Broder Bros. Cos., the company's biggest customer (it accounted for 23% of Gildan's sales in fiscal 2008). Broder's ongoing debt exchange offer has removed a major overhang on Gildan's shares, Mr. Shreedhar wrote. But he did point out that the unresolved financial situation at Broder "is not ideal" for Gildan.