Economic Data Are Deteriorating Across the Board
Last week and this week we received the new "Flash" manufacturing PMI data from Markit, as well as the newest retail PMIs. In short: economic fundamentals continue to weaken across the board all over the world. Euro area PMI data remained solidly in contraction territory, China's HSBC flash PMI of the private sector barely eked out a gain (note that the "official" PMI includes the state-owned sector, which distorts the data somewhat), and even US manufacturing seems to be weakening now, with the overall gain in PMI well below expectations, a datum that was then further confirmed by a strong contraction in the durable goods orders data a few days later.
Here are links to the individual reports (all in pdf format):
Manufacturing "Flash PMI" data for April, with brief comments:
Eurozone: "Eurozone suffers ongoing downturn in April."
Germany: "German private sector output declines for first time since November 2012."
France: "The downturn in French private sector output eased in April from March's four-year record, but nonetheless remained sharp."
US: "PMI points to weakest manufacturing expansion since last October."
China: "The HSBC Flash China Manufacturing PMI came in at a two-month low, but still managed to expand modestly in April, albeit at a much slower pace."
Links to the retail PMIs (also in pdf format) with comments:
Eurozone: "Eurozone retail sales continue to fall sharply in April."
Germany: "April's survey highlights a disappointing start to the second quarter for the German retail sector; Sharpest decline in stocks of goods for resale since October 2010 - Weakest pace of job creation since March 2011."
Italy: "Sharpest decrease in retail sales in 2013 so far; Margins and employment fall again."
France: "French retail sales down for 13th successive month; Downturn in sales remains steep despite easing from survey-record pace; Margins continue to be heavily squeezed."
You get the drift: despite all the heavy monetary pumping, reports on economic activity retain their depression-like undertones. Not surprisingly, the US economy is still doing best on the surface, as money supply growth remains most pronounced in the US by comparison. As an aside here, Steve Saville, who writes the excellent "Speculative Investor" newsletter, calculates the money TMS ('true money supply') data himself and his data are a bit more up-to-date than those we usually present in these pages.
In a recent report he mentions that the increase in US money TMS in April of 2013 has thus far been so large that it has recouped the entire slowdown/decline in TMS growth that was observed earlier this year. This is exactly what expected to eventually occur; as we have pointed out previously, we believe there are two major reasons why money TMS growth briefly went negative earlier this year in spite of the Fed's "QE to infinity" program: one is the calming down of the euro area crisis, as a result of which US money market funds have begun to once again extend generous amounts of dollar funding to European banks - "euro dollars" that previously fled Europe have thus returned. The other is very likely the recent rescission of the FDIC's unlimited guarantee for large scale deposits at US financial institutions, which has removed a major incentive for overseas institutions to continue keeping funds in the US banking system for safety reasons.
From now on we can therefore expect to be able to once again observe the undiluted effects of the Fed's monetary pumping on the US money supply. And yet, economic activity is nothing to write home about. As we have also mentioned a few times, the incessant pumping has once again distorted the economy's structure of production, which increasingly ties up more consumer goods than it releases - something that can be roughly gauged by looking at the ratio of capital goods versus consumer goods production: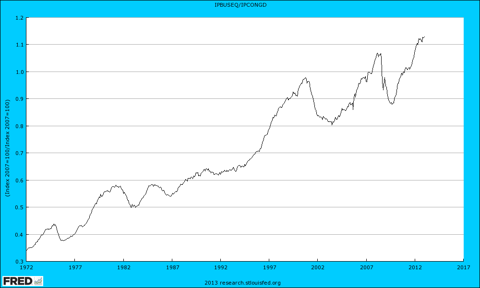 The ratio of business equipment to consumer goods production: back in "bubble" territory.
Whenever the economy becomes this severely imbalanced, a bust can be expected to occur shortly. Its arrival can of course be delayed by increasing the rate of monetary pumping, but it cannot be postponed indefinitely. At some point the real economy becomes more important than the illusions created by the soaring money supply.
Stocks - Rising on Hope and Monetary Fumes
Many observers argue that in spite of weak economic activity, the stock market's recent rise is well founded, because corporate earnings are growing strongly. Are they really? Not only are current profit margins at the very upper end of their historical range relative to total economic output - and this is a data series with a long and dependable history of secular mean reversion - but earnings growth is actually clearly faltering, even in the large cap sector.
As a humorous aside: back when Apple (NASDAQ:AAPL) showed very strong earnings growth, no-one (there may have been exceptions, but we aren't aware of them) in the sell-side analyst community made any waves about how Apple's strong earnings growth distorted the overall data. Now that Apple's earnings growth has (at least in the short term) gone negative, a number of analysts have reportedly begun to exclude AAPL's results from SPX earnings calculations because now, you see, they do distort the numbers.
As Richard Russell always tells his subscribers: what do you expect? Wall Street is in the business of selling stocks. Nothing is allowed to disturb the bullish consensus too much.
Anyway, a friend has sent us a chart of SPX earnings growth which we reproduce below. We already mentioned yesterday that corporate cash flows across the US as a whole have actually turned slightly negative - a phenomenon usually associated with recessions. Now it turns out that SPX earnings growth isn't all that miraculous anymore either: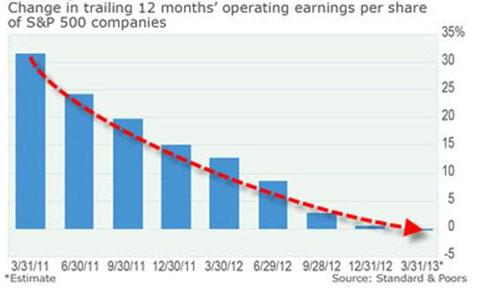 Earnings growth of companies that make up the S&P 500 index - moving in the opposite direction of stock prices.
For comparison, the SPX is depicted below, along with its long term cycles - as can be seen, it is currently slightly out of phase with the cycle behavior that was previously observed. We are not sure if this actually means anything, but thought that it is probably be a good idea to be aware of these time cycles.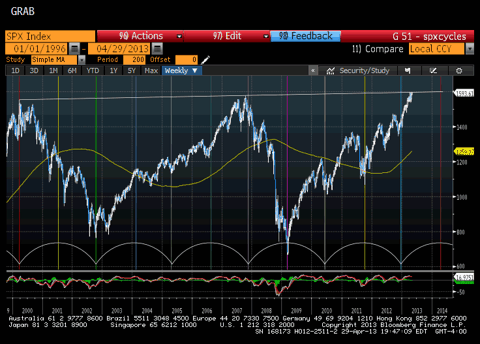 The S&P 500 and its previously established time cycle - slightly out of phase?
In spite of the depression in euro-land, stock markets there remain fairly delusional as well lately. To some extent this can be ascribed to the easing of the debt crisis of course, but there is a considerable danger that the markets may at some point reassess the "everything is perfectly fine" message propagated by the eurocrats.
Consider for example the arrival of a 27% + unemployment rate in Spain.
"Spanish unemployment rose more than economists forecast in the first quarter to the highest in at least 37 years as efforts to tackle the European Union's biggest budget deficit crimped economic growth.

The number of jobless increased to more than 6 million for the first time, climbing to 27.2 percent of the workforce, compared with 26.02 percent in the previous three months, the National Statistics Institute in Madrid said today. That was more than the 26.5 percent median forecast of eight economists surveyed by Bloomberg News.

Prime Minister Mariano Rajoy will tomorrow unveil measures aimed at halting a six-year economic slump. Spain's recession dragged into a seventh quarter in the first three months of 2013, leaving the country with more than a fifth of all jobless people in the EU.

"The pace of the increase is surprising given we were supposed to be in a softer phase of the recession," Ricardo Santos, a euro region economist at BNP Paribas SA in London, said in a telephone interview. "We could now end the year at 28 percent unemployment and we may see a downward revision of first-quarter growth."
(emphasis added)
If only Spain's budget deficit were greater than the 10% of GDP it reported in 2012, things would be so much better. We wonder sometimes where they find the people writing this stuff. Spain is suffering from the combination of an inevitable bust following on the heels of one of the most stunning real estate and credit bubbles in human history, and it must be noted, a severe case of foot-dragging with regard to economic reform. To this one must also add a botched "austerity" policy, which focuses mostly on how to squeeze blood from a turnip by raising already high taxes even further, while eschewing the idea of shrinking government and its spending too much (to be fair, spending has shrunk from a quarterly high of €106 billion - $$139 billion U.S. - in 2010 to approximately €100 billion per quarter recently. The 2010 surge can be ascribed to bringing back previously hidden subsidies to the regions onto the central government's balance sheet).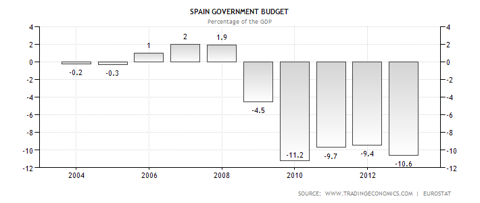 Spain's budget deficit as a percentage of GDP. Not spending enough?
The fact that economists were once again "surprised" by the bad number is the only thing that's not really surprising about this dismal jobs report. Anyway, you sure wouldn't know it from looking at the recent performance of the IBEX index in Madrid. However, once again one must take the temporary easing of the sovereign debt crisis into account when assessing this market.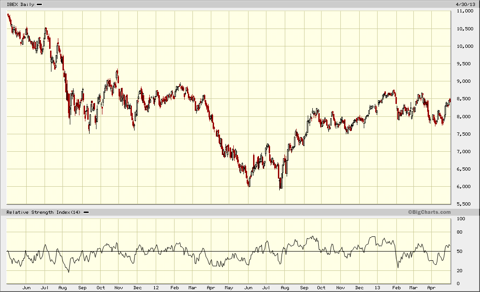 Spain's IBEX index in Madrid remains well off its 2011 lows.
Note however that the credit crunch in the private sector hasn't abated one bit. Even though sovereign spreads have declined in the euro area's periphery, interest rates charged for private sector credit have not. The ECB can therefore be expected to soon present us with fresh pumping measures that will likely target the private sector specifically.
Meanwhile, it has been noticed by the financial media that the depression is inexorably marching northward:
"Just one more consecutive quarter of shrinking economic output and Germany would officially enter a recession. The same is true of Belgium, France, Luxembourg, Austria, even Sweden and Finland. The Netherlands has already suffered two quarters of declining gross domestic product.

Further evidence of the spreading European recession came Thursday, first from Madrid, where the Spanish government reported that unemployment had reached a record level: 27.2 percent. Then new economic data from London indicated that Britain had barely avoided slipping back into recession for the third time since 2008.

"The reality is that Europe still faces severe vulnerabilities that - if unaddressed - could degenerate into a stagnation scenario," David Lipton, first deputy managing director of the International Monetary Fund, said in London on Thursday.

If Germany slips into recession, much would slide down with it. Germany and the other 26 countries of the European Union together represent the world's second-largest economy and as a bloc it is the single largest U.S. trading partner. The further delay in Europe's recovery that a German recession would cause would seriously hamper growth in the United States, Asia and Latin America. What growth remains in the region is coming mostly from countries in Eastern Europe."
(emphasis added)
Underscoring the almost touching simplicity of deliberations engaged in by today's stock market investors, we find this reference to them falling prey to what we term the "potent directors fallacy" (an expression originally coined by Bob Prechter) - the central bank will ride to the rescue.
"The worsening economic situation has raised hopes that the European Central Bank will come to the rescue, as it has so often since 2010 when the debt crisis began in the eurozone, the 17 countries in the European Union that use the euro. Somewhat perversely, the dismal economic news this week prompted a rally in stocks and bonds, as investors bet that the unexpectedly bad business surveys would prod the central bank to lower interest rates."
(emphasis added)
Pray tell, what difference can it possibly make if the ECB cuts its repo rate from 75 to 50 basis points? Is that going to alter unemployment in Spain or stop economic weakness from spreading into Northern Europe? We don't think so, but these days everything is apparently considered bullish. If Mount Vesuvius were to erupt and cover half of Italy in two meters of volcanic ash, Italian stocks would probably rally on the prospect of "GDP growth due to rebuilding."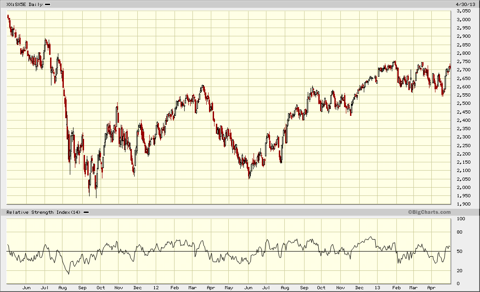 The Euro-Stoxx Index - rallying on account of investors believing in the "potent directors fallacy."
Conclusion:
All is not well with the world. No matter how much money is printed left and right, the global economy remains on the skids. Stock market investors meanwhile have clearly taken several drags too many from the hopium pipe.