The stock of Oracle (NASDAQ:ORCL) plunged by 8% following the company's disappointing Q3 earnings result and has been trading flatly since then. I believe investors should accumulate shares at the current price level, as the recent selloff has presented a great buying opportunity for this solid long-term investment. My view is based on the following 3 reasons:
1. Oracle shares are cheap relative to its primary competitor - SAP AG (NYSE:SAP) (see chart below). The company's consensus revenue, EBITDA, and EPS growth estimates are markedly below SAP's figures. On the profit side, however, Oracle demonstrates a better performance as the firm's various margin and capital return metrics are notably above those of SAP. Oracle carries a slightly higher debt load, and as a result, the company's interest coverage ratio is below SAP's. In terms of liquidity, Oracle's free cash flow margin is fairly comparable to SAP's. The firm's current and quick ratios are considerably above SAP's levels, reflecting a healthy balance sheet condition.

As such, Oracle's weaker growth potential would likely be the primary drag on the stock valuation. However, given the company's superior profitability performance, I would not expect the stock to trade at a large discount to SAP's level. Nevertheless, Oracle's current price multiples at 7.2x forward EBITDA and 11.3x forward EPS (next 12 months) are on average 34% below the same multiples of SAP. After accounting for the 5-year earnings growth estimate, Oracle's 5-year PEG ratio of 1.0x is still 20% below SAP's figure at 1.3x, suggesting that market has likely not given sufficient credits to Oracle's better profitability, and as such, the stock is modestly undervalued relative to SAP in terms of financial performance (see chart above).
2. Oracle's forward P/E multiple is currently trading at a 22% discount to the same multiple of S&P 500 Index, which stands at 14.5x now (see chart below).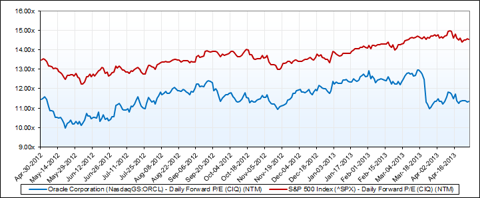 In my view, this relative valuation level presented a great entry opportunity as the current market discount appears exaggerated provided that 1) Oracle's market discount averaged at just 15% in the past 12 months; 2) the firm's consensus EPS estimates for the current and next fiscal years have trended steadily over the past 12 months and their current levels are almost consistent with the historical figures a year ago (see chart below); 3) the company's 5-year earnings growth estimate at 11.1% is notably above the average estimate of 8.2% for the S&P 500 companies; 4) the company offers superior profitability and free cash flow margins which is considerably above the market averages; and 5) Oracle also has a fortress-like balance sheet with both the current and quick ratios above 3.0x level as well as 9% of the current market capitalization in net cash.

3. Morgan Stanley recently reiterated their outperform rating on the stock with fair rationales. Keith Weiss commented on the broker's recent technology survey in a research note dated April 9 (sourced from Thomson One, Equity Research):
Our recent CIO survey shows reasons for optimism given an overall stabilization in spending indicators and directionally positive trends around data management and hardware...Over the past three months, customers meaningfully increased expectations around usage of Oracle's data store technologies. While views of spending on Oracle's analytics offerings have moderated since our Jan. survey, more customers still expect to increase spend on Oracle over both the next 12 months and 3 years than on any other vendors…While hardware weakness continued in 3Q, we believe the Exa-systems continue to show robust growth trends. Encouragingly, our survey results pointed to the highest percentage of customers expecting to increase forward spend on Oracle servers in two years, while storage spending intentions hit a 5-quarter high.
Bottom line, as the underlying customer demand remains solid, investors should consider buying the stock now in the light of Oracle's healthy financials and cheap valuations.
All charts are created by the author except for the consensus estimate table which is sourced from S&P Capital IQ, and all financial data used in the charts and the article is sourced from S&P Capital IQ unless otherwise specified.
Disclosure: I am long ORCL. I wrote this article myself, and it expresses my own opinions. I am not receiving compensation for it (other than from Seeking Alpha). I have no business relationship with any company whose stock is mentioned in this article.