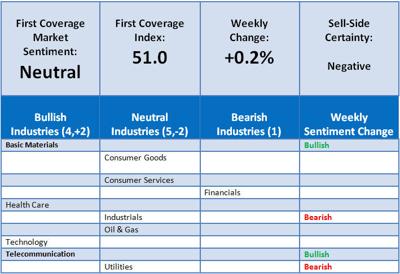 Click to enlarge
Somebody Check the Sell-Side for a Pulse!
Will someone hold a mirror up to the collective sell-side to see if we can get a fog?
For the fifth week in a row, there is much more activity surrounding the closing of ideas than the opening of new positions, and the low level of this ratio, from which our Certainty index is derived, is a clear indication that the sell-side would rather be on the side lines for the near term than leading the charge.
This, of course, creates opportunity for those brave (or crazy) enough to continue their capital allocation suggestions. That being said, we will spend the majority of this week's commentary identifying the stocks on both sides of the market where we are seeing the remaining sell-side professionals congregate.
Overall, the sentiment trend is still bullish; however, the strength and conviction seem more and more fragile every day. That being said, those who have followed the indicator by being long since March 9 have done extremely well and are probably sleeping better than they have at any time since mid-2008.
Changes this week are highlighted by both Basic Materials and Telecommunication joining Technology and Health Care to bring the grand total of industries with bullish sentiment to four. The tickers in Basic Materials and Telecommunications that currently have the strongest bullish sentiment (or the best of the best as some would say) are identified in the tables below:
ROGERS COMMUNICATIONS INC. CL B
We continue to only have one industry with bearish sentiment associated with it in the longer term, and that is Financials. Below we've identified the tickers that have the most bearish sentiment associated with them within Financials:
Finally, the last change we have to comment upon is a short-term bearish sentiment, which is found associated with Utilities and Industrials. Below we have identified the tickers with the greatest negative change in sentiment in these two industries, which could help explain the negative movement.
So, the sell-side is clearly lining up on both sides of the market. Bear, bull or otherwise, you can find someone today who thinks your way and has some suggestions as to where you should put your capital. And at that end of the day, isn't that what makes a market?