In continuing with my love for the retail sector, this article analyses the leading accessories retailer, Coach Inc. (NYSE:COH).
Background Information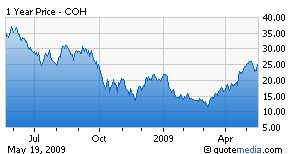 Coach, Inc. is a manufacturer and designer of handbags and other accessories like footwear, outerwear, business cases, sunwear, watches, travel bags, jewelry and fragrance etc. It predominantly operates in the North American markets and also has a presence in countries such as Japan and China. It operates 293 retail stores in US (as of June 28, 2008). Additionally, it also operates factory outlets and department store shop-in-shops.
Strengths
The company has the highest market share in the luxury handbag segment of the US market and this market share is expected to continue to improve with the opening of new stores and growth in same store sales. Additionally, the company expects to double its market share (existing 8%) in Japan in the next few years. Also, the handbag market was one of the few segments in the retail sector that actually grew during this recession.
The company has a strong balance sheet with no long term debt and good cash flow. Further, it is aggressively buying back its stock and currently has $709.6 Million (as of the last quarterly results) available for stock purchase under the current plan. As a testament to its financial strength, Coach recently declared its maiden cash dividend at an annual rate of $0.30 a share.
Weaknesses
The company operates in a consumer discretionary sector. US and global economic slowdown can have a severe impact on the short term profitability of the company. Particularly, future growth in Coach will primarily be driven by the Japanese and Chinese consumer. A longer than expected recovery in these regions could adversely impact the growth rates. As an example, during the last quarter, Coach announced that it closed four stores as a cost cutting measure.
The table that follows presents the company fundamentals.
Company Fundamentals
| | |
| --- | --- |
| | COH |
| Market Cap (Millions) | $7,900 |
| Sales (Millions) | $3,234 |
| Income (Millions) | $660 |
| Net Profit Margin | 21% |
| Return on Equity | 47% |
| Projected 5 Year Growth Rate | 14% |
| LT Debt to Cap | 0% |
| Current Ratio | 2.94 |
During the last five years, Coach increased its income at an annual rate of 40 percent. Sustaining this level of growth is not practical. Analysts expect Coach to grow at a annual rate of 14 percent which is in line with broader accessories sector and higher than the projected annual growth rate of 10 percent for the S&P 500. The EPS estimates for the Coach are shown below:
| | |
| --- | --- |
| | COH |
| TTM EPS | $2.08 |
| 2010 Average EPS Estimate | $1.80 |
Valuation
Fair value calculation was performed using relative valuation. The estimated fair value using various methods is presented in the table that follows. It should be noted that the data from the last four financial years was taken in calculating the averages shown in the table.
COH

Existing

Average

Fair Value

P/E

12

27

$48

(P/E) / (P/E – Peers)

0.86

1.11

$26

(P/E) / (P/E – S&P 500)

0.68

1.24

$36

PEG

0.8

0.62

$20
The Call:
I am initiating coverage of Coach Inc with a BUY rating and a conservative 12-month price target of $30 derived by applying a multiple of 17 to 2010 average analyst EPS estimates. At these levels, COH would be trading on par with the S&P500 index, 24 percent below its historic average.
Disclosure: Long COH