With the DOW making record all-time highs and the price of gold well below its 2011 record high, the Dow:Gold ratio has soared. Despite recent gains, the Dow:Gold ratio remains 77.5% below its all-time high.
As of the April 29, 2013 close of 10.80, the Dow-Gold Ratio is up 75.9% from its 21-year low of 5.71 set on August 22, 2011. The Dow-Gold Ratio is a measure of inflation and stock market sentiment. It shows how many ounces of gold it takes to buy the 30-stock Dow Jones Industrial Average.
In terms of gold, the Dow has seen inflation of 29.7% in under three months since my last Dow:Gold article "DOW / Gold Ratio Still Low On Historical Basis." Will this trend continue or is it a short-term opportunity for gold investors?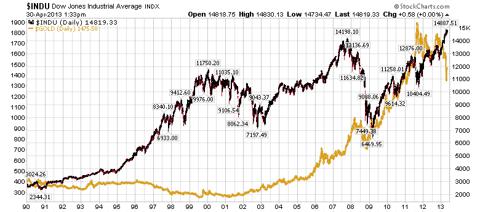 This next chart shows the DIA:GLD ratio. DIA is the exchange traded fund for the Dow Jones Industrial Average, an easy way to invest in all thirty Dow stocks with a single investment. Likewise, GLD is the exchange traded fund for Gold which is much easier for individual investors to own than physical gold, especially in IRA accounts.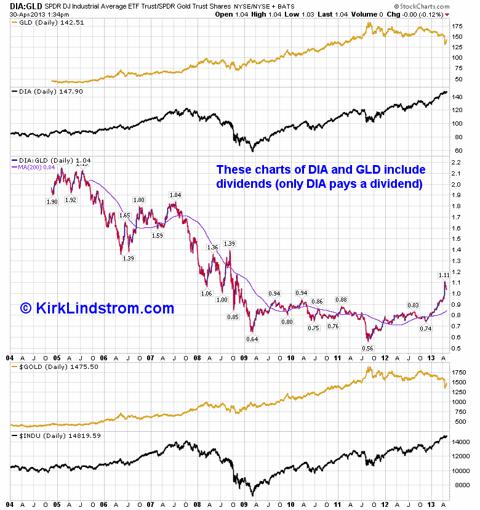 My favorite GLD Charts and Intraday GLD Chart
Dividends Matter
One of the reasons for owning stocks rather than gold I've listed over the years of writing these Dow:Gold articles for Seeking Alpha is dividends. Note that the chart above shows DIA with dividends reinvested is at an all-time high. I prefer to own SPY, the exchange traded fund for the much broader S&P500 index but the idea is the same. Dividends matter and they are often overlooked with discussing the relative merits of stocks compared to gold.
While Gold is up in the last decade, so are stocks. In my February 2011 article "How to Play Expected Inflation from the TIPS Spread," I wrote I was long SPY as one way to benefit from expected inflation.
"I also believe it is a good time to own equities including SPY, the exchange traded fund for the S&P 500, for both inflation protection and income."
Is GLD a Buy Today?
This chart shows the price of gold is still closer to all-time highs than its 30 year low of $253.20. With central banks around the world running printing presses at full speed, the value of all currencies are falling thus putting upward pressure on commodities such as gold so this may be an opportunity to buy gold.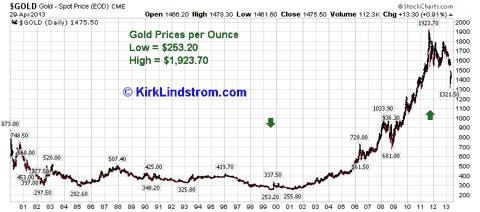 Back in 1999, it took nearly 45 ounces of gold to buy the DJIA.
On Monday August 22, 2011 the Dow-Gold Ratio hit a 21-year low of 5.71.
As of April 29, 2013 it now takes 10.80 ounces of gold to buy the Dow.
Less than three months ago when I wrote "DOW / Gold Ratio Still Low On Historical Basis," it only took 8.33 ounces to buy the Dow. In terms of gold, this is Dow inflation of 29.7%!
All Time Lows: The DJIA-to-Gold ratio got down near 1 in the early 1980s and was just under 0.2 in the early 1800s. This 200-year Dow-Gold chart (courtesy of sharelynx.com) shows the Dow-Gold ratio from 1800 through November 2012. I added some trend lines. I think it is not a coincidence that the wild swings in the Dow/Gold ratio began after the formation of the Federal Reserve in 1913.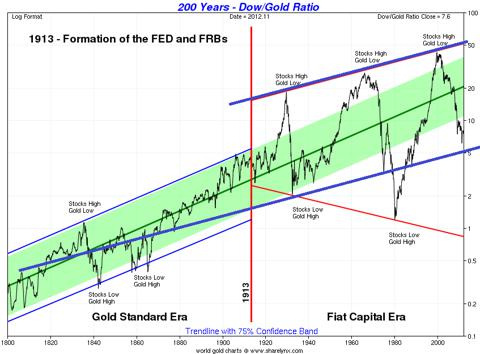 With the Dow-Gold ratio now at 10.80, it is trading at the bottom of the green zone in this chart.
Historically, buying stocks when the ratio is below the green band was rewarding if you had patience. Those of us who bought or added to our equity positions in the past four years have clearly been well rewarded.
My key comments to critics of this 200+ year chart from my November 2011 Seeking Alpha article "Dow-Gold Ratio Rallies To Downtrending Resistance Line" are:
Obviously, this chart from Sharelynx is making estimates to show TRENDS. To me that is useful hence I'll continue to show the chart until I find something better.
The DOW changes often... there was no Microsoft or Cisco back in 1896 or even 1956 yet they are in the DOW today. I show the chart knowing it has imperfections so some people don't jump to conclusions saying the ratio is near a historical bottom which some could if only using my 30-year chart.
How to trade
Unless you worry about an Armageddon where you could lose access to your investment, one of the safest and easiest ways to trade gold is through an ETF like GLD. The fund managers buy and store the metal for you so you don't have to worry about storage costs or security. The major disadvantage is that if the whole financial system melts down, you may lose access to your investment. For that reason, many who want to hedge against inflation and an Armageddon-type event will buy gold bars and coins.
My Recommendation: I own some gold jewelry and gold coins mostly for pleasure and for an Armageddon event. For inflation protection, I own stocks that pay dividends and have recommended SPY here for years in my Seeking Alpha articles. I also own individual TIPS and Series-I Bonds which are boring compared to the volatility of gold or silver (NYSEARCA:SLV) but pay inflation adjusted dividends which add stability to my investment portfolio. Stability aids in getting a good night's sleep no matter what the market does.
I stand by what I wrote here on April 5, 2013; "These High-Yielding DOW Stocks Should Do Well After Today's Poor Jobs Report." I still own Intel (NASDAQ:INTC) and have very nice gains since that article. Gold may do very well going forward, but I also believe equities will do well and they pay dividends. I may buy some gold when my articles about gold are less popular here than my regular articles about SPY, the exchange traded fund for the S&P500.
Disclosure: Long SPY and INTC. I wrote this article myself, and it expresses my own opinions. I am not receiving compensation for it (other than from Seeking Alpha). I have no business relationship with any company whose stock is mentioned in this article.