Goodyear Tire (NYSE:GT) is one of the world's largest makers of tires, which are produced and marketed under its famous brand name. It also owns other well-known brands like Dunlop. It manufactures tires for many of the largest automakers and also sells replacement tires through a network of auto service and tire installation centers, which it operates throughout the United States.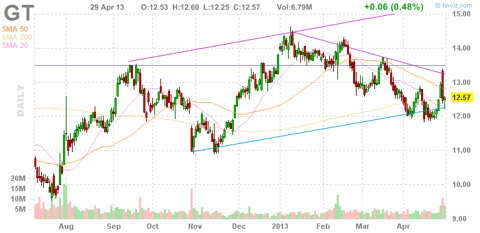 As the chart above shows, Goodyear shares have been in a solid uptrend ever since bottoming out at about $10, last September. This stock was recently trading around $13, but it experienced a pullback after the company reported earnings. This decline, to just over $12 appears to be a solid buying opportunity. Goodyear shares are trading right around the lower end of the recent trading range (which is a key support level), but still right near the light blue uptrend line, which could be poised to keep moving higher.
Goodyear reported solid financial results for the first quarter of 2013, although sales volumes declined by about 8%. Management maintained its full-year financial outlook for 2013 and it is targeting expense reductions of about $100 million over the next three years in its European operations. Even with continued weakness in Europe, Goodyear earned $26 million, or 10 cents a share, which compares favorably with a loss of $11 million, or 5 cents a share in the same period last year. Furthermore, if one-time charges are excluded, the company earned 45 cents per share for the quarter, which was 15 cents above analyst expectations.
Goodyear shares look cheap when considering a number of valuation metrics. Analysts expect Goodyear to earn about $2.03 per share in 2013, and for earnings to jump about 20% in 2014, to $2.53 per share. That puts the price-to-earnings ratio at below 7 times earnings for this year and even less for 2014. The average stock in the S&P 500 Index (NYSEARCA:SPY) trades for about twice that level, at 15 times earnings. Goodyear shares also look cheap when considering the $18 price target that analysts at Deutsche Bank (NYSE:DB) set for this stock, earlier this year.
As with any stock, there are risks, and the most significant one for Goodyear could be another global recession. However, the U.S. economy is showing signs of strength, and Europe has (so far) avoided worst-case scenarios. As the economy improves in the eurozone and in North America over the next couple of years, this stock is likely to continue the recent uptrend and head towards the $18 price target as set by Deutsche Bank.
Here are some key points for Goodyear:
Current share price: $12.54
The 52-week range is $9.24 to $14.65
Earnings estimates for 2013: $2.03 per share
Earnings estimates for 2014: $2.53 per share
Annual dividend: none
Data sourced from Yahoo Finance. No guarantees or representations are made.

Disclosure: I am long GT. I wrote this article myself, and it expresses my own opinions. I am not receiving compensation for it (other than from Seeking Alpha). I have no business relationship with any company whose stock is mentioned in this article.
Disclaimer: Hawkinvest is not a registered investment advisor and does not provide specific investment advice. The information is for informational purposes only. You should always consult a financial advisor.