The aviation industry only has a few players, but these players are in a big and mean business. Boeing (NYSE:BA) and Lockheed Martin (NYSE:LMT) do not compete directly with their primary products, but many of their remaining products challenge each other. Boeing's latest Dreamliner has recently been marred by battery problems, which have kept travelers, airlines and stockholders worried sick. Lockheed Martin has the unusual problem of worrying about a drop in the number of wars around the world, which will dent the demand for its equipment. The two stocks are closely priced, so which one should you go for?
Analysis
Boeing has had a long tradition of providing quality commercial airliners and is only rivaled by the European Airbus. The two companies have taken different routes in going about their businesses. While Boeing has adopted efficiency in the form of composite deposits and lower costs of operation, Airbus went for size and the supposed economies of scale. Both have been rewarded in one way or another, but Boeing's Dreamliner has had a lot more trouble recently, mainly by being grounded due to a problem with its Lithium ion batteries. Latest reports suggest, however, that after engaging in 200,000 hours of engineering, Boeing has devised solutions to remedy the problem, resulting in the planes no longer being grounded. That being said, the order list for the Chicago based company have been growing ever since, with Turkish Airlines agreeing to buy 95 new Dreamliners over the course of seven years. The total number of purchase orders for the plane so far have been 840. Furthermore, the grounding of its 787s has had little effect on the company's financials with net income for the first three months of 2013 jumping by 20% to $1.1 billion. The company has also increased its production rate for its 737 and 777 models. The halt in 787 deliveries is expected to cost $705 million, resulting in the company's free cash flow to drop to $3 million from $413 million a year earlier as it continued to push 787 production. However, the yet-to-be-delivered 787s are expected to recover the deferred cash flow as shipments resume.
Lockheed, which builds F-35 fighter jets, Aegis missiles and new coastal warships, reported a better-than-expected 14.8% rise in per-share earnings. The company's first-quarter net profit rose 14% to $761 million. The company is more than a 100 years old and in its quest to find new and more profitable proving grounds, Lockheed Martin has entertained commercial ventures at sea. The U.S. Navy has awarded Lockheed Martin a $57 million contract to upgrade the fleet's electronic warfare defenses against anti-ship missile threats. While finding these new opportunities, the company is staying true to its core competency as it expects to be awarded orders for up to 71 F-35s from the U.S. and other foreign governments. Lockheed and other arms makers are trying to maintain earnings by cutting overhead and ramping up weapons sales to other countries. Even though its military capacity is earning it top returns, rumors suggest that the company is going to diversify and look into non-military avenues of revenue.
Stock and Financial Review
Over time, the aviation industry has become a necessity due to the development of the European and American markets. Despite this, the volatility of airline demand is causing more anxiety now than ever before due to skyrocketing fuel prices and a slowdown in global demand. Over the last five years, the percentage growth of BA and LMT has been below the market averages. While it has been providing a considerable and incremental dividend over the years, which goes to justify holding it, BA's low yielding dividend and inability to keep up with market averages is causing a lot of concern for its stock holders. The graph below illustrates the two companies and their performances over the course of the last year.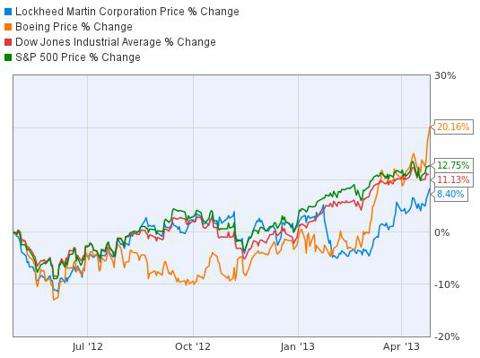 After spending Q3 of 2012 and Q4 of 2012 underperforming when compared to its rival and the market, too, Boeing has picked up steam, which has propelled its stock price up, resulting in an increase of 20.16% compared to a year ago. This is primarily due to the increased production of the 737 and 777 models, while the 787 was also marketed to various airlines across the world.
Boeing's 52-week range starts at $66.82 and ends at $93.38 per share. Boeing's current price is $91.89 per share. Lockheed Martin's 52-week range starts from $80.14 and ends at $99.49 per share. Its current price is $98.27 per share.
There are many ways to estimate the fair stock value of a company. For this purpose, we applied the discounted-earnings-plus-equity model developed by EFS Investment analysts to these competitors.
| | | |
| --- | --- | --- |
| Indicator | Boeing | Lockheed Martin |
| Price/Earnings ttm | 17.2 | 11.4 |
| Price/Book | 9.4 | 833.3 |
| Net Income Growth (3 Yr Avg.) | 43.8 | -3.2 |
| Revenue Growth (3 Yr Avg.) | 6.2 | 2.4 |
| Dividend Yield, % | 2.11 | 4.64 |
| Debt/Equity | 1.1 | 157.4 |
| Return on Equity | 65.4 | 527.9 |
| Current Price | $91.89 | $98.27 |
| | $95-$103 | $114 |
| Stock Valuation | Undervalued | Undervalued |
| Upside Potential to Reach Fair Value | 4% | 15% |
Data from Morningstar and Financial Visualizations on April 30, 2013
The calculations based on this model allow us to suggest the following: currently, both stocks are undervalued. EFS's fair stock price valuation indicates that LMT is trading at the most attractive discount.
Boeing's $70.4 billion market capitalization dwarfs that of Lockheed Martin. However, Lockheed Martin's stellar dividend yield of 4.34% makes it a lot more attractive for investors looking not only for stable price trends but also a healthy cash return. The dividend for Q2 of 2013 has been recently announced at $1.15 per share. The dividend is payable on June 28, 2013 to shareholders of record as of the close of business on June 3, 2013. LMT pays a good dividend and has actually increased its dividend every year since 2003, including this latest announcement of a dividend payout.
Furthermore, the preposterous debt/equity ratio of Lockheed Martin shouldn't be alarming as the industry and nature of its work requires a large amount of debt to be taken on in order to complete required projects. Boeing has an advantage in this respect because its product facility is one of the largest in the world, and can accommodate different types of aircraft, even the newly designed, without the requirement of too much external support.
Make or Break for Investors
At this point in time, my recommendation lies with Boeing because of the exploding demand for its planes. Lockheed Martin, while doing pretty well on its own and providing a brilliant yield, is expected to suffer in the future due to the automatic federal spending cuts - i.e., the sequester. The government budget cut is expected to wipe out $825 million of the company's anticipated revenue by the end of this year.
Morningstar provides the following ratings for these two stocks: BA - 4/8 buy, 3/8 hold, 1/8 sell. LMT - 2/6 buy, 4/6 hold.
Bottom Line
As long as Boeing's new Dreamliner does not hit any other snags, it is on course to buck the trend of under performance and gain altitude. This should become clear in the next month or so, and, keeping in mind the company's immaculate aircraft history, I believe now is the right time to buy before the price moves upward.
Disclosure: I have no positions in any stocks mentioned, and no plans to initiate any positions within the next 72 hours. I wrote this article myself, and it expresses my own opinions. I am not receiving compensation for it (other than from Seeking Alpha). I have no business relationship with any company whose stock is mentioned in this article.