Aegon (NYSE:AEG) is an insurance provider, of mostly life insurance and annuity products, with its headquarters in the Netherlands. There are still significant problems in the eurozone but when we compare Aegon to its competitors (listed by Aegon as competitors) operating in the eurozone, Aegon has among the lowest price / book value and price/earning ratios.
| | | |
| --- | --- | --- |
| Company (Country) | P/E | Price/Book |
| Aegon, NL | 7.4 | 0.3 |
| CNP Assurances, FRA | 7.9 | 0.5 |
| Generali, IT | 169.5 | 0.5 |
| ING Group, NL | 13.9 | 0.5 |
| Swiss Re, CHE | 7.1 | 0.8 |
Perhaps it is not positioned well for growth with a large percentage of its business being done in highly competitive mature markets. That is a negative.
However most of Aegon's business comes from outside the eurozone. The majority of revenue comes from the USA, Canada, Mexico and Brazil where it operates under the Transamerica brand.
Aegon has only very limited exposure to the GIIPS countries on its books.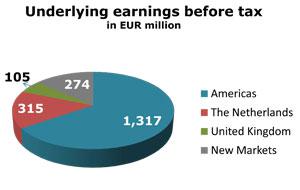 Competition
Let's take a brief look at a few of Aegon's competitors and their situations.
CNP Assurances ADR (OTCPK:CNPAY)
CNP Assurance is a French Insurance company that is 40% controlled by the French government. The company is troubled by turbulent financial markets in Europe and interest rates prove a risk as well.
Assicurazioni Generali
Generali is an Italian insurer that came through the crisis relatively unscathed but at the same time it's still highly exposed to European sovereign debt. The Italian economy is very important to it.
ING Groep N.V. ADR (NYSE:ING)
A Dutch Bank / Insurer that is both highly leveraged and exposed to credit and interest rate risk, with large bond portfolios.
Swiss Re AG (OTCPK:SSREY)
A Swiss company that is actually more of a reinsurance company that navigated the crisis alright and has very little exposure to the sovereign bonds of Portugal, Ireland, Italy, Greece and Spain, which are considered to be the most risky euro bonds.
Turnaround Aegon
Aegon got bailed out by the Dutch government in 2008. It accepted EUR 3 billion ($3.95) as a loan, but it didn't actually use it. In 2011 it returned the money after having paid 36% in compound interest.
During this time Aegon was not allowed to take a price leadership strategy. Since the crisis Aegon is structuring its business to be less risky in nature. It tries to focus on providing corporate products and is moving to spread its business geographically.
Aegon is selling off units that do not generate what it considers favorable returns and focusing on the activities it thinks will generate more shareholder value.
Risks
A deflationary environment in the USA would hurt the company because its portfolio consists of a high portion of variable annuity and universal life policies. Aegon has quite a bit of leverage. It is exposed to the financial markets though not so much to the at risk euro bonds.
Auditor
Aegon is switching to another independent auditor in 2014 after a competitive tender process was conducted. Its current auditor is Ernst & Young.
Valuation
There seems to be consensus among analysts that earnings per share will not go back to pre-crisis levels. Aegon's new strategy doesn't maximize profit but aims for more consistent results.
However given the low price / book value, government debt paid off, EPS of EUR 0.67 over 2012, very little exposure to the eurozone on its books, the majority of revenue coming from the Americas: The company is attractively valued with limited downside. Currently trading at EUR 5.
Disclosure: I have no positions in any stocks mentioned, and no plans to initiate any positions within the next 72 hours. I wrote this article myself, and it expresses my own opinions. I am not receiving compensation for it (other than from Seeking Alpha). I have no business relationship with any company whose stock is mentioned in this article.